Life
39 Ways to Live, and Not Merely Exist. "The proper function of man is to live – not to exist." — Jack LondonToo often we go through life on autopilot, going through the motions and having each day pass like the one before it.That's fine, and comfortable, until you have gone through another year without having done anything, without having really lived life.That's fine, until you have reached old age and look back on life with regrets.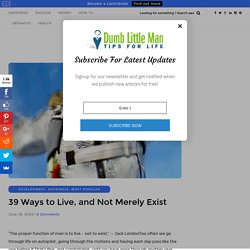 That's fine, until you see your kids go off to college and realize that you missed their childhoods. It's not fine. If you want to truly live life, to really experience it, to enjoy it to the fullest, instead of barely scraping by and only living a life of existence, then you need to find ways to break free from the mold and drink from life.
Ive learned .... See also ...
Advent LitanyLitany and HopeSome aphorismsInstructions for LifeSome Heinlein thoughtsPrayers in a Time of NeedFree Will and the Omnipotence of God I've Learned- that you cannot make someone love you. Kurt Vonnegut explains drama. I was at a Kurt Vonnegut talk in New York a few years ago.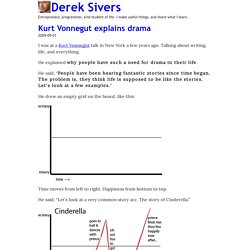 Talking about writing, life, and everything. He explained why people have such a need for drama in their life. He said, "People have been hearing fantastic stories since time began. The problem is, they think life is supposed to be like the stories. Let's look at a few examples." The Cab Ride I'll Never Forget | Zen Moments - StumbleUpon. "Great moments often catch us unawares…."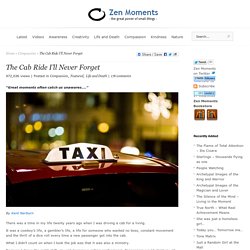 By Kent Nerburn There was a time in my life twenty years ago when I was driving a cab for a living. It was a cowboy's life, a gambler's life, a life for someone who wanted no boss, constant movement and the thrill of a dice roll every time a new passenger got into the cab. Marc and Angel Hack Life - Practical Tips for Productive Living. 88 Important Truths I've Learned About Life | Raptitude.com. Everyone gets drilled with certain lessons in life.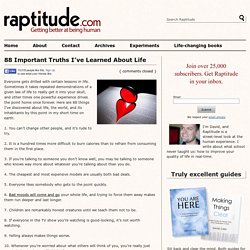 Sometimes it takes repeated demonstrations of a given law of life to really get it into your skull, and other times one powerful experience drives the point home once forever. Here are 88 things I've discovered about life, the world, and its inhabitants by this point in my short time on earth. 1. You can't change other people, and it's rude to try. Truisms. Daily Aphorisms from The School of Life. Daily Aphorisms from The School of Life.
---