Iceland
Sigur Ròs : Heima.
Languages
Iceland, Eyjafjallajökull - May 1st and 2nd, 2010. Sigur Rós. Sigur Ros Lyrics, Photos, Pictures, Paroles, Letras, Text for ev. All of the vocals ( ) are however in hopelandic.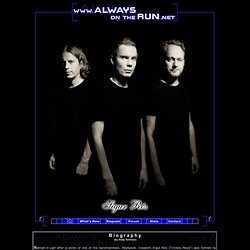 Hopelandic (vonlenska in icelandic) is the 'invented language' in which jónsi sings before lyrics are written to the vocals. It's of course not an actual language by definition (no vocabulary, grammar, etc.), it's rather a form of gibberish vocals that fits to the music and acts as another instrument. Von. Sigur Rós. Sigur Rós (Icelandic pronunciation: [ˈsɪːɣʏr ˈroːus] ( ) SI-urr rohss[1]) is an Icelandic post-rock band from Reykjavík, which has been active since 1994.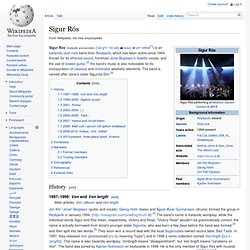 Known for its ethereal sound, frontman Jónsi Birgisson's falsetto vocals, and the use of bowed guitar,[2] the band's music is also noticeable for its incorporation of classical and minimalist aesthetic elements. The band is named after Jónsi's sister Sigurrós Elín.[3] Icelandic Music Scene – Group at Last.fm. Sigur Ros. Montreal Mirror - Music: Sigur Rós. Vanilla Sky. The movie received an Academy Award nomination for Best Original Song, and Screen Actors Guild and Golden Globe Award nominations for Cameron Diaz's supporting performance.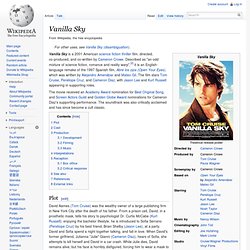 The soundtrack was also critically acclaimed and has since become a cult classic. Plot[edit] David is awakened the next day by Sofia, who apologizes for not helping him, and takes him home. The two continue to see each other, and David has his face repaired. Despite the seemingly perfect life, David finds oddities, such as brief visions of his distorted face, and a man (Noah Taylor) at a bar that tells him he can change the world. The History of Iceland. The history of Iceland is a long and adventurous saga filled with many transitions and discoveries.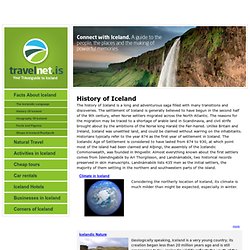 The settlement of Iceland is generally believed to have begun in the second half of the 9th century, when Norse settlers migrated across the North Atlantic. The reasons for the migration may be traced to a shortage of arable land in Scandinavia, and civil strife brought about by the ambitions of the Norse king Harald the Fair-haired. Unlike Britain and Ireland, Iceland was unsettled land, and could be claimed without warring on the inhabitants. Iceland. Iceland According to Landnámabók, the settlement of Iceland began in AD 874 when the chieftain Ingólfr Arnarson became the first permanent Norse settler on the island.[6] Others had visited the island earlier and stayed over winter.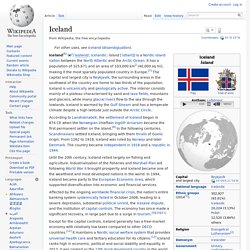 During the following centuries, Norsemen settled Iceland, bringing with them thralls of Gaelic origin. Iceland Map - Iceland Satellite Image - Physical - Political. Iceland | Today at Brown.
---