Iceland
Sigur Ròs : Heima
Sigur Rós
Sigur Ros Lyrics, Photos, Pictures, Paroles, Letras, Text for ev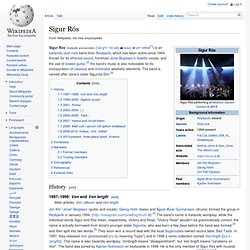 Sigur Rós ( Icelandic pronunciation: [ˈsɪːɣʏr ˈroːus] (
Sigur Rós
Icelandic Music Scene – Group at Last.fm
Montreal Mirror - Music: Sigur Rós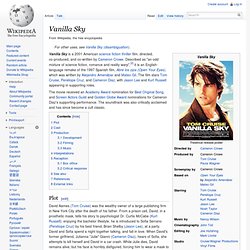 Vanilla Sky
Vanilla Sky is a 2001 American science fiction film directed, co-produced, and co-written by Cameron Crowe . It is an English-language remake of the 1997 Spanish film, Abre los ojos (Open Your Eyes) , which was written by Alejandro Amenábar and Mateo Gil .
This is the film, albeit taking several times to finally watch it completely through, to fall in love with the music of Sigur Ros, their home of Iceland, and the desire to visit and even live there one day. by trina Apr 11
History of Iceland 330 BC: Ultima Thule 330 BC An explorer named Pytheas sailed north from Marseilles (in modern France) to discover how far the world would reach in that direction. He navigated the British Isles and the northern seas and wrote about an island that he called Thule or Ultima Thule in his now lost work, On the Ocean .
The History of Iceland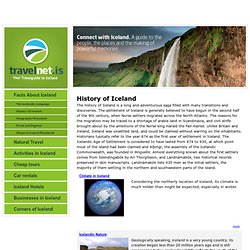 Iceland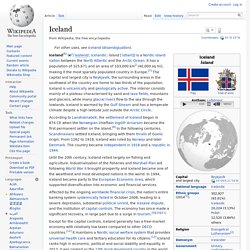 Iceland i / ˈ aɪ s l ə n d / ( Icelandic : Ísland , IPA: [ˈislant] ) [ 4 ] is a Nordic European island country situated at the confluence of the North Atlantic and Arctic Oceans , on the Mid-Atlantic Ridge . [ 5 ] The country has a population of about 320,000 and a total area of 103,000 km 2 (40,000 sq mi), which makes it the most sparsely populated country in Europe. [ 6 ] The capital and largest city is Reykjavík , [ 7 ] with the surrounding areas in the southwestern region of the country being home to two-thirds of the country's population. The nation's capital is the most northern capital in the world.
Iceland Map - Iceland Satellite Image - Physical - Political
Iceland | Today at Brown