Projets / Exemples
Get flash to fully experience Pearltrees
Quite easy to do, with inexpensive components (Touch screen is 10$, break board connector 4$ and just buy it, don't be a hero), but with one or two caveats.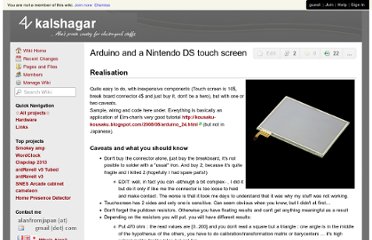 L'équipe Arduino vient de lancer la commercialisation de leur nouveau shield GSM.
The incredible popularity of home weather stations shows that it's not just farmers who are interested in the weather.
Bookmark this on Delicious Recommend to StumbleUpon (And for more Good Stuff: Arduino Programming Course and Electronics: components and principles )
What's New Menu/Navigation : The first version relied on a dedicated button for each service.
Posted by md on November 05, 2006 As a first sketch, I developed a little DCF77 library for the arduino.