Music
Music-Map - The tourist map of music. The Music Maze. aM laboratory. Top 10 Free Ways To Discover New Music Online. Some of these websites have a community built around them, which gives fans the opportunity to interact directly with these new talents.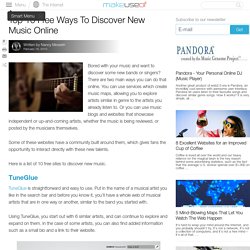 Here is a list of 10 free sites to discover new music. TuneGlue TuneGlue is straightforward and easy to use. Put in the name of a musical artist you like in the search bar and before you know it, you'll have a whole web of musical artists that are in one way or another, similar to the band you started with. Tones: Generate a Composition. Key Chords. Key Chords is an interactive chord chart that allows you hear and see and arrange chords. - Click on a chord to preview how it sounds. - Drag and drop to arrange chords on the timeline - Tweak the settings to control the playback speed Or role the dice until you discover something that fits your mood.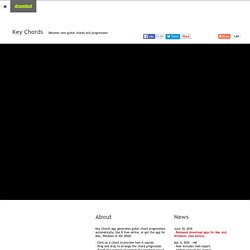 Select a Key: Select your favorite "Key" and whether you want to use the "Major" or "Minor" scale. Musicovery. Jazz Styles on AccuRadio online radio. Official.fm - The Do It Yourself Music Club. All About Jazz: Jazz Music - Jazz MP3s - Jazz Photos and More.
---