Wikis
Resin Wiki
X-Men: First Class - Marvel Movies Wiki - Wolverine, Iron Man 2, Thor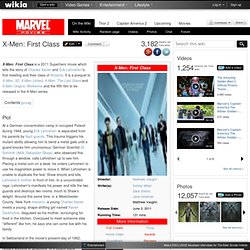 Plot At a German concentration camp in occupied Poland during 1944, young Erik Lehnsherr is separated from his parents by Nazi guards. This trauma triggers his mutant ability allowing him to bend a metal gate until a guard knocks him unconscious.
Paranormal and Metaphysical Wiki
What is the purpose of the ParaWiki? The purpose of this Wiki is to provide a combination encyclopedia and grimoire for the paranormal, metaphysical, occult, and parapsychological communities. We feel that the scope of this Wiki will serve the communities more effectively than a traditional encyclopedia, and provide an invaluable resource for all. We currently have 239 articles and 2 active editor(s). The Paranormal and Metaphysical Wiki needs your help! We are currently low on editors and we welcome anyone who has any knowledge about the subject of an article to edit it and contribute to the growth of that article.