Christy Dena
Authentic in All Caps
Français. Do You Have a Big Stick? An if:book Australia Essay by Christy Dena Can I write across media?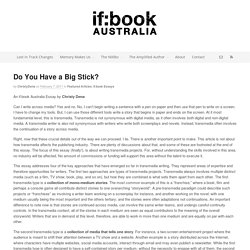 Yes and no. No, I can't begin writing a sentence with a pen on paper and then use that pen to write on a screen. PhD on Transmedia Practice. In 2009, I submitted my PhD on transmedia practice.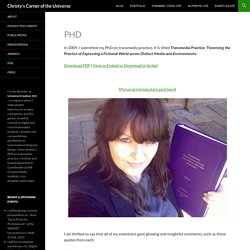 It is titled Transmedia Practice: Theorising the Practice of Expressing a Fictional World across Distinct Media and Environments. Download PDF | View or Embed or Download at Scribd [Personal introductory post here] I am thrilled to say that all of my examiners gave glowing and insightful comments, such as these quotes from each: Christy Dena Presentations. Publications. About. Hello!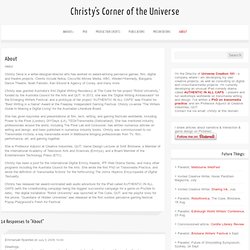 Christy Dena is a writer-designer-director who has worked on award-winning pervasive games, film, digital and theatre projects. Clients include Nokia, Cisco/No Mimes Media, ABC, Wieden+Kennedy, Bangarra Dance Theatre, Noah Falstein, Ken Eklund & Agency of Coney, and many more. Christy was granted Australia's first Digital Writing Residency at The Cube for her project "Robot University," funded by the Australia Council for the Arts and QUT. In 2012, she was the "Digital Writing Ambassador" for the Emerging Writers Festival; and a prototype of her project "AUTHENTIC IN ALL CAPS" was Finalist for "Best Writing in a Game" Award at the Freeplay Independent Gaming Festival. My News. Christy's Corner of the Universe: cross-platform, creative practice, strategy, research, marketing, life... Christy Dena on the Creative Potential of Cross-Platform.
---