Urban Farming
A Plan to Turn Brooklyn's Unused Acres Green
On a recent Saturday, Paula Z. Segal, 34, a founder of the group, loaded up a bicycle trailer with handwritten wooden signs and set off for points on her interactive map, starting with 406 Nostrand Avenue in Bedford-Stuyvesant, a narrow ribbon that belongs to the Department of Housing Preservation and Development. Passersby stopped to watch Ms.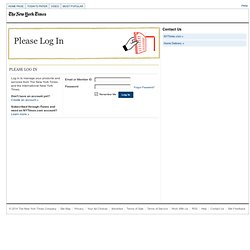 By Laurie Goering Wed May 2, 2012 12:03pm BST LONDON, May 2 (AlertNet) - In flood-hit fields in the Philippines, farmers are testing a hardy new variety of rice that can survive completely submerged for more than two weeks. In Kenya's Kibera slum, poor urban families are turning around their diets and incomes just by learning to grow vegetables in sack gardens outside their doors. And in India, a push to help marginalised rural communities gain title to their land is leading to a significant drop in hunger.
Green bullet innovations aim to feed world of 9 billion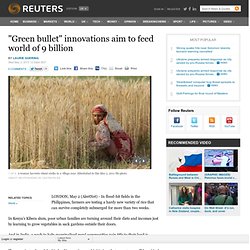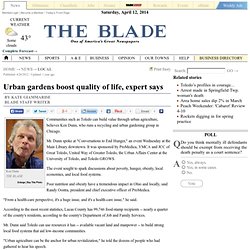 Home → News → Local Communities such as Toledo can build value through urban agriculture, believes Ken Dunn, who runs a recycling and urban gardening group in Chicago. Mr. Dunn spoke at "Conversations to End Hunger," an event Wednesday at the Main Library downtown.
Urban gardens boost quality of life, expert says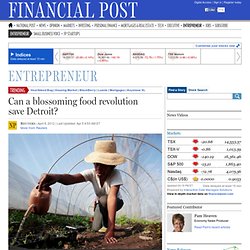 By Lisa Baertlein DETROIT – When Slows Bar-B-Q opened in Detroit's Corktown district seven years ago, the neighbourhood was so neglected that the street lamps no longer worked. The restaurant sits in the shadow of Detroit's abandoned central train station, a few blocks from the vacant lot where Tiger Stadium once stood.
Detroit turns to food to spur rebirth, growth | Entrepreneur
Public Fruit in the City When we moved into our
Public Fruit in the City When we moved into our circa 1919 farmhouse 20 years ago, our neighbor had an ancient looking apple tree in the backyard where pheasants would roost at night. That apple tree it turned out, had been planted by the farmer who owned the land prior to it being developed into our neighborhood. It was a living link to what had been a thriving apple orchard in the early 1900's. We were fortunate to have sampled its fruit before it died of old age.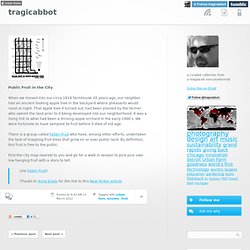 Turning Vacant Lots into Profitable Urban Farms in Minnesota
Seattle's First Urban Food Forest Will Be Open To Foragers : The Salt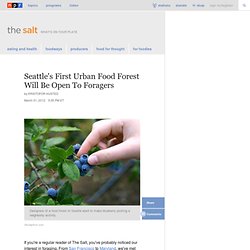 Designers of a food forest in Seattle want to make blueberry picking a neighborly activity. iStockphoto.com If you're a regular reader of The Salt, you've probably noticed our interest in foraging. From San Francisco to Maryland , we've met wild food experts, nature guides and chefs passionate about picking foods growing in their backyards. Now, Washington state has jumped on the foraging bandwagon with plans to develop a 7-acre public plot into a food forest.
gardenup : The folks from GardenUp just stopped by the EcoBrooklyn Green Show House to tell us more about their great new products for gardening. They've created a simple vertical system based on hydroponic technology that is great for small spaces, easy-to-use and highly efficient – perfect for city living.
Gardening, Done Vertically - EcoBrooklyn Green Show Home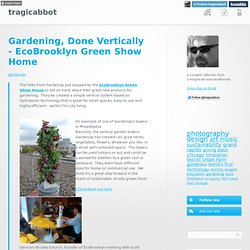 Urban Guerrilla Gardening Booming in Hyde Park
Sweden Building Major Urban Greenhouse for
Chicago restaurants move toward hyper-local food production
Urban Farming Takes Hold in NYC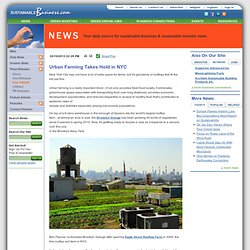 New York City may not have a lot of extra space for farms, but it's got plenty of rooftops that fit the bill just fine. Urban farming is a really important trend - it not only provides fresh food locally, it eliminates greenhouse gases associated with transporting food over long distances, provides economic development opportunities, and reduces disparities in access to healthy food that's contributed to epidemic rates of obesity and diabetes especially among low-income populations. On top of a 6-story warehouse in the borough of Queens sits the world's largest rooftop farm - at almost an acre in size, the Brooklyn Grange has been growing 40 kinds of vegetables since it opened in spring 2010. Now, it's gettting ready to double in size as it expands to a second roof, this one in the Brooklyn Navy Yard.
ragicabbot - PodPonics: Growing Food in Used Shipping
How to Save America: Build Better Cities Felix
Another Studio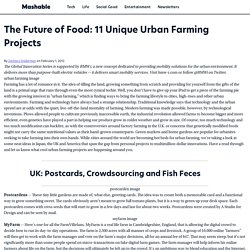 The Future of Food: 11 Unique Urban Farming Projects
The Global Innovation Series is supported by BMW i, a new concept dedicated to providing mobility solutions for the urban environment. It delivers more than purpose-built electric vehicles — it delivers smart mobility services. Visit bmw-i.com or follow @BMWi on Twitter. Farming has a lot of romance in it. The idea of tilling the land, growing something from scratch and providing for yourself from the gifts of the land is a primal urge that runs through even the most cynical techie. Well, you don't have to give up your iPad to get a piece of the farming pie with the growing interest in "urban farming," which is finding ways to bring the farming lifestyle to cities, high-rises and other urban environments.
Vertical Farm at Chicago Airport: Simple and Cool!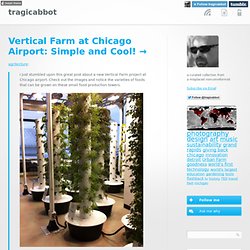 agritecture : I just stumbled upon this great post about a new Vertical Farm project at Chicago airport. Check out the images and notice the varieties of foods that can be grown on these small food production towers.
Lansing Urban Farm Project | Building community while producing fresh, affordable produce within Lansing, Michigan.
MSU professors help create Lansings first urban farm
It's sort of de rigeur to end the year with a catalog of the best foodie experiences you had, but this is a guide to hopeful signs for the new year - some trends to watch, support and engage with. And I'd argue that these are signposts pointing out the possibility of a food system that is as "healthy, green, fair, and affordable" as the Michigan Good Food Charter (!!!) outlines. Yep, now more than ever I love that I live here because 1) I can learn where my food comes from
20 reasons to feel hopeful about Michigan and our food system in 2012
Even the most utopian visions of a low-carbon world include cars, and even if they're fueled on electricity or ethanol, cars need places to park. But if parking structures have to exist, at least they can double as urban farms. In Vancouver, a company called Valcent Products is building a high-density "VertiCrop" farm on the roof of a parking garage. The farm will be super high-tech, with motorized conveyors moving layers of plants into position for optimum sun, watering, and easy harvesting. Valcent says the farm will produce as much as as a 16-acre field in California.
Here's a parking garage that doubles as an urban farm
Girl Power Reclaims Vacant Lot in
Urban Permaculture Garden in San Francisco Grows Thousands of Pounds of Food
City Farmers: Protect Your Garden From Critters
BERLIN - If all goes as planned, a sprawling organic farm will soon be up and running a stone's throw away from a six-lane autobahn in Berlin's Südkreuz industrial zone. By spring 2013, tons of lettuce, kohlrabi (a variety of cabbage), tomatoes and herbs are expected to be growing under protective glass roofing – on a city rooftop, some 7,000 square meters of it, an area as big as a soccer field. And in the building underneath, say the three 30-something Berliners behind the ambitious project, there will also be an aquaponic fish farm.
Urban Farms, Supersized. Largest Ever Rooftop Garden To Be Big As Football Field
'Flint Food Fighters' debuts at Michigan State University
Be Part of History: World's First 5-Story Vertical
Community Gardens Blooming in Auckland With
Farmin' in the HOOD Follow the impressive story
Popular Permaculture