Twitter
Create a Twitter RSS feed for Tweets, Searches, Hashtags or Favorites. Twitter: quelques outils et astuces pour votre prochain événement. Lorsque vous organisez un événement, les médias sociaux et en particulier Twitter sont une excellente façon de le faire rayonner.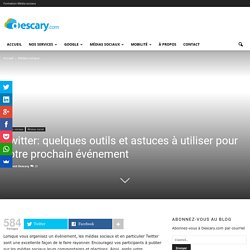 Encouragez vos participants à publier sur les médias sociaux leurs commentaires et réactions. Ainsi, après votre événement, vous pourrez analyser l'impact et reprendre les publications de vos participants. 3 étapes pour booster votre marketing Twitter. Sourcing de contacts. Comment développer votre audience Twitter avec le concept de Social Média Pipeline. Social Engagement. Twitter Master Marketing - 3 étapes pour booster votre marketing Twitter. Les #Hashtags. A Brief and Informal Twitter Etiquette Guide. I love Twitter.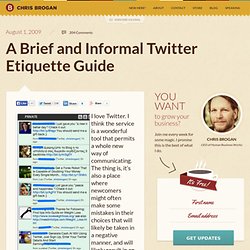 I think the service is a wonderful tool that permits a whole new way of communicating. The thing is, it's also a place where newcomers might often make some mistakes in their choices that will likely be taken in a negative manner, and will likely result in an unfollow or a block from other Twitter users. The idea to write a brief and informal twitter etiquette guide came from my new friend Zaven, who asked whether, in some cases, people might just be behaving in a social structure that makes sense to their culture, but not mine. He might be right. How to build a Twitter audience in 8 steps | Christopher S. Penn : Awaken Your Superhero. How Many Times Should You Tweet Your Blog Post?
The Crowdsourced Twitter Marketing Book. By Katie Morse on Aug 20, 2010 Twitter can be daunting for the uninitiated.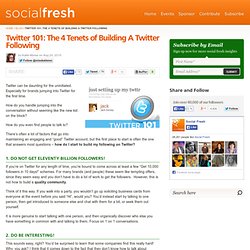 Especially for brands jumping into Twitter for the first time. How do you handle jumping into the conversation without seeming like the new kid on the block? 5 Awesome Twitter Searches. Twitter's search engine is really one of it's great features, and in this article I'm going to demonstrate some really cool searches you can do with it.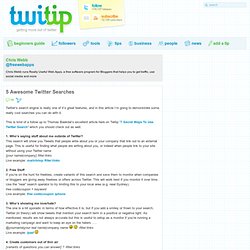 This is kind of a follow up to Thomas Baekdal's excellent article here on Twitip "7 Secret Ways To Use Twitter Search" which you should check out as well. 1. Who's saying stuff about me outside of Twitter? This search will show you Tweets that people write about you or your company that link out to an external page. This is useful for finding what people are writing about you, or indeed when people link to your site without using your Twitter name[your name|company] filter:links Live example: mailchimp filter:links. 7 'Secret' Ways To Use Twitter Search.
By Thomas Baekdal.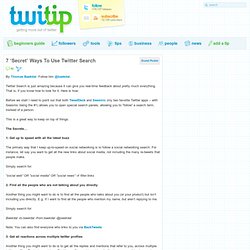 Follow him @baekdal. Twitter Search is just amazing because it can give you real-time feedback about pretty much everything. That is, if you know how to look for it. Here is how: GET search. Updated on Tue, 2013-06-11 09:38 This deprecated method is replaced by GET search/tweets in API v1.1 Returns relevant tweets that match a specified query.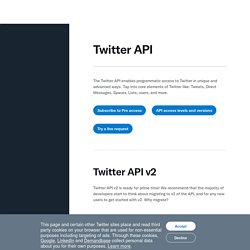 To best learn how to use Twitter Search effectively, consult our guide to Using the Twitter Search API Notice: As of April 1st 2010, the Search API provides an option to retrieve "popular tweets" in addition to real-time search results.
7 Ways to Thank Someone for a Retweet | Top 10. 10 Ways I like to Thank Twitter Followers for Retweets. Have you ever grown tired of seeing a flood of @mentions…@mentions "Thanks for the RT!"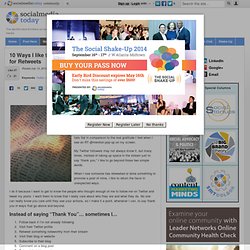 On Twitter? I have to say, it's not the most interesting thing to read. Even though it's a nice gesture, it doesn't always convey the weight of what a retweet really means to me. It really falls flat in comparison to the real gratitude I feel when I see an RT @mention pop-up on my screen. My Twitter followers may not always know it, but many times, instead of taking up space in the stream just to say "thank you," I like to go beyond those two simple words. Buy Cheap Twitter Followers. 25 conseils pour créer le background de votre compte Twitter. Avez-vous déjà jugé de l'utilité de personnaliser votre background Twitter ?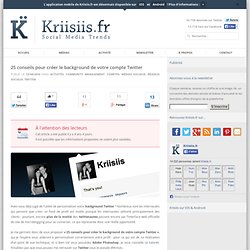 Nombreux sont les internautes qui pensent que créer un fond de profil est inutile puisque les internautes utilisent principalement des clients ; pourtant, encore plus de la moitié des twittonautes passent encore par l'interface web officielle du site de microblogging pour se connecter, ce qui représente donc une réelle opportunité. Je me permets donc de vous proposer « 25 conseils pour créer le background de votre compte Twitter », qui je l'espère vous aideront à personnaliser correctement votre profil ; pour ce qui est de sa réalisation d'un point de vue technique, et si bien sûr vous possédez Adobe Photoshop, je vous conseille ce tutoriel.
Free Twitter Backgrounds - Custom Twitter Backgrounds. Twitter simplement. Beaucoup de personnes trouvent que Twitter prend trop de temps.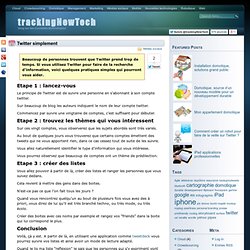 Si vous utilisez Twitter pour faire de la recherche d'information, voici quelques pratiques simples qui pourront vous aider. Le principe de Twitter est de suivre une personne en s'abonnant à son compte twitter. 10 Advanced Twitter Search Tricks. With Twitter, there is always an over load of information that its quite hard to keep up with the trend, if you're not moving along with it.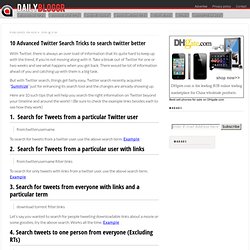 Take a break out of Twitter for one or two weeks and see what happens when you get back. There would be lot of information ahead of you and catching up with them is a big task. But with Twitter search, things get fairly easy. Comment créer un robot pour faire de la veille sur Twitter. Il est possible de créer des robots pour effectuer votre veille d'information. Le robot publiera sur son profil twitter le résultat de ses recherches Le principe est que le robot recherche tous les articles citant le mot que vous lui aurait défini.
Puis il diffusera sur sa page twitter les liens vers les articles trouvés. Intelligences Connectées » Yahoo Pipes: Colonne vertébrale d'une plateforme de veille multilingue, performante et gratuite. Voici l'article que j'ai publié dans l'ebook « Regards croisés sur la veille ». N'hésitez pas à commenter, critiquer et à me donner vos usages qui permettraient de compléter la méthode que je vous présente. N'oubliez pas que si Yahoo Pipes est la colonne vertébrale, le flux RSS est le système nerveux, l'idée est donc de couvrir l'ensemble du cycle de la veille avec ce format. How to Create a Useful Twitter Retweet Bot. Twitter can be used in various, almost countless ways. In this post I am sharing a tip on how to create a useful Twitter RT bot that can be used to collect various Tweets around a keyword or a hashtag and retweet them.
And before you start throwing stones at me calling me a Twitter spammer, let me give just a few examples of how this bot can be used to create real value: Think of a Twitter RT bot that will be used to collect Tweets around some SEO conference. Thus all people who want to follow live updates from many members won't need to keep track of hashtags and keywords associated with the event – all they need is to follow your bot.Or, say, you want to introduce your own cool hashtag and get other people to use it (#FirefoxFriday for example) but you want to filter out all retweets and give people the way to only follow real first-hand Tweets – a Twitter bot is the best option to go! So, I guess I made it clear why you might find this tutorial handy. Tutoriels Yahoo Pipes.
Comment utiliser Yahoo Pipes pour être (presque) omniscient sur #Twitter ? Ce billet est un complément à celui de Camille qui explique sur Caddereputation comment soigner son infobesité sur Twitter grâce à Yahoo Pipes. Je vous invite d'ailleurs à le lire pour bien comprendre le mien car je ne reviendrai pas sur les étapes qu'il a décrit. Je vais quant à moi vous expliquer comment muscler votre veille. Camille montre comment constituer des listes Twitter de façon alternative.
---