Tracey109
Tracey
Welcome to curious-eye. Educo. FarNet and HarbourNet - Engaging E-Learning in Te Tai Tokerau, Te Raki Paewhenua & Tamaki Makaurau. Art Project, powered by Google. PHOTOMONTAGE. Illustration. Graphic Design. Painting. Personal. Recipes. Shopping.
HOUSE ideas. Everynone. The Art Story: Modern Art Movements, Artists, Ideas and Topics.
COOL BLOGS. Themes. A Greener Future?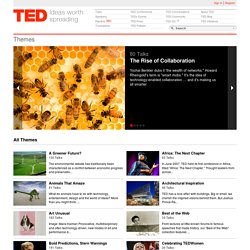 125 Talks The environmental debate has traditionally been characterized as a conflict between economic progress and preservatio... Africa: The Next Chapter 61 Talks In June 2007, TED held its first conference in Africa, titled "Africa: The Next Chapter. " Thought leaders from across...
Photoshop. School.
---