New Media
PROJECTS. Microcontrollers as Material We've developed a set of tools and techniques that make it easy to use microcontrollers as an art or craft material, embedding them directly into drawings or other artifacts.
We use the ATtiny45 from Atmel, a small and cheap (~$1) microcontroller that can be glued directly to paper or other objects. We then construct circuits [...] Codeable Objects Codeable Objects is a library for Processing that enables novice coders, designers and artists to rapidly design, customize and construct an artifact using geometric computation using geometric computation and digital fabrication The programming methods provided by the library allow the user to program a variety of structures and designs with simple code and geometry.
HOW TO GET WHAT YOU WANT. Welcome to the KOBAKANT DIY Wearable Technology Documentation Workshops E-Textile Live Performance Workshop 11-22 September 2014, as part of the Schmiede festival in Hallein near Salzburg, Austria The aim of this 10-day workshop is to bring together e-textile practitioners with performing artists to build interactive wearables and/or textiles that can be performed in a live setting.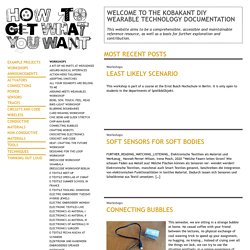 The workshop will be held as part of the Schmiede Festival which […] Ryan Joelson Fashion Design. Everything about Wearable Electronic. Home - Centre for Global eHealth Innovation. Electrolibrary by Waldek Węgrzyn - Paper book as interface. Created by Waldek Węgrzyn at the Academy of Fine Arts in Katowice, Poland, "Electrolibrary" is a project that connects a custom made paper book to the computer, so it can be used as an an interface.
The book can be browsed as any other regular book but when connected to the computer via USB, by turning pages, you can navigate through the website, getting additional information, quotations, movies and animations appropriate to the currently open page. The content of the book is Waldek's diploma thesis discussing phenomenon of a book as an inteface. The text contains number of references to different works, but the major inspiration is the manifesto "The topography of typography" published in 1923 by a graphic designer El Lissitzky which has also influenced the design of the book.
2013 – Belgrade New Media Festival. Joanne McNeil is a writer interested in the ways technology is shaping art, identity, and culture.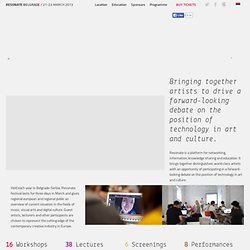 Born in Zürich, Andreas Gysin lives and works as graphic designer between Berlin and Lugano. Writing custom programs is part of his design process independently of the output medium. Featured Speakers. This is a snapshot of the keynote speakers who will be featured at this year's OKFestival, speaking at our INSPIRE Morning Plenary or during specific Topic Stream engagements throughout the festival week.
In many cases they have been directly nominated by Advisory Board members and Guest Programme Planners for their influential work in fields related to openness and transparency. Stay tuned for more speakers from around the world as they are confirmed. Hans Rosling is an award-winning academic, statistician and chairman of the Gapminder Foundation .
CCA Actions Exhibition | CCA Actions. [text] Sophie Calle. By Petra Gördüren »In April 1981, at my request, my mother went to a detective agency.
She hired them to follow me, to report on my daily activities, and to provide photographic evidence of my existence.« [ ] Sophie Calle uses these dispassionate terms in the introduction to her work . Mcinen. The reCYCLER. Tim Schwartz » About. Tim Schwartz, Curriculum Vitae tim [at] timschwartz [dot] org - PGP Key Tim Schwartz grew up in St.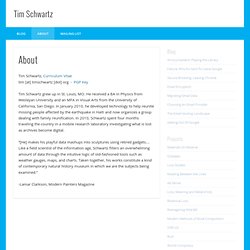 Louis, MO. He received a BA in Physics from Wesleyan University and an MFA in Visual Arts from the University of California, San Diego. In January 2010, he developed technology to help reunite missing people affected by the earthquake in Haiti and now organizes a group dealing with family reunification. In 2010, Schwartz spent four months traveling the country in a mobile research laboratory investigating what is lost as archives become digital. Tracklines | ART Mobile Lab. Project Synopsis: A Path of Stories Tracklines is a trail-based mobile media installation; a guided interpretive strategy in which hikers employ GPS-enabled smart phones to navigate a landscape seeded with location-based stories.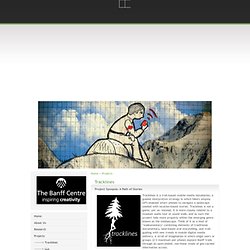 Tracklines is not a game, per se. Create A Non-Existing Man Via Light Painting [Not For The Faint Of Heart] We have shown screen doing 3D extrusion before using both iPads and iPhones, but this is the first time we are featuring a tutorial that uses a 30″ monitor.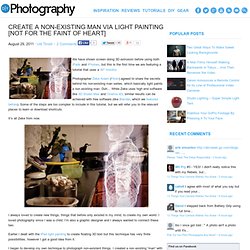 Photographer Zeke Adam (Flickr) agreed to share the secrets behind his non-existing man series, which basically light paints a non existing man. Duh… While Zeke uses high end software like 3D Studio Max and Cinema 4D, similar results can be achieved with free software (like Blender, which we featured before). Some of the steps are too complex to include in this tutorial, but we will refer you to the relevant places to learn or download shortcuts. It's all Zeke from now. I always loved to create new things, things that before only existed in my mind, to create my own world.
Articulate: a Conversational Interface for Visual Analytics. Chris Milk. "3 Dreams of Black" is an interactive film by Chris Milk and some friends at Google that showcases the creative potential of WebGL.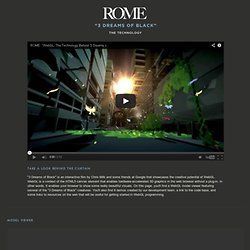 WebGL is a context of the HTML5 canvas element that enables hardware-accelerated 3D graphics in the web browser without a plug-in. In other words, it enables your browser to show some really beautiful visuals. On this page, you'll find a WebGL model viewer featuring several of the "3 Dreams of Black" creatures. You'll also find 8 demos created by our development team, a link to the code base, and some links to resources on the web that will be useful for getting started in WebGL programming. Ready to get the entire code base? Toshio Iwai - Electroplankton. Light Painting: the art of moving light, by Patrick Rochon. © Patrick Rochon Text and photographs by Patrick Rochon. I started doing Light Painting photography in Montreal, Canada in 1992.
HOME PAGE | Highrise. Information Is Beautiful | Ideas, issues, knowledge, data - visualized! Light Painting? There's An App For That. A while back we featured a BTS that shows how a group of artists used iPads to extrude lightpainting letters from iPads. And I know what you all been thinking. Those artsy folks with their artsy iPads. If only I had that software my light painting extrusions would be far, far cooler. Thecla Schiphorst and Susan Kozel : whisper: wearable body architectures.
Whisper: wearable body architecture is the working title of Thecla Schiphorst and Susan Kozel's new piece. It is a new media participatory installation. The term "participatory installation," which was coined by the artists, refers to a participant's involvement in the evolution of the piece. The installation is a networked ecosystem that contains small wearable computer objects. It is located in an exhibition/performance space. whisper aims to analyse the conditioned reactions and physiological behaviours of performers and audience members in order to represent them as common and shared signals in a multiple networked system.
Past states or behaviours and current intentions are examined and restructured into a new system of perception. Alex McLeod // Forever.
---