Networking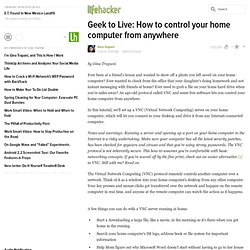 BAD call suggesting opening up the VNC port on the router. VNC's traffic is by default NOT SECURE, meaning all usernames, passwords and other key-presses are sent clear-text. This isn't an issue if you're just using VNC on your own lan, (behind the security firewall of your router), but unless you don't care about your system, files, data or privacy... raw VNC should not be used by itself over the internet. If you want to properly secure the VNC traffic, a SSH server should be setup on the same system as the VNC server.
Why Is Wi-Fi Coverage So Bad in My House, and How Can I Fix It?
If you and your router are on different floors - and it has removable antenna(s), you want as low a DBi antenna as you can get. DBi is antenna boost, and it's not magic - for a dipole (that's what you have, probably) DBi is increased horizontally by sacrificing vertical. Try an external wifi adapter on your laptop.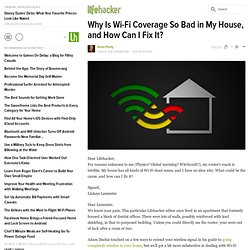 How to Enjoy the New Web Speed Boost from Google DNS and OpenDNS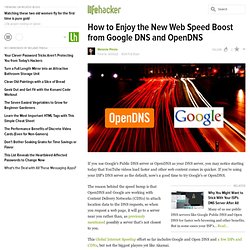 If you use Google's Public DNS server or OpenDNS as your DNS server, you may notice starting today that YouTube videos load faster and other web content comes in quicker. If you're using your ISP's DNS server as the default, now's a good time to try Google's or OpenDNS. The reason behind the speed bump is that OpenDNS and Google are working with Content Delivery Networks (CDNs) to attach location data to the DNS requests, so when you request a web page, it will go to a server near you rather than, as previously mentioned possibly a server that's not closest to you. This Global Internet Speedup effort so far includes Google and Open DNS and a few ISPs and CDNs, but not the biggest players yet like Akamai. Set up your system to use a faster DNS: To use Google's Public DNS service or OpenDNS, you'll need to configure your router or computer to use their DNS servers addresses. Here are instructions for Google Public DNS and help for OpenDNS.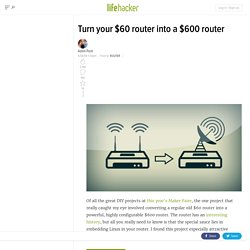 Of all the great DIY projects at this year's Maker Faire, the one project that really caught my eye involved converting a regular old $60 router into a powerful, highly configurable $600 router. The router has an interesting history, but all you really need to know is that the special sauce lies in embedding Linux in your router. I found this project especially attractive because: 1) It's easy, and 2) it's totally free.
We spent last week learning all about your home network, your routers, and all the cool things you can do with them. Here's the complete guide that will teach you how to pick out the best network hardware, get to know it better, make it perform at its best, and access just about anything on your network from practically anywhere in the world. Lesson 1: Router Hardware 101 You can't create a useful home network without a router, and choosing a good one can be a tough task.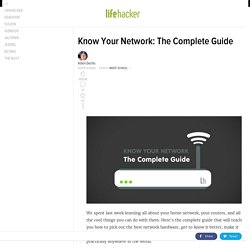 I2P is an anonymous network, exposing a simple layer that applications can use to anonymously and securely send messages to each other. The network itself is strictly message based (a la IP ), but there is a library available to allow reliable streaming communication on top of it (a la TCP ). All communication is end to end encrypted (in total there are four layers of encryption used when sending a message), and even the end points ("destinations") are cryptographic identifiers (essentially a pair of public keys ).
Intro
Home networking is something we all have to deal with, but it can be confusing as heck. This week, we're going to turn you into a networking wizard, starting with getting to know the most important device on your network: the router. Router Basics Your router is the glue that holds your home network together.
Know Your Network, Lesson 1: Router Hardware 101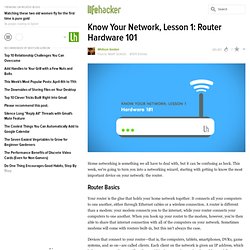 In the first lesson of our networking night school, we looked at the basics of router hardware. Today we're going to start setting things up. The goal here is to get the most important things set up and then explain all the other details you ought to know. You may not use every section in your router's admin page, but understanding the features will help. We're going to use the DD-WRT router firmware in our examples—since it's a Lifehacker favorite available for many routers—but we'll explain how each topic applies to whatever router you have. Your router may not have every feature we talk about today, but if you're still considering which router to buy you may want to take the contents of these lessons into consideration.
Know Your Network, Lesson 2: Understanding Your Router's Admin Page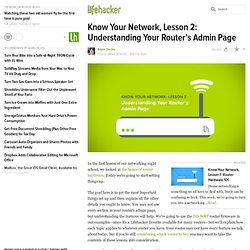 Know Your Network, Lesson 3: Maximize Your Speed, Performance, and Wireless Signal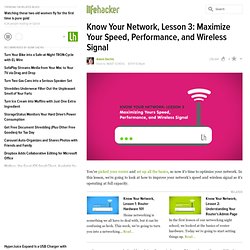 You've picked your router and set up all the basics, so now it's time to optimize your network. In this lesson, we're going to look at how to improve your network's speed and wireless signal so it's operating at full capacity. In theory, your network should work just fine as-is, but we all know that reality can differ from what should ideally be the case. How well your router performs is going to depend on a lot of factors, so these tips and tricks might work better for some than others. For example, strategies for improving your wireless signal aren't going to do much unless your router is dealing with some interference. On the other hand, tweaks can only do so much if you're dealing with really bad interference.
SG TCP Optimizer TCP Optimizer v3.0.8 (latest .exe or .zip archive) SG Windows 7 / Vista / 2008 Misc Downloads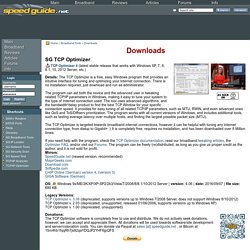 TCP Optimizer / Downloads
It is very important to setup a static ip address, if you are going to use port forwarding. When you have port forwarding setup, your router forwards ports to an ip address that you specify. Without setting up a static ip address port forwarding will probably work when you initially set it up, but after restarting your PS3 it may get a different ip address. When this happens the ports will no longer be forwarded to your PS3's ip address.
Setting a static IP address on the Playstation 3