Networking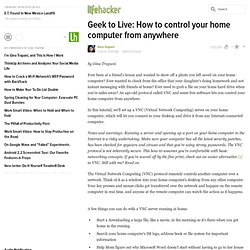 BAD call suggesting opening up the VNC port on the router. VNC's traffic is by default NOT SECURE, meaning all usernames, passwords and other key-presses are sent clear-text. This isn't an issue if you're just using VNC on your own lan, (behind the security firewall of your router), but unless you don't care about your system, files, data or privacy... raw VNC should not be used by itself over the internet. If you want to properly secure the VNC traffic, a SSH server should be setup on the same system as the VNC server.
Why Is Wi-Fi Coverage So Bad in My House, and How Can I Fix It?
If you and your router are on different floors - and it has removable antenna(s), you want as low a DBi antenna as you can get. DBi is antenna boost, and it's not magic - for a dipole (that's what you have, probably) DBi is increased horizontally by sacrificing vertical. Try an external wifi adapter on your laptop. More useful if the issue's distance, but a useful gizmo when you're traveling, and find yourself somewhere where someone's kind enough to leave their router open but it's just a tad too far.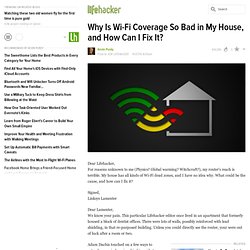 How to Enjoy the New Web Speed Boost from Google DNS and OpenDNS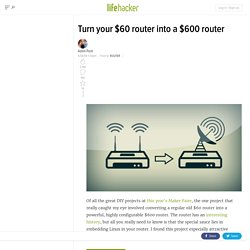 Got this to work on the WRT54G v8 (will work on 7 as well, just replace the one file with the corresponding 7 version): First of all, use IE explorer. Firefox didn't work at all on this for me, even after install.
I2P is an anonymous network, exposing a simple layer that applications can use to anonymously and securely send messages to each other. The network itself is strictly message based (a la IP ), but there is a library available to allow reliable streaming communication on top of it (a la TCP ). All communication is end to end encrypted (in total there are four layers of encryption used when sending a message), and even the end points ("destinations") are cryptographic identifiers (essentially a pair of public keys ).
Intro
Home networking is something we all have to deal with, but it can be confusing as heck. This week, we're going to turn you into a networking wizard, starting with getting to know the most important device on your network: the router. P Router BasicsP
Know Your Network, Lesson 1: Router Hardware 101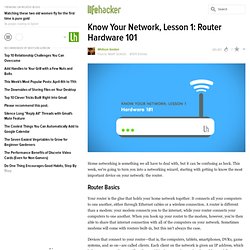 They are unique when they leave the factory, the first 6 characters specify the vendor, the last 6 specify the device, but if you go under the properties of the network adapter there's an option to specify the MAC. It's normally labeled something like Network Address, Physical Address, Locally Administered Address, etc. Wireless adapters are a little harder with Vista/Win7, but there are third-party programs that will do it for you. Routers can do this too, I think every home router I've seen has an option for it. Reason being certain modems, specfically cable modems, look at the MAC address of what they're connected to, which affects how they get DHCP from your service provider. Say you have a Linksys and a Netgear, or even two of same brand.
Know Your Network, Lesson 2: Understanding Your Router's Admin Page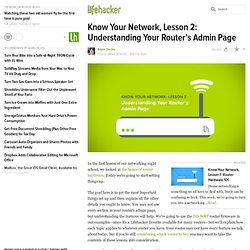 Know Your Network, Lesson 3: Maximize Your Speed, Performance, and Wireless Signal
SG TCP Optimizer TCP Optimizer v3.0.8 (latest .exe or .zip archive) SG Windows 7 / Vista / 2008 Misc Downloads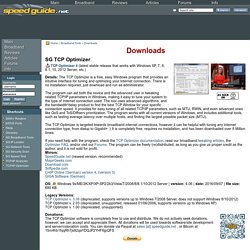 TCP Optimizer / Downloads
It is very important to setup a static ip address, if you are going to use port forwarding. When you have port forwarding setup, your router forwards ports to an ip address that you specify. Without setting up a static ip address port forwarding will probably work when you initially set it up, but after restarting your PS3 it may get a different ip address. When this happens the ports will no longer be forwarded to your PS3's ip address.
Setting a static IP address on the Playstation 3