Hacking
5 Fun things To Do on School Computers - Pahgawks Animations - StumbleUpon. November 26th, 2010 I know it's been a while, but I'm reinstating my weekly blog post policy.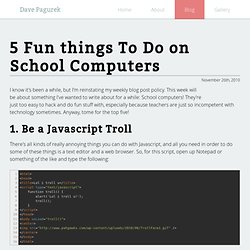 This week will be about something I've wanted to write about for a while: School computers! They're just too easy to hack and do fun stuff with, especially because teachers are just so incompetent with technology sometimes. Top 5 Websites To Learn How To Hack Like A Pro - StumbleUpon. You might be surprised to learn just how many people want to learn how to hack.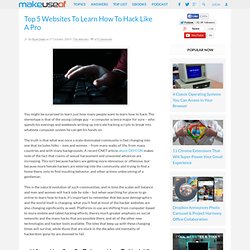 The stereotype is that of the young college guy – a computer science major for sure – who spends his evenings and weekends writing up intricate hacking scripts to break into whatever computer system he can get his hands on. The truth is that what was once a male-dominated community is fast changing into one that includes folks – men and women – from many walks of life, from many countries and with many backgrounds. A recent CNET article about DEFCON makes note of the fact that claims of sexual harassment and unwanted advances are increasing. This isn't because hackers are getting more obnoxious or offensive, but because more female hackers are entering into the community and trying to find a home there, only to find insulting behavior, and other actions unbecoming of a gentleman. How To Remove Vocals From Music Tracks Using Audacity - How-To Geek - StumbleUpon.
Ever get a sudden, inexplicably irresistible desire for karaoke?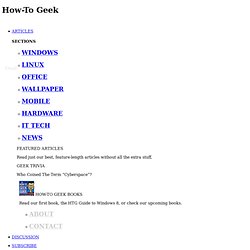 Maybe you like the music of a song but can't stand the lead singer? Here's how to use remove the vocals from most music tracks in a few simple steps. How It Works. Getting Links from the Top 50 Domains | TheGoogleCache: Search Engine Marke... Isn't chasing links for links sake a bit outdated?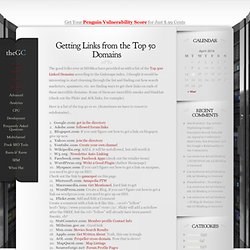 Surely a link on a page not in any way related to your site isn't worth that much? Maybe I'm wrong – discuss. lol :o) Author Response: While the issue is up for debate, I agree with your first statement and disagree with your second. Invisible Web: What it is, Why it exists, How to find it, and Its inherent... What is the "Invisible Web", a.k.a. the "Deep Web"?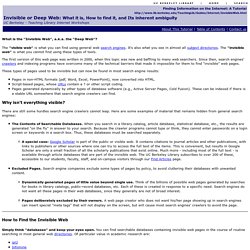 The "visible web" is what you can find using general web search engines. It's also what you see in almost all subject directories. Support - iPod Tutorials - Beyond the Basics. 15 Killer Windows 7 Keyboard Shortcuts That Might Surprise You. Top-10-ways-to-access-blocked-stuff-on-the-web from lifehacker.com. @themadscientist: I am living on the flip side of that coin.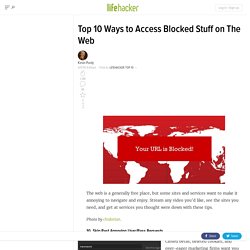 I work in the technology department of a city, and our IT security staff is both lazy and stupid. They set up smart filter and won't unblock anything ever, even if you need it to do your job. Watch Movies with no limits. Remove The Lyrics From MOST Songs. Geek to Live: How to control your home computer from anywhere stories - Lifehacker.
Amp Up a Laser Pointer. From Wired How-To Wiki Illustration by Lab Partners Your laser pointer could be doing so much more than highlighting PowerPoint slides and blowing your cat's mind.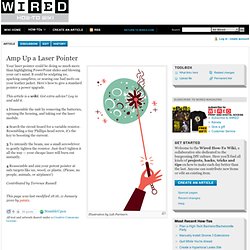 It could be sculpting ice, sparking campfires, or searing one bad mofo on your leather jacket.
---