Dropbox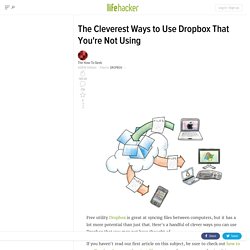 Free utility Dropbox is great at syncing files between computers, but it has a lot more potential than just that. Here's a handful of clever ways you can use Dropbox that you may not have thought of. If you haven't read our first article on this subject, be sure to check out how to use Dropbox for more than just file syncing , where we covered using it to sync passwords across PCs, access portable applications from anywhere, or control your computer remotely.
Filestork is a web service that lets your friends share files with you through Dropbox, even if they don't use Dropbox themselves.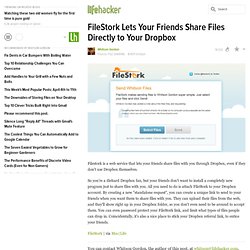 FileStork Lets Your Friends Share Files Directly to Your Dropbox
Dropbox Forms Is the Easiest Way to Let Anyone Send a File to Your Dropbox Account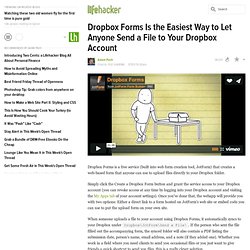 Dropbox Forms is a free service (built into web form creation tool, JotForm) that creates a web-based form that anyone can use to upload files directly to your Dropbox folder.
Apps
LAN sync is a Dropbox feature that speeds syncing dramatically when the file exists on your Local Area Network (LAN). What does that mean exactly? Well, when you add a file to your computer's Dropbox, the file is then synced with Dropbox servers.
What is LAN sync? -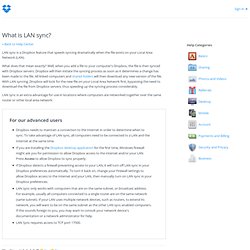 Dropbox is an excellent utility for syncing files, sharing files and backing up files. With a free account, you get 2GB of free storage.
How to get 5.25GB on Dropbox with a free account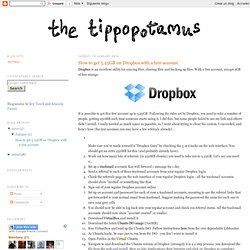 I'm a huge fan of Dropbox ever since I started using it. Today I decided to to upgrade my free account to an 50 GB paid account.
Blog » How to get 10GB on Dropbox with a free account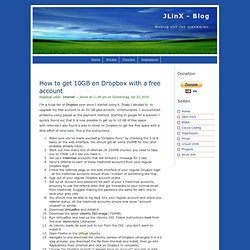 Dropbox invites - Page 18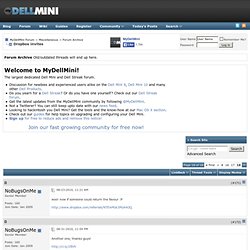 This method isn't at all nice toward Dropbox, but then they ARE offering 10 free GB to everyone. This is just a twist on their legitimate method for acquiring free space.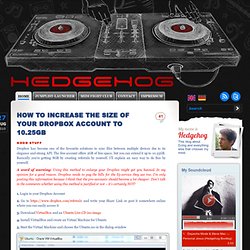 How to increase the size of your Dropbox account to 10.25GB « Hedgehog's Blog
good stuff
Cloud Storage Faceoff: Windows Live SkyDrive vs. Dropbox vs. Amazon Cloud Drive
Dropbox Folder Sync Adds Any Folder to Dropbox with a Right-Click
Windows: There's a trick that syncs any file or folder to your Dropbox account , though it involves terminal commands that, if poorly executed, can cause some headaches.