Dropbox
The Cleverest Ways to Use Dropbox That You're Not Using. @Platypus Man: Do you have an iPhone, BlackBerry or an Android phone?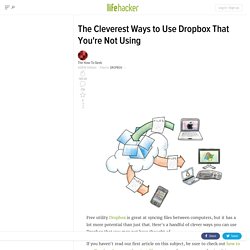 KeePass (a highly-recommended password management app) is available for many platforms. Including the above mentioned phones, Windows, Mac & Linux. FileStork Lets Your Friends Share Files Directly to Your Dropbox. Dropbox Forms Is the Easiest Way to Let Anyone Send a File to Your Dropbox Account. Yeah, I just tried this out and I don't like the way it works.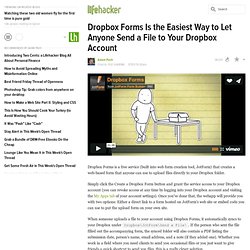 The upload form you create sends the file to JotForm first, who then copies it into your Dropbox account. So not only are you limited by the 50MB Filesize and 100MB JotForm quota, but you're adding a point of failure to an otherwise robust system. If either service were to change something, or if JotForm fails somehow, it's possible an uploaded file would fail to be copied to Dropbox, which could be a very bad thing if you're waiting for an important file. Apps. Addons/DropboxPortable - Dropbox Wiki. What is LAN sync? - « Back to Help Center LAN sync is a Dropbox feature that speeds syncing dramatically when the file exists on your Local Area Network (LAN).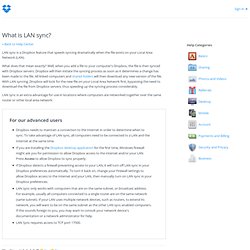 What does that mean exactly? How to get 5.25GB on Dropbox with a free account. Dropbox is an excellent utility for syncing files, sharing files and backing up files.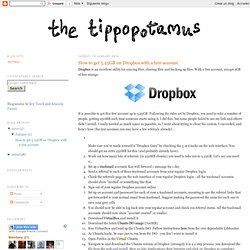 With a free account, you get 2GB of free storage. It is possible to get this free account up to 5.25GB. Following the rules set by Dropbox, you need to refer a number of people, getting 250MB each time someone starts using it. I did this, but some people failed to use my link and others didn't install. I really needed as much space as possible, so I went about trying to cheat the system. Blog » How to get 10GB on Dropbox with a free account. Dropbox invites - Page 18. This method isn't at all nice toward Dropbox, but then they ARE offering 10 free GB to everyone.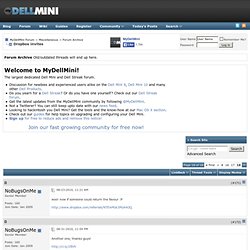 This is just a twist on their legitimate method for acquiring free space. Here is how I maxed out my free Dropbox at 10GBs: NOTE: this will require some discipline and patience on your part as it can get tedious fast. 1a. Create a crap-load of temporary email accounts or use the ones you already have. How to increase the size of your Dropbox account to 10.25GB « Hedgehog's Blog. Good stuff Dropbox has become one of the favourite solutions to sync files between multiple devices due to its elegance and strong API.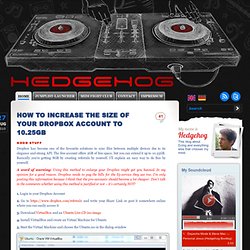 The free account offers 2GB of free space, but you can extend it up to 10.25GB. Basically you're getting 8GB by creating referrals by yourself. I'll explain an easy way to do this by yourself. Cloud Storage Faceoff: Windows Live SkyDrive vs. Dropbox vs. Amazon Cloud Drive. Dropbox Folder Sync Adds Any Folder to Dropbox with a Right-Click. @Confuzius: wondering the same thing... and also how does this work in XP, since I know symlinks are not really supported well and can cause problems??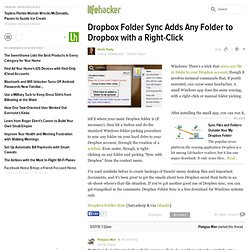 I know, I know, WINDOWS, its my work computer, and the only one left out of 8 that isn't Linux ='( @Confuzius: OK, let's say you have Desktop/Work on A and create a symlink to Dropbox/Work. Well, you'd actually have to copy Desktop/Work to Dropbox/Work and create the symlink to the old location for it to work properly. Then, on B, you'd have to create the same symlink to Desktop/Work and the same stuff will show up.
---