Macro = Media et Institution
Keotag - tag search multiple engines, tag generator and social bookmark links generator. MonitorThis - search for new entries in 26 different search engines feeds. Alertes - Recevez des alertes lorsque du contenu susceptible de vous intéresser est posté sur le Web. Avec les alertes Google, vous êtes averti par e-mail lorsque de nouveaux résultats correspondant aux termes que vous recherchez sont publiés (Web, actualités, etc.).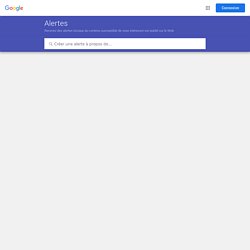 Saisissez une requête de recherche que vous souhaitez surveiller. Vous verrez un aperçu du type de résultats que vous recevrez. Exemples d'utilisation des alertes Google : Suivi de l'évolution d'un sujet d'actualitéRéception d'informations sur les activités récentes d'un concurrent ou d'un secteurSuivi de l'actualité d'une personnalitéSuivi des résultats d'une équipe sportive. Joongel, Internet The Easy Way. Collecta. Wikipedia Roll - Le Garage - Betaexplore. Internet marketing guide: ebusiness, ecommerce, web strategy, online services. Soovle - Let the web help.
Google Actualités. Bing. Yahoo! France. Google.
---