Magick
Puzuzu brings you a beginners guide on how to get started in Spells and Magic and use this site to help you. What is Thou looking for? If you can't find it, then search the web for right here... Custom Search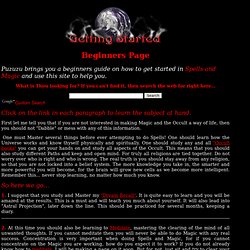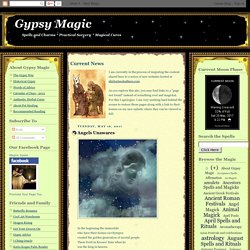 Some say that the name of the month of February comes from the Roman goddess Februa, who was also known as Juno Februa. Others say that the name came from the god Februus, who was later identified with the Roman Pluto or Dis. The month of February, truly a month of ice in many parts of the Northern Hemisphere, is a dormant time, when all activity and life appears to be low-key or below the surface movement. In both the Celtic and Roman cultures, it was a time of spiritual purification and initiation. The country of Tibet celebrated the conception of Buddha and the Feast of Flowers during this time of year. February can be an ideal time for dedicating or re-dedicating oneself to whatever deity or deities one worships.
Nathair Amulet-AzureGreen
Enochian Magick Reference Document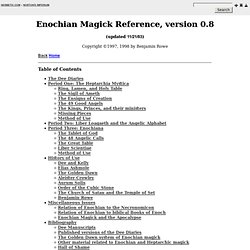 Back Home Table of Contents Note: Due to their large size, the illustrations for this document are on separate linked pages. Thanks to Scott M. for the scans he provided. Thanks to Clay Holden and the John Dee Publication Project for cleaned-up scans from Dee's diaries. Thanks also to the many people who made suggestions, whether or not I used them, and to the people who had constructive criticisms of early versions.
Enochian Magic
lesser banishing ritual of the pentagram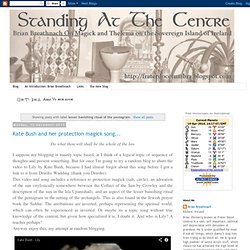 Notes On the Lesser Banishing Ritual Of the Pentagram And The Four Worlds of The Life Tree Do what thou wilt shall be the whole of the law First off the bat I would like to apologize for not having posted here for a while, but life caught up with me (as it does to all of us). We have looked at the ritual of the Lesser Banishing Ritual of the pentagram bit by bit. We have taken it apart to analyse it.
A Thelemic Primer
Come forth, o children, under the stars, & take your fill of love! (AL I, 12) A Thelemic Primer (This primer is also available in printed form, and you can also download the PDF.) This primer provides an overall introduction to Thelema, suitable for beginners.
magickal lair
Real Magick and Occult Archives
A Study Guide For Magick In Theory And Practice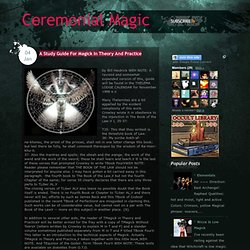 by Bill Heidrick WEH NOTE: A revised and somewhat expanded version of this, guide will be found in the THELEMA LODGE CALENDAR for November 1986 e.v. Many Thelemites are a bit appalled by the evident complexity of this work. Crowley wrote it in obedience to the injunction in The Book of the Law:У I, 35-37:
Ra-Hoor-Khuit Magickal Library
The Celtic year was traditionally divided into two seasons; the light and the dark. While Beltane, celebrated May 1st, welcomes the light half of the year, Samhain, celebrated by the Celts on November 1st (beginning on October 31st), marks the most magically potent time of the year. With the rise of Christianity, Samhain was changed to Hallowmas, or All Saints' Day, to commemorate the souls of the dead who had been canonized that year, so the night before became popularly known as Halloween, All Hallows Eve, or Hollantide. November 2nd became All Souls Day, when prayers were to be offered to the souls of all who had departed and those who were waiting in Purgatory for entry into Heaven. Throughout the centuries, pagan and Christian beliefs intertwine in a mixture of celebrations from Oct 31st through November 5th. For country folk, Samhain marked the first day of winter, when herds of cattle and sheep were led down from their summer pastures to the shelter of their stables.
Book of Shadows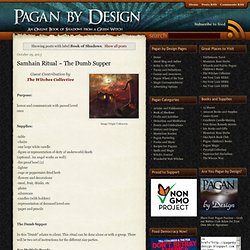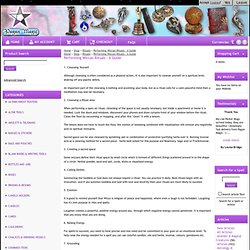 1. Cleansing Yourself Although cleansing is often considered as a physical action, it' is also important to cleanse yourself on a spiritual level, shaking off any psychic debris. An important part of the cleansing is bathing and anointing your body, but as a ritual calls for a calm peaceful mind then a meditation may also be necessary. 2. Cleansing a Ritual Area
Pagan Magic: Wicca and Witchcraft Shop - Delivery Worldwide - Articles - Rituals - Performing Wiccan Rituals – A Guide
Magick, wicca, paganism and other esoteric knowledge | RM.com ®
Articles on Daily Life A Cup of Hemlock: Dealing with Conflict in Coven and Congregation There have always been those folks who point out our foibles, and make us take an uncomfortable look at our world, as well as those who simply had the misfortune to point out the obvious when it was unwelcome. Then there are troublemakers, folks who go out of...
Put one tablespoon of cinnamon and four tablespoons of parsley (not stated whether fresh or dried so take your pick) in the filter cup of your coffee maker. Use five cups of water and allow to brew. Draw a warm bath and add one cup of the tea. As you pour it into the bath, chant:
Everyday Magic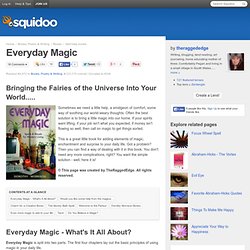 This Book of Shadows was found at #WICCAN WAY listed as 'Public Domain'. Most of the material contained here is from ourbooks EIGHT SABBATS FOR WITCHES, WITCHES WAY (Also published as THE WITCHES BIBLE), and several other of our works, although some of it is also from other published sources, and 'traditional'. We've 'reclaimed' the bits which are ours and added to it to our own Web Pages - after all, we did publish most of it in our books! We're therefore not breaking any 'craft secrets' by placing it on our web pages as all of it can be found on the bookshelves of any Occult Shop or somewhere else on the Internet! We've had several bits of mail from confused individuals regarding the fact that the festival dates seem to be 6 months out! The fact is they are correct, IF you live BELOW THE EQUATOR.
Book of Shadows
Defense Against The Dark Arts: Hexenspiegel Hexenspiegel have been used as a major defence against the dark arts for as long as people have been around. There is something about the flowing, reflective, smooth properties of metal that makes for a natural defence against incoming bad energy, which is by nature, disturbed, impure and chaotic. In the olden days, people used to use mirrors made from highly polished pieces of silver or gold, sometimes also copper for reflecting the intention back on the sender of the black magic or evil eye - that's both a defence as well as an attack all rolled into one.
Magic Protection Defence Against The Dark Arts: Hexenspiegel | Magic Spells, Magic Potions, Magic Charms and Magic Power | Magic, Spells & Potions
2014 Barbara Morris / Moonsmuses.com Moonsmuses.com for the modern pagan weaving an ancient magic. All Spells, Rituals Incense, herbs, Amulets. talismans, blessed candles, smudge kits are rooted in White magic earth based beliefs and created by practicing Celtic Witch / Pagan. Although not currently for sale, you will find SOME of my secret recipes FREE through out this site and on Facebook as well.
So you want to learn magic? Maybe you are curious. Maybe you have a problem and you're trying to find a magic solution.
Dream Analysis and Interpretation - Understanding Dreams
Thank you for visiting Dream Central! The ONLY internet site you will ever need for information on dreams, dreaming and dream analysis! Among the topics covered in extensive detail will be: Nightmares, dream induction, remembrance, why we dream, altering mental states to induce more vivid dreaming
Analysis Tools DIY
The Breath: The Basis of Magick, Energy Manipulation, and Mind Power