Creativity
Creativity. These days, there's hardly a mission statement that doesn't herald it, or a CEO who doesn't laud it. And yet despite all of the attention that business creativity has won over the past few years, maddeningly little is known about day-to-day innovation in the workplace. Where do breakthrough ideas come from?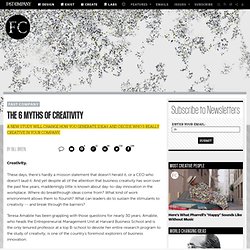 The 6 Myths Of Creativity
Wired 13.02: Revenge of the Right Brain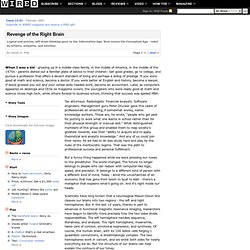 Logical and precise, left-brain thinking gave us the Information Age. Now comes the Conceptual Age - ruled by artistry, empathy, and emotion. By Daniel H. PinkPage 1 of 2 next »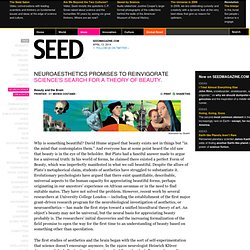 Illustration by Gluekit Why is something beautiful? David Hume argued that beauty exists not in things but "in the mind that contemplates them."
Beauty and the Brain
opNnoOx.gif (GIF Image, 720 × 405 pixels)
People who appreciate the beauty of mathematics activate the same part of their brain when they look at aesthetically pleasing formula as others do when appreciating art or music, suggesting that there is a neurobiological basis to beauty. There are many different sources of beauty -- a beautiful face, a picturesque landscape, a great symphony are all examples of beauty derived from sensory experiences. But there are other, highly intellectual sources of beauty. Mathematicians often describe mathematical formulae in emotive terms and the experience of mathematical beauty has often been compared by them to the experience of beauty derived from the greatest art.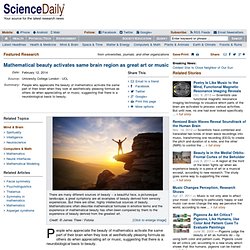 Mathematical beauty activates same brain region as great art or music -- ScienceDaily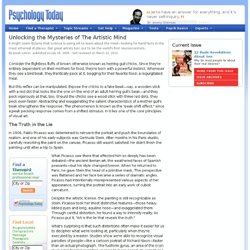 Consider the flightless fluffs of brown otherwise known as herring gull chicks. Since they're entirely dependent on their mothers for food, they're born with a powerful instinct. Whenever they see a bird beak, they frantically peck at it, begging for their favorite food: a regurgitated meal. But this reflex can be manipulated.