Computers
2014051502.jpg (800×533) 15 Killer Google Chrome Features You Might Not Know About. 70 Things Every Computer Geek Should Know. The term 'geek', once used to label a circus freak, has morphed in meaning over the years.
What was once an unusual profession transferred into a word indicating social awkwardness. As time has gone on, the word has yet again morphed to indicate a new type of individual: someone who is obsessive over one (or more) particular subjects, whether it be science, photography, electronics, computers, media, or any other field.
A geek is one who isn't satisfied knowing only the surface facts, but instead has a visceral desire to learn everything possible about a particular subject. A techie geek is usually one who knows a little about everything, and is thus the person family and friends turn to whenever they have a question. If you're that type of person and are looking for a few extra skills to pick up, or if you're a newbie aiming to get a handhold on the honor that is geekhood, read on to find out what skills you need to know. 70 Things Every Computer Geek Should Know. | Arrow Webzine.
99 ways to make your computer blazingly fast. Over the last several years working in IT for various companies as a Systems Administrator, Network Administrator, and Help Desk professional, I've written and learned about many ways to increase the performance of not only my PC, but also of the many PCs on my networks ranging from Windows 98 to Windows Vista.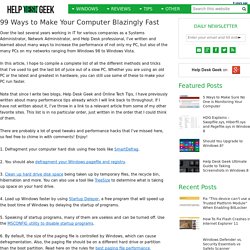 In this article, I hope to compile a complete list of all the different methods and tricks that I've used to get the last bit of juice out of a slow PC. Whether you are using an old PC or the latest and greatest in hardware, you can still use some of these to make your PC run faster. File formats. Google Tricks. [via onlinecolleges.net] With classes, homework, and projects–not to mention your social life–time is truly at a premium for you, so why not latch onto the wide world that Google has to offer?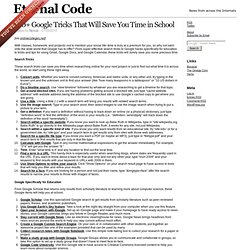 From super-effective search tricks to Google hacks specifically for education to tricks and tips for using Gmail, Google Docs, and Google Calendar, these tricks will surely save you some precious time. Search Tricks These search tricks can save you time when researching online for your next project or just to find out what time it is across the world, so start using these right away. Convert units. How Does Google Work? Tips and downloads for getting things done.
---