Orchestral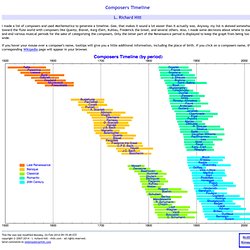 L.
Composers Timeline
Classical Music Blog
ACME In Concert: Steve Reich's Complete String Quartets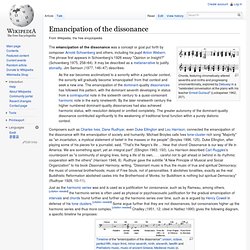 Chords, featuring chromatically altered sevenths and ninths and progressing unconventionally, explored by Debussy in a "celebrated conversation at the piano with his teacher Ernest Guiraud" (Lockspeiser 1962, 207). The emancipation of the dissonance was a concept or goal put forth by composer Arnold Schoenberg and others, including his pupil Anton Webern. The phrase first appears in Schoenberg's 1926 essay "Opinion or Insight?" (Schoenberg 1975, 258–64).
Emancipation of the dissonance
Free classical sheet music for piano. Easy piano scores for solo.
Classical Music Navigator
BAROQUE MUSIC PAGE: biogs, pictures, music samples
The Chopin Project
Index of /scores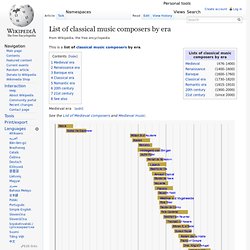 List of classical music composers by era From Wikipedia, the free encyclopedia Jump to: navigation, search This is a list of classical music composers by era. Contents [hide]