Orchestral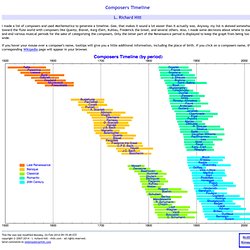 L. Richard Hitt I made a list of composers and used Mathematica to generate a timeline. Gee, that makes it sound a lot easier than it actually was.
Composers Timeline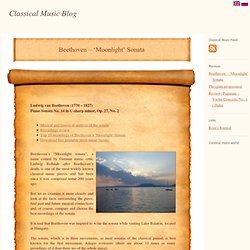 Ludwig van Beethoven (1770 – 1827) Piano Sonata No. 14 in C-sharp minor, Op. 27, No. 2 Beethoven's "Moonlight sonata", a name coined by German music critic Ludwig Rellstab after Beethoven's death, is one of the most widely known classical music pieces, and has been since it was composed some 200 years ago. But let us examine it more closely and look at the facts surrounding the piece, find past and future musical connections and, of course, compare and choose the best recordings of the sonata. It is said that Beethoven was inspired to write the sonata while visiting Lake Balaton, located in Hungary.
Classical Music Blog
ACME In Concert: Steve Reich's Complete String Quartets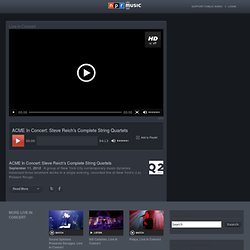 Live in Concert Credit: NPR ACME In Concert: Steve Reich's Complete String Quartets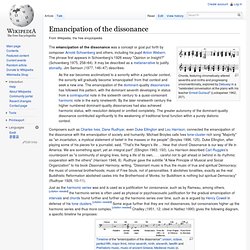 Chords, featuring chromatically altered sevenths and ninths and progressing unconventionally, explored by Debussy in a "celebrated conversation at the piano with his teacher Ernest Guiraud" (Lockspeiser 1962, 207). The emancipation of the dissonance was a concept or goal put forth by composer Arnold Schoenberg and others, including his pupil Anton Webern. The phrase first appears in Schoenberg's 1926 essay "Opinion or Insight?" (Schoenberg 1975, 258–64).
Emancipation of the dissonance
Welcome to our website. We are pleased to offer a variety of music scores for amateur musicians who prefer quality over quantity. Although not the largest archive of free sheet music, we aim to become one of the best.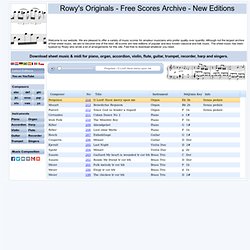 Free classical sheet music for piano. Easy piano scores for solo.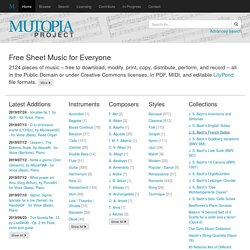 Browse by composer: Bach, Beethoven, Chopin, Diabelli, Handel, Mozart, Schumann, Sor. [Full list of composers] Browse by instrument: Piano, Vocal, Organ, Violin, Guitar, Orchestra. [Full list of instruments]
Classical Music Navigator
BAROQUE MUSIC PAGE: biogs, pictures, music samples
Princess Cristina Belgiojoso, Underwriter of Hexameron When Vincenzo Bellini, a great composer of bel canto opera and one of Chopin's musical idols died in 1835, a group of pianist-composers in Bellini's circle chose to honor him by writing a set of six variations on a march from the last of his operas, "Il Puritani." The six friends were coaxed into this project by Princess Cristina Trivulzio Belgiojoso, and led by Franz Liszt, who contributed a substantial part of this nearly twenty minute long collection. The Princess, who adored Bellini, is pictured here and is separately a subject of extraordinary interest as a Parisian-exiled Italian heiress, a music loving society celeb, feminist, author, social activist and political revolutionary, teacher and pioneer.
The Chopin Project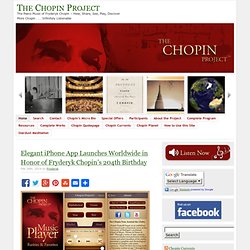 Index of /scores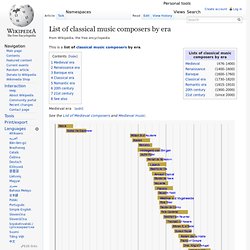 List of classical music composers by era From Wikipedia, the free encyclopedia Jump to: navigation, search This is a list of classical music composers by era. Contents [hide]