Orchestral
Composers Timeline. L.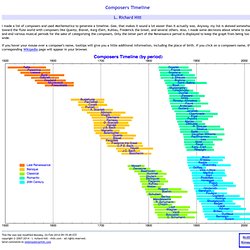 Richard Hitt I made a list of composers and used Mathematica to generate a timeline. Gee, that makes it sound a lot easier than it actually was. World Free Sheet Music (PDF, MIDI, MP3) Classical Music Blog. IMSLP/Petrucci Music Library: Free Public Domain Sheet Music. Emancipation of the dissonance. Chords, featuring chromatically altered sevenths and ninths and progressing unconventionally, explored by Debussy in a "celebrated conversation at the piano with his teacher Ernest Guiraud" (Lockspeiser 1962, 207).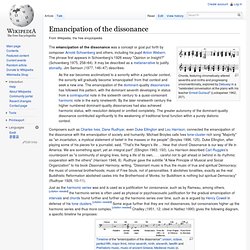 The emancipation of the dissonance was a concept or goal put forth by composer Arnold Schoenberg and others, including his pupil Anton Webern. The phrase first appears in Schoenberg's 1926 essay "Opinion or Insight? " (Schoenberg 1975, 258–64). ACME In Concert: Steve Reich's Complete String Quartets. ALL PIANO SCORES : free sheet music (free piano scores)
Free classical sheet music for piano. Easy piano scores for solo. The Mutopia Project. Main Page - ChoralWiki. Classic scores. BAROQUE MUSIC PAGE: biogs, pictures, music samples. Classical Music Navigator. Index of /scores. The Chopin Project. List of classical music composers by era.
List of classical music composers by era From Wikipedia, the free encyclopedia Jump to: navigation, search This is a list of classical music composers by era.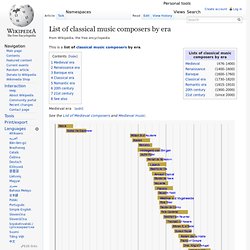 Contents [hide] The J.S. Bach Home Page.
---