Blogs Illustrateurs
Le grand vrac !
Les Gribouillis d'Ani - Illustrateur, graphiste freelance
Animation Treasures
Animation Treasures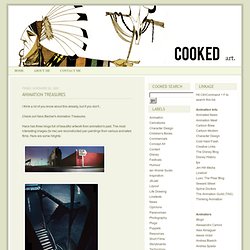 I think a lot of you know about this already, but if you don't... Check out Hans Bacher's Animation Treasures. Hans has three blogs full of beautiful artwork from animation's past.
Alexis Marcou Illustrations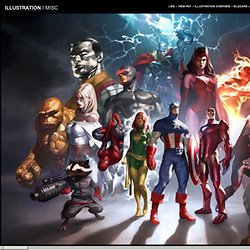 SIXMOREVODKA studio GmbH Owner: Marko Djurdjevic Boxhagener Strasse 16 10245 Berlin Germany Tel +49 30 762 310 31 Fax +49 30 762 310 32 info@sixmorevodka.com Marko Djurdjevic & Jelena Kevic-Djurdjevic
PORTFOLIO | ILLUSTRATION | MISC-2
Happy new year to all of you ! :) Some more pre-production work for the animated feature TUSK.
WHISPER PICTURES BLOG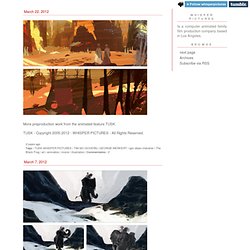 Fantasy and Concept Artwork by Ed Binkley.
Have you ever done work and not gotten paid? Submitted your invoices into a black hole? Mike Monteiro brings this subject to the floor…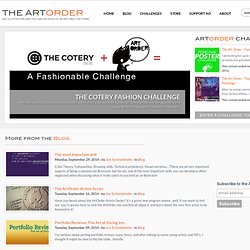 The Art Order
Things...
cake or death | m • o • y • a
Enfin quelques nouvelles!Tout d'abord vous pouvez retrouver une recette illustrée par mes petites mains dans letrès joli et délicieux Ma cuisine Illustrée avec pleins de gens talentueux et de bonnes choses à cuisiner dedans (Et le tome Hiver arrivera sous peu!)Je travaille actuellement sur un livre pour enfant dont je parlerais en temps voulu!Pour vous faire patienter, une petite image, la princesse Raiponce, pour l'expo GIRLS : Fact + Fiction exhibition à la galerie Light Grey Art Lab, Finally, something new! My entry for the GIRLS : Fact + Fiction exhibition at Light Grey Art Lab, princess Rapunzel!
brutal moineau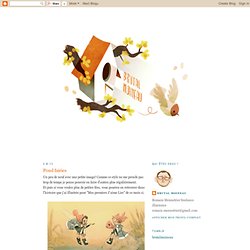 Et hop, l'Invitation officielle au vernissage de mon exposition à Paris chez Arludik Galerie le 10 AVRIL! j'espère vous y voir À trés bientôt ————— Here's the official invitation for the opening of my exhibition in Paris at Arludik the 10th of APRIL! Hope to see you there See you very soon 2 weeks ago Tags : THE BLACK FROG | EXHIBITION | ART | ORIGINAL | SELL | Comments :
DYNAMO ✮ Le blog officiel de la Grenouille Noire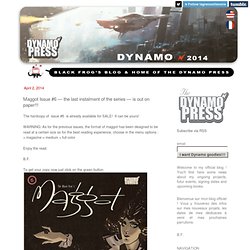 coolashu
This is the text of a brief piece I wrote for Imagine FX on Alphonse Mucha. Mucha was and is one of my art heroes, and hopefully through my bad grammar this is apparent. In the article they asked me to include some of my own images inspired by Mucha.
Port Out, Starboard Home
ALICE DRAWS
Adam Paquette - Maximalism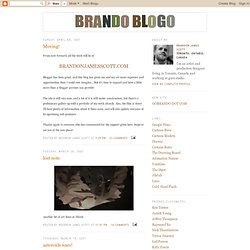 Well, here's the (relatively) final version of the story reel for my final year film at Sheridan. It's pretty ridiculous, though honestly, this is how I see nature when I step off of the road and into the trees. Is that wrong? So now is the time to take this timed out story and animate it out, throw in some refined backgrounds, and tighten up the sounds a little more. Should be doable in the next 4 months.
BRANDO BLOGO
Hey, Sorry but I have been really really busy. I had to take care of some stuff.
Summer's Field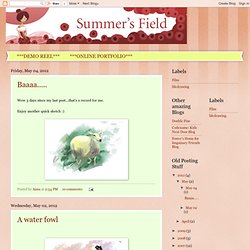 Alexandre Cote
Alexandre Cote
AARON LEE
Cooked Art
bill's studio
Kataplonk
lezardsketchland
ornelie
book
Mister T
Les dessins de Lautrette
Alltop - Top Animation News
DJEDY SPACE
---
H.B. "Buck" Lewis
::AREA-56::
Daniel Arriaga
Victoria Ying's Art
Jeff Turley
nima's blog
Jean-Brice DUGAIT
Waouw je sais faire des scrollbars color es !!!
Shannon Tindle
Michael Daley
Nate Wragg Art and Illustration
The Fun Filled Artistic Adventures of Lyle
Hand Drawn Nomad