Alternative
Usine Colgate Palmolive : le délocalisation qui inquiète
C'est normal, les riches c'est fait pour être très riches et pauvres très pauvres !
Une scène me revient en mémoire à chaque fois que je tente de retrouver l'effet grisant que le mouvement Occuper Wall Street (OWS) a produit sur moi au temps où il semblait promis à un grand avenir. Je me trouvais dans le métro de Washington, en train de lire un article sur les protestataires rassemblés à Zuccotti Park, au cœur de Manhattan. C'était trois ans après la remise à flot de Wall Street ; deux ans après que toutes mes fréquentations eurent abandonné l'espoir de voir le président Barack Obama faire preuve d'audace ; deux mois après que les amis républicains des banquiers eurent conduit le pays au bord du défaut de paiement en engageant un bras de fer budgétaire avec la Maison Blanche.
Occuper Wall Street, un mouvement tombé amoureux de lui-même, par Thomas Frank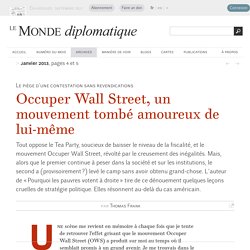 Programme du vendredi | lamarchepourlacier
Paul Krugman soutient François Hollande.
Le 1er janvier 2014 va, hélas, se présenter comme un mauvais jour pour la gauche, pour notre parti, le parti socialiste et pour le gouvernement de la gauche. La TVA va augmenter de 19,6 % à 20 %. Ce, en dépit de tout ce qui a été défendu lors de la campagne présidentielle, et dans les tracts et affiche de notre parti socialiste en fin 2012.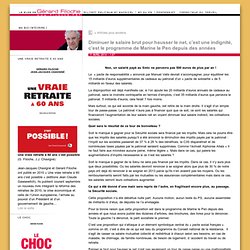 Le blog de Gérard Filoche
Both countries held elections Sunday that were in effect referendums on the current European economic strategy, and in both countries voters turned two thumbs down. It's far from clear how soon the votes will lead to changes in actual policy, but time is clearly running out for the strategy of recovery through austerity — and that's a good thing. Needless to say, that's not what you heard from the usual suspects in the run-up to the elections. It was actually kind of funny to see the apostles of orthodoxy trying to portray the cautious, mild-mannered as a figure of menace. He is "rather dangerous," declared The Economist, which observed that he "genuinely believes in the need to create a fairer society."
Those Revolting Europeans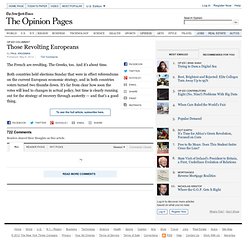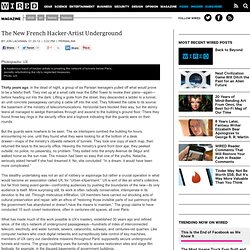 A mysterious band of hacker-artists is prowling the network of tunnels below Paris, secretly refurbishing the city's neglected treasures.Photo: UX Thirty years ago, in the dead of night, a group of six Parisian teenagers pulled off what would prove to be a fateful theft. They met up at a small café near the Eiffel Tower to review their plans—again—before heading out into the dark.
Une chose est sûre, le projet de loi de ratification du Traité de l'Union européenne instituant le Mécanisme européen de stabilité (MES) ne sera pas adopté en catimini à l'Assemblée nationale, ce 21 février. Une partie de la gauche a décidé de donner de la voix pour contester un système aggravant la crise européenne. « Cela ne s'arrêtera pas là » , prévient Jean-Luc Mélenchon, candidat du Front de gauche à la présidentielle. « On ne lâchera pas un mètre de terrain sur cette affaire-là. Il n'y a pas d'arrangement possible avec la droite.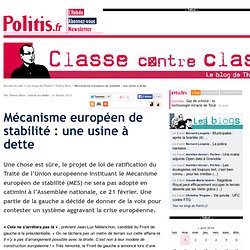 Mécanisme européen de stabilité : une usine à dette
Le Manifeste des Desobeissants
French » /tmp/lab
L'interview suivante a été réalisée par ALB-Noticias, avec le soutien de José Antonio Gutierrez (collaborateur de Anarkismo.net).
Un regard anarchiste sur les mouvements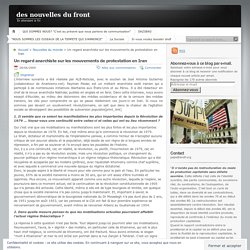 A tous les hommes libres - résistance