Derechos de Autor
The Right to Share: Principles on Freedom of Expression and Copyright. Policy brief 25 Apr 2013 These Principles seek to establish a framework which can be used to ensure firstly, that the right to freedom of expression and the ability to share knowledge and culture are fully protected in the digital age; and secondly, that copyright interests do not unduly restrict them.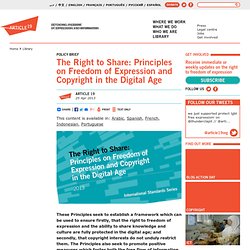 Forget the Cellphone Fight — We Should Be Allowed to Unlock Everything We Own | Wired Opinion | Wired.com - (Private Browsing) While Congress is working on legislation to re-legalize cellphone unlocking, let's acknowledge the real issue: The copyright laws that made unlocking illegal in the first place.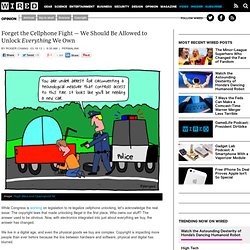 Who owns our stuff? The answer used to be obvious. Now, with electronics integrated into just about everything we buy, the answer has changed. Dialogos :: "Los transgénicos están destruyendo el tejido social" Es un pequeño granjero canadiense que enfrentó a la poderosa Monsanto, en un caso que llegó a la Corte Suprema de su país.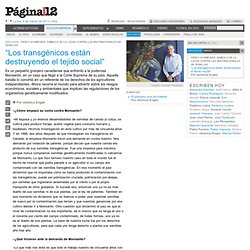 Aquella batalla lo convirtió en un referente de los derechos de los agricultores independientes. Ahora recorre el mundo para advertir sobre los riesgos económicos, sociales y ambientales que implican las regulaciones de los organismos genéticamente modificados. –¿Cómo empezó su lucha contra Monsanto? –Mi esposa y yo éramos desarrolladores de semillas de canola (o colza, se cultiva para producir forraje, aceite vegetal para consumo humano y biodiésel).
Hicimos investigación en este cultivo por más de cincuenta años. Europa rechaza el ACTA. Para su entrada en vigor, el llamado "acuerdo internacional contra la piratería" necesita ser ratificado por al menos seis de los países que lo han negociado, y sólo Japón lo ha hecho.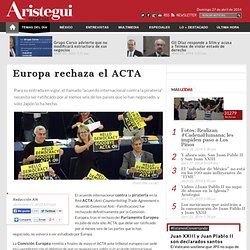 El acuerdo internacional contra la piratería en la Red ACTA (Anti-Counterfeiting Trade Agreement o Acuerdo Comercial Anti –Falsificación) fue rechazado definitivamente por la Comisión Europea, tras el rechazo del Parlamento Europeo en julio de este año. ACTA, que debe ser ratificado por al menos seis de las partes que lo han negociado, no volverá a ser estudiado por Europa. La Comisión Europea remitió a finales de mayo el ACTA ante tribunal europeo con sede en Luxemburgo con el objetivo de que se pronunciara sobre si el acuerdo internacional respeta los derechos fundamentales, en un intento por calmar las dudas y críticas que levantó entre los Internautas europeos, informó La Vanguardia. El Senado le dijo NO; la misma Cofetel dijo NO; Europa dijo NO; y al gobierno federal le vale: firmó #ACTA. Esta noche, el Instituto Mexicano de la Propiedad Intelectual emitió un comunicado en el que da a conocer que México firmó el Acuerdo Comercial contra la Falsificación (ACTA) ante el Gobierno Japonés.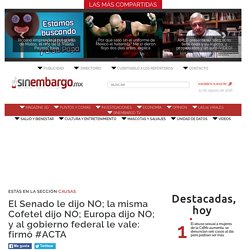 Este polémico acuerdo fue firmado por el embajador de México en Japón, Claude Heller, y establece un marco general internacional "con el fin de detener el comercio ilegal de productos piratas y/o falsificados, incluyendo su distribución masiva por medios digitales". ACTA ha sido rechazo ampliamente por usuarios de Internet en todo el mundo, y sólo algunos países –Australia, Canadá, Corea, Estados Unidos, Japón, Marruecos, Nueva Zelanda y Singapur– lo han firmado. El ACTA pretende "una mejor protección internacional de los derechos de propiedad intelectual de los mexicanos, atraer nuevas inversiones, asegurar las fuentes de trabajo ya existentes e incrementar la creación de empleos formales, así como fomentar la creatividad, la innovación y la competitividad de nuestras empresas". Europa rechazó el ACTA hace una semana, México lo firma. La Cofetel y el Senado también han manifestado el rechazo al acuerdo que ha sido acusado reiteradamente de restringir las libertades de internet en el mundo; este miércoles fue firmado por el embajador de México en Japón Una semana después de que en Europa fue negado el polémico Acuerdo Comercial contra la Falsificación (ACTA) porque podría atentar a la privacidad de los consumidores, las libertades y la libre información, La Cofetel y el Senado también han manifestado el rechazo al acuerdo que ha sido acusado reiteradamente de restringir las libertades de internet en el mundo.
El documento ante el gobierno de ese país, depositario del Acuerdo el cual busca detener el comercio ilegal de productos piratas y/o falsificados, incluyendo su distribución masiva por medios digitales, informó el Instituto Mexicano de la Propiedad Industrial (IMPI). El propósito del acuerdo es " en materia de marcas, invenciones, obras intelectuales y artísticas", informó Notimex. Joel Tenenbaum Boston University Student Download Fine: Court Won't Reduce $675,000 Penalty. BOSTON — A former Boston University student who was ordered to pay $675,000 for illegally downloading and sharing 30 songs on the Internet says he will continue fighting the penalty, despite the Supreme Court's refusal Monday to hear his appeal.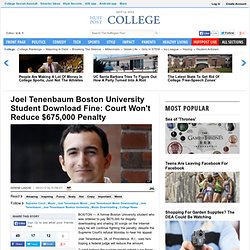 Joel Tenenbaum, 28, of Providence, R.I., said he's hoping a federal judge will reduce the amount. "I can't believe the system would uphold a six-figure damages amount for downloading 30 songs on a file-sharing system that everybody used," Tenenbaum said. "I can't believe the court would uphold something that ludicrous. " A jury in 2009 ordered Tenenbaum to pay $675,000, or $22,500 per song, after the Recording Industry Association of America sued him on behalf of four record labels, including Sony BMG Music Entertainment and Warner Brothers Records Inc. A federal judge called the penalty unconstitutionally excessive and reduced the award to $67,500, but the 1st U.S. Is online freedom under threat in India? The ethics of internet piracy. Princeton, NJ - Last year, I told a colleague that I would include internet ethics in a course that I was teaching.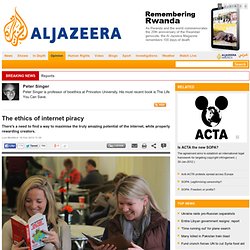 She suggested that I read a recently published anthology on computer ethics - and attached the entire volume to the email. Should I have refused to read a pirated book? Everything is a Remix. Watch. 'Enfrían' la SOPA en Congreso de EU - El Universal - El Mundo. Ciudad de México | Viernes 20 de enero de 2012Redacción | El Universal15:09 El principal promotor de la ley SOPA (Stop Online Piracy Act) decidió retirar su iniciativa hasta que se logre un consenso mayor para combatir la piratería en internet.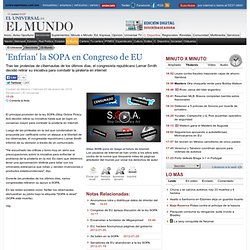 Luego de las protestas en la red que condenaban la propuesta por calificarla como un ataque a la libertad de los cibernautas, el congresista republicano Lamar Smith informó de su decisión a través de un comunicado. "He escuchado las críticas y tomo muy en serio sus preocupaciones sobre la iniciativa para enfrentar el problema de la piratería en la red. Es claro que debemos tener una aproximación distinta para lidiar con los criminales extranjeros que roban y venden invenciones y productos estadounidenses", dijo. SOPA: Freedom or profits? - Inside Story. Thousands of websites have staged an online protest against proposed anti-piracy laws in the US.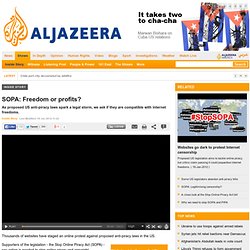 Supporters of the legislation - the Stop Online Piracy Act (SOPA) - say action is needed to stop online piracy and copyright infringement. There is a similar bill called the Protect Intellectual Property Act (PIPA) in the US Senate. Both laws are designed to stop the illegal download of copyrighted material or content from the internet or activities that infringe US intellectual property rights. La justice américaine ferme le site de téléchargement Megaupload. Le Monde.fr | • Mis à jour le | Par Damien Leloup La justice américaine a fermé jeudi 19 janvier 18 sites Web, dont les services très populaires Megaupload (téléchargement direct) et Megavideo (streaming) dans le cadre d'une vaste procédure judiciaire. Le FBI a annoncé la mise en examen de sept personnes liées au réseau de sites Web "Mega", accusés de conspiration en vue de violer le droit d'auteur et de blanchiment d'argent.
Les sept hommes risquent jusqu'à vingt ans de prison. Sans attendre l'issue du procès, le FBI a bloqué directement l'accès aux sites, en utilisant la procédure controversée de blocage DNS. Save the Internet - the pressure is working! 1,977,460 have signed. Help us get to 3,500,000 Update: 22 January 2012 US Senate leaders are backing away from a vote this week! Megaupload.com Charged With Piracy Violations, Shut Down By Feds. WELLINGTON, New Zealand (AP) — New Zealand police raided several homes and businesses linked to the founder of Megaupload.com, a giant Internet file-sharing site shut down by U.S. authorities, on Friday and seized guns, millions of dollars, and nearly $5 million in luxury cars, officials said. Police arrested founder Kim Dotcom and three Megaupload employees on U.S. accusations that they facilitated millions of illegal downloads of films, music and other content costing copyright holders at least $500 million in lost revenue.
Extradition proceedings against them could last a year or more. With 150 million registered users, about 50 million hits daily and endorsements from music superstars, Megaupload.com was among the world's biggest file-sharing sites. According to a U.S. indictment, the site, which was shut down Thursday, earned Dotcom $42 million in 2010 alone. Jonathan Lamy, RIAA Spokesman, Hits Back At SOPA, PIPA Criticism After Wikipedia Blackout. The internet filled with snark on Wednesday, as a slew of websites went dark to protest anti-piracy bills SOPA and PIPA. Not to be outdone by journalists and teenagers, one supporter of the legislation also sounded off.
"After Wikipedia blackrout[sic], somewhere, a student today is doing original research and getting his/her facts straight. Perish the thought," tweeted Jonathan Lamy, Senior Vice President of Communication of the Recording Industry Association of America. Five reasons the Internet's still protesting SOPA and PIPA. Over the weekend, it seemed like the anti-SOPA forces had won.
The House temporarily shelved the Stop Online Piracy Act. The Senate sponsors of the Protect IP Act agreed to review the most controversial provisions. So why's the Internet still so mad? Here are five reasons: (Gary Cameron - Reuters) 1. Support for Internet Bill Wanes as Protests Spread. Lo que debes saber sobre la Ley Döring, la versión mexicana de SOPA.
SOPA Forces Obama To Pick Sides Between Donors From Hollywood, Silicon Valley. Más de 10 mil sitios web cierran por ley SOPA - El Universal - Finanzas. SOPA: Lawmakers backing away from online-piracy bills.
---
leonardomolina Jul 12 2012

Muy buena documentación. Hay que tener mucho cuidado con estas legislaciones porque podrian llevarnos al extremo en que estos repositorios de info sean ilegales :(
---