Derechos de Autor
Policy brief 25 Apr 2013 These Principles seek to establish a framework which can be used to ensure firstly, that the right to freedom of expression and the ability to share knowledge and culture are fully protected in the digital age; and secondly, that copyright interests do not unduly restrict them.
The Right to Share: Principles on Freedom of Expression and Copyright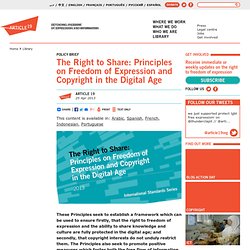 Forget the Cellphone Fight — We Should Be Allowed to Unlock Everything We Own | Wired Opinion | Wired.com - (Private Browsing)
While Congress is working on legislation to re-legalize cellphone unlocking, let's acknowledge the real issue: The copyright laws that made unlocking illegal in the first place.
Es un pequeño granjero canadiense que enfrentó a la poderosa Monsanto, en un caso que llegó a la Corte Suprema de su país. Aquella batalla lo convirtió en un referente de los derechos de los agricultores independientes.
Dialogos :: "Los transgénicos están destruyendo el tejido social"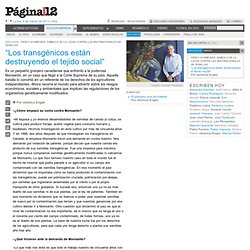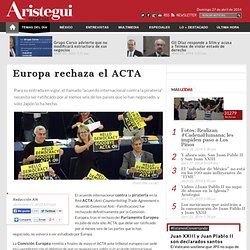 Europa rechaza el ACTA
Para su entrada en vigor, el llamado "acuerdo internacional contra la piratería" necesita ser ratificado por al menos seis de los países que lo han negociado, y sólo Japón lo ha hecho. El acuerdo internacional contra la piratería en la Red ACTA ( Anti-Counterfeiting Trade Agreement o Acuerdo Comercial Anti –Falsificación) fue rechazado definitivamente por la Comisión Europea, tras el rechazo del Parlamento Europeo en julio de este año.
Esta noche, el Instituto Mexicano de la Propiedad Intelectual emitió un comunicado en el que da a conocer que México firmó el Acuerdo Comercial contra la Falsificación (ACTA) ante el Gobierno Japonés.
El Senado le dijo NO; la misma Cofetel dijo NO; Europa dijo NO; y al gobierno federal le vale: firmó #ACTA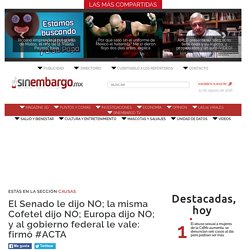 Europa rechazó el ACTA hace una semana, México lo firma
BOSTON — A former Boston University student who was ordered to pay $675,000 for illegally downloading and sharing 30 songs on the Internet says he will continue fighting the penalty, despite the Supreme Court's refusal Monday to hear his appeal. Joel Tenenbaum, 28, of Providence, R.I., said he's hoping a federal judge will reduce the amount.
Joel Tenenbaum Boston University Student Download Fine: Court Won't Reduce $675,000 Penalty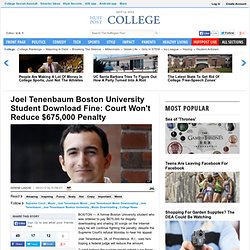 Copyleft Prezis | Explore | Prezi
Is online freedom under threat in India?
The ethics of internet piracy
Princeton, NJ - Last year, I told a colleague that I would include internet ethics in a course that I was teaching. She suggested that I read a recently published anthology on computer ethics - and attached the entire volume to the email. Should I have refused to read a pirated book?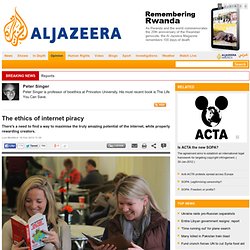 Ciudad de México | Viernes 20 de enero de 2012 Redacción | El Universal 15:09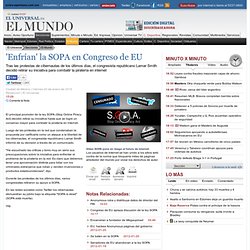 'Enfrían' la SOPA en Congreso de EU - El Universal - El Mundo
Thousands of websites have staged an online protest against proposed anti-piracy laws in the US.
SOPA: Freedom or profits? - Inside Story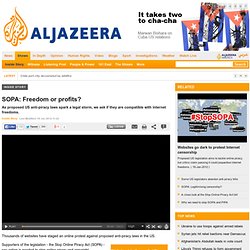 New Zealand police seize shotguns, money, cars in raid in US online piracy case
New Zealand police seize shotguns, money, cars in raid in US online piracy case
La justice américaine a fermé jeudi 19 janvier 18 sites Web, dont les services très populaires Megaupload (téléchargement direct) et Megavideo (streaming) dans le cadre d'une vaste procédure judiciaire.
La justice américaine ferme le site de téléchargement Megaupload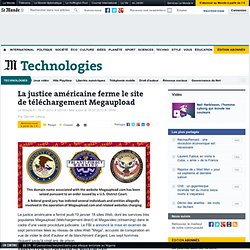 Save the Internet - the pressure is working!
345,229 have signed.
Megaupload.com Charged With Piracy Violations, Shut Down By Feds
WELLINGTON, New Zealand (AP) — New Zealand police raided several homes and businesses linked to the founder of Megaupload.com, a giant Internet file-sharing site shut down by U.S. authorities, on Friday and seized guns, millions of dollars, and nearly $5 million in luxury cars, officials said.
The internet filled with snark on Wednesday, as a slew of websites went dark to protest anti-piracy bills SOPA and PIPA.
Jonathan Lamy, RIAA Spokesman, Hits Back At SOPA, PIPA Criticism After Wikipedia Blackout
Over the weekend, it seemed like the anti-SOPA forces had won. The House temporarily shelved the Stop Online Piracy Act.
Five reasons the Internet's still protesting SOPA and PIPA
Support for Internet Bill Wanes as Protests Spread
The Web sites on Wednesday of, clockwise from top left, Google, Mozilla, Wired and Wikipedia. Yet on Wednesday this formidable old guard was forced to make way for the new as Web powerhouses backed by Internet activists rallied opposition to the legislation through Internet blackouts and cascading criticism, sending an unmistakable message to lawmakers grappling with new media issues: Don't mess with the Internet.
Lo que debes saber sobre la Ley Döring, la versión mexicana de SOPA
SOPA Forces Obama To Pick Sides Between Donors From Hollywood, Silicon Valley
Más de 10 mil sitios web cierran por ley SOPA - El Universal - Finanzas
SOPA: Lawmakers backing away from online-piracy bills