Alter
» El "mundo perdido" de Yongding, en China 101 Lugares increíbles - Puedes seguirnos en Twitter @101lugares Hay una región de China que alguna vez supo captar la atención de Estados Unidos desde el espacio con sus construcciones circulares que se repiten por miles y por kilómetros.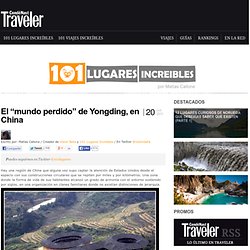 Una zona donde la forma de vida de sus habitantes alcanzó un grado de armonía con el entorno sostenido por siglos, en una organización en clanes familiares donde no existían distinciones de jerarquía. La historia mordiéndose la cola. N Honduras se creará una ciudad modelo bajo un estatuto especial, tanto legal como económico, lo que ha levantado una intensa polémica cuyo eje principal es el asunto de la soberanía nacional.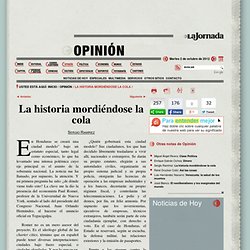 La noticia me ha llamado, por supuesto, la atención. Y mi primera pregunta ha sido: ¿de dónde viene todo esto? La clave me la dio la presencia del economista Paul Romer, profesor de la Universidad de Nueva York, sentado al lado del presidente del Congreso Nacional, Juan Orlando Hernández, al hacerse el anuncio oficial en Tegucigalpa.
Peeps
Indies. Weekly Document: The Censored Chapter (1946) » Restricted Data: The Nuclear Secrecy Blog. An article of mine ("A Tale of Openness and Secrecy: The Philadelphia Story") has recently been published in Physics Today.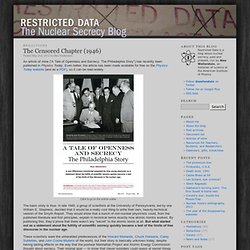 Even better, the article has been made available for free on the Physics Today website (and as a PDF), so it can be read widely. Click to go to the article online. The basic story is thus: in late 1945, a group of scientists at the University of Pennsylvania, led by one William E. Stephens, decided that it would be a really cool thing to write their own, heavily-technical version of the Smyth Report. They would show that a bunch of non-nuclear physicists could, from the published literature and first principles, explain in technical terms exactly how atomic bombs worked. Alternative Media.
Corporativo
BancaLimpia.com - Somos clientes no cómplices. NYTeX. Wikileaks. American Apparel Cracks Down On Shoplifting, Loses Hipster Fans. Thieving hipsters, take note.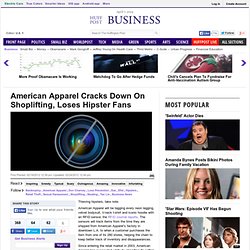 American Apparel will be tagging every neon legging, velvet bodysuit, V-neck t-shirt and iconic hoodie with an RFID sensor, the RFID Journal reports. The sensors will track items from the time they are shipped from American Apparel's factory in downtown L.A. to when a customer purchases the item from one of its 280 stores, helping the chain to keep better track of inventory and disappearances. Since entering the retail market in 2003, American Apparel has succeeded wildly by imparting its cotton basics with alternative appeal. The company supports progressive issues like gay rights, pays factory workers $12 to $14 per hour -- far above minimum wage -- and regularly incites the uptight with skin-filled ads. Yet American Apparel has long been targeted by shoplifters, many of them indistinguishable from the chain's loyal customers.
This is Not a Conspiracy Theory by Kirby Ferguson. For international orders, please add an extra $10 for shipping.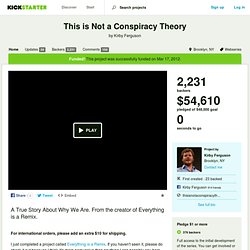 I just completed a project called Everything is a Remix. If you haven't seen it, please do check it out because I think it's more persuasive than anything I can possibly say here. I'd now like to introduce you to my next project, which, with your help, I'd like to launch this election year of 2012. It's called This is Not a Conspiracy Theory and it's a multi-part series that will explain the major ideas, events and human quirks that have shaped where we are right now politically. It will center on the United States, but the stories will cover the world and I think it'll have strong relevance regardless of where you live. Images of Revolution - Revolution Through Arab Eyes. Filmmaker: Ibrahim Hamdan "Images are like weapons.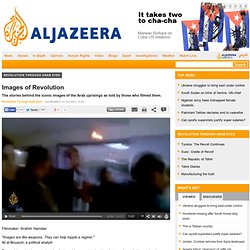 They can help topple a regime. " Everything is a Remix. Ardián V Oro. Vangelis: A message of hope - Talk to Al Jazeera. In December 2011, leaders from around the world gathered at the United Nations Alliance of Civilizations meeting in Doha, a forum meant to encourage dialogue between cultures and people.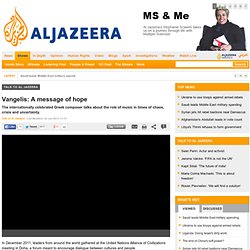 The host nation, Qatar, asked Vangelis, the Greek composer, to create the music for the event, which also marked the inauguration of Doha's cultural village and Greek-style amphitheatre. The event brought together celebrated artists from around the world and his music was written to formulate a message of hope. Vangelis, one of the world's most celebrated creators of electronic music and the Oscar-winning composer of the music for Bladerunner and Chariots of Fire, came to a Middle East in the midst of upheaval at a time of financial crisis in his own country. Al Jazeera's Tony Harris met the composer to talk about the role of music in our times. Vangelis also selected some of his music for Al Jazeera to accompany some of the most memorable images from the past year.
La naturaleza contraataca: amaranto inca devora transgénicos de Monsanto. En lo que parece ser una muestra más de la sabiduría de la naturaleza abriendo camino, la especie de amaranto inca conocida como kiwicha se ha convertido en una pesadilla para Monsanto.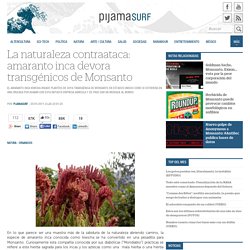 Curiosamente esta compañía conocida por sus diabólicas ("Mondiablo") prácticas se refiere a esta hierba sagrada para los incas y los aztecas como una mala hierba o una hierba maldita. El fenómeno de la expansión del amaranto en cultivos de más de viente estados a lo largo de Estados Unidos no es nuevo, pero merece ser rescatado, acaso celebrando la pericia y quizás hasta la inteligencia de esta planta guerrera que se ha opuesto al gigante de las semillas transgénicas. Desde el 2004 un agricultor en Atlanta se dio cuenta que brotes de amaranto resistían al poderoso herbicida Roundup basado en el glifosato y devorando campos de soya transgénica. Indonesia aims for locally produced car - Asia-Pacific. Judge Rakoff on free love, the death penalty, defending crooks and Wall Street justice. The potential impact of Rakoff's stand goes beyond the financial arena to other industries and regulators that rely on negotiated settlements.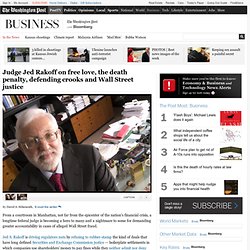 "This is Jed Rakoff against the world," said Joel Seligman, a scholar of securities law. The dispute seemed to take on a more personal edge over the holidays, when Rakoff accused the SEC of blindsiding him during legal maneuvers. A daily TV/radio news program, hosted by Amy Goodman and Juan Gonzalez, airing on over 900 stations, pioneering the largest community media collaboration in the United States.
---