Scotland
SNP - Scottish National Party
Newsnet Scotland
Cookies: Please be aware that our site uses cookies so that we can remember you and understand how you and other visitors use our site. By visiting NewsnetScotland.com, you accept the use of cookies in accordance with this Cookie Notice. In particular, you accept the use of Analytics Cookies for the purposes described below. Find out more about cookies by going here: http://www.allaboutcookies.org/ About Us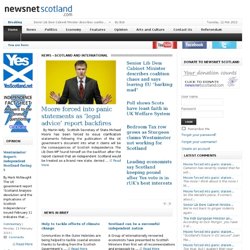 The Caledonian Mercury is committed to independent, intelligent, in-depth, online journalism. What you see is what we can achieve with no investment, no support from advertisers and no subscriptions. It is not a finished product.
Caledonian Mercury: Scottish news, stories and intelligent analysis from Scotland's first truly online newspaper Cookies are small data files which are sent to your browser (Internet Explorer, Firefox, Chrome etc) from a website you visit. They are stored on your electronic device. This is a type of cookie which is collected by Adobe Flash media player (it is also called a Local Shared Object) - a piece of software you may already have on your electronic device to help you watch online videos and listen to podcasts. Yes there are a number of options available, you can set your browser either to reject all cookies, to allow only "trusted" sites to set them, or to only accept them from the site you are currently on.
Radio Scotland
Hello, and welcome to Undiscovered Scotland, the ultimate online guide to Scotland. The site is a combination of visitor guide, accommodation listing and business directory, and aims to show you what the country is really like. You can navigate the site using clickable maps or menus. There are a range of other resources to help you, including the Alphabetical Index, the Site Index, the Accommodation Index, the Late Availability listings page, the Search page, the Site Info section, the Links section, the What's New page and Scotfax. Users of mobile devices can use our Mobile Menus.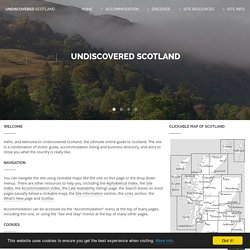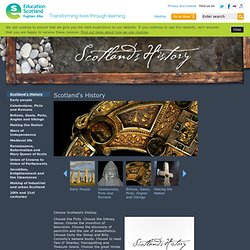 Scotland's History - Explore 5000 years of Scottish history
Choose Scotland's History. Choose the Picts. Choose the Orkney Venus. Choose the invention of television. Choose the discovery of penicillin and the use of anaesthetics. Choose Dolly the Sheep and Billy Connolly's banana boots.
A Taste of Scotland
It was the readiness with which he spoke of them. It was the context. He knew that I had arrived in , for my first visit, just an hour earlier.