Portfolios
Mario Testino. Mario Testino, one of the biggest fashion photographers in the world, blows me away.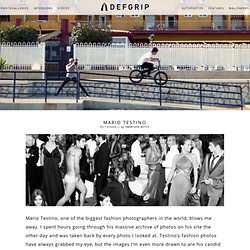 I spent hours going through his massive archive of photos on his site the other day and was taken back by every photo I looked at. Testino's fashion photos have always grabbed my eye, but the images I'm even more drawn to are his candid point and shoot stuff. He is known for taking his Contax everywhere he goes and has produced some incredible images and even published a book with his point and shoot stuff alone. I uploaded a few of my favorite shots after the jump, but you have to spend time on his website to really get the feel for all the work he has produced.
Arja Hyytiäinen. Stuck In Customs HDR Photography.
Carbonmade : Your online portfolio. Welcome to Flickr!
---