Fotografía e imágenes
Mind-Blowing Illustrations by Loopy Dave.
Cool Photos and Artworks for Your Inspiration #68. 476758bd6747672737819. Stockholm Metro. 20100105_Eggs-1024x682.jpg (JPEG Image, 1024x682 pixels) - Scaled (94%) 15 Anthropomorphic Objects - web pulp 2.0 | web pulp 2.0. Have you ever seen a common everyday object and could swear that its smiling at you?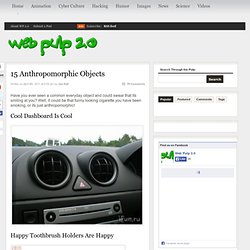 Well, it could be that funny looking cigarette you have been smoking, or its just anthropomorphic! Cool Dashboard Is Cool. I think we all need something like this. Do you agree?
---