Explore For Work
Data Center. Get Organized. Postini. Kunden profitieren bei ihren bestehenden E-Mail-Servern auch weiterhin von E-Mail-Sicherheit und Archivierungsdiensten, und zwar über die Google Apps-Plattform und Google Apps Vault**.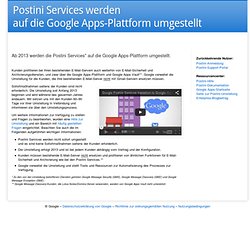 Google verwaltet die Umstellung für die Kunden, die ihre bestehenden E-Mail-Server nicht mit Gmail-Servern ersetzen müssen. Sofortmaßnahmen seitens der Kunden sind nicht erforderlich. Die Umstellung soll Anfang 2013 beginnen und wird während des gesamten Jahres andauern. Green Business News, Resources, and Sustainability Career Tools. Crunchies 2011 - Vote now for your favorite companies, products and people.
Home | CloudFlare | The web performance & security company. Asana - Task Management for Teams. Twilio | Build Scalable Voice, VoIP and SMS Applications in the Cloud. Pre-Integrated Cloud Apps for SSO & User Management -- Okta. A New Approach to App Integrations The Okta Application Network (OAN) provides a new approach for identity management integrations.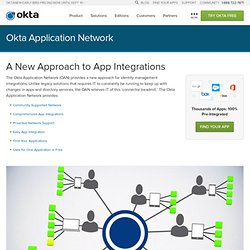 Unlike legacy solutions that requires IT to constantly be running to keep up with changes in apps and directory services, the OAN relieves IT of this 'connector treadmill.' The Okta Application Network provides: Community Supported Network The community-supported network enables customers and partners to integrate any public or custom cloud application into the Okta platform with the App Integration Wizard. Simple Online Collaboration: Online File Storage, FTP Replacement, Team Workspaces.
---