Projets artistiques
Get flash to fully experience Pearltrees
« Échantillons » est une première pour Thomas Schmitt. L'artiste français sort de son territoire urbain et expose ses toiles à Paris du 23 au 29 mai. Thom Thom, sélectionné par Jean Faucheur pour l'édition 2011 du prix Sciences Po pour l'Art contemporain, franchit un cap et saisit ainsi l'occasion, de rencontrer son public.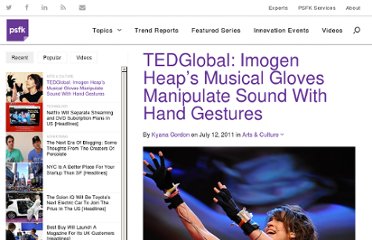 Today, during her performance at the TEDGlobal Conference in Edinburgh, the singer/songwriter, Imogen Heap demonstrated a pair of magical, musical gloves that had audience members literally eating out of the palm of her hands.
Driven by the desire to provide recreational spots in MacArthur Park, Los Angeles for kids to play in, artist Ramon Coronado kickstarted the Mercado Negro Project (Mercado Negro is Spanish for "Black Market"), a 12-week initiative where he, along with a few friends, handcrafts shopping carts into park furniture of varying shapes and sizes.