Web Browser info and utils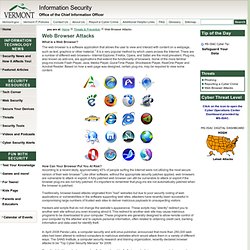 Web Browser Attacks | Information Security
What is a Web Browser? The web browser is a software application that allows the user to view and interact with content on a webpage, such as text, graphics or other material. 1 It is a very popular method by which users access the Internet. There are a number of different web browsers-- Internet Explorer, Firefox, Opera, and Safari are the most prevalent.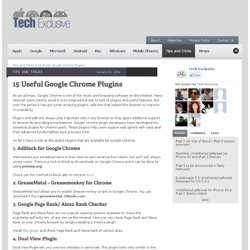 As we all know, Google Chrome is one of the most used browsing software on the Internet.
15 Useful Google Chrome Plugins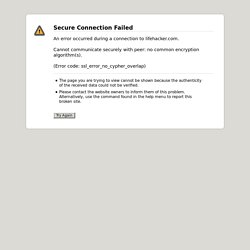 When it comes to the Google search box, you already know the tricks: finding exact phrases matches using quotes like "so say we all" or searching a single site using site:lifehacker.com gmail . But there are many more oblique, clever, and lesser-known search recipes and operators that work from that unassuming little input box.
Google
firefox goes to Mgasavezz4.com How can I stop this? | Firefox Support Forum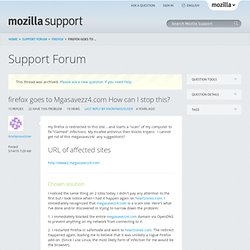 Chosen Solution I noticed the same thing on 2 sites today.
In my case, the key to eliminating the XUL Runner 1.9.1 was in finding the registry entry:
I keep getting redirected to websites I don't want - it was nearly impossible to get here. Have four virus, malware, spyware &trojan horseprograms and all of them come up clean. | Firefox Support Forum
I have Mozilla with ABP.
open firefox is immediately hijacked to display an advertisement | Firefox Support Forum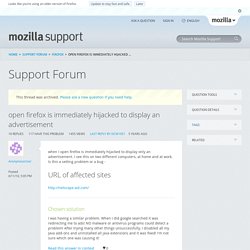 Firefox redirects to wyciwyg page | Firefox Support Forum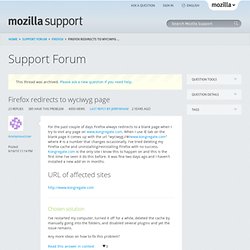 Helpful Reply
Firefox keeps redirecting me, after I try to open a webpage I've found in "search" | Firefox Support Forum
(Note: When I say to run something, run it as the administrator if you are the administrator.) 1) Go to these links & download these things.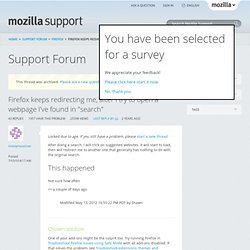 Why does Firefox 3.6.6 redirect to google-analytics.com? | Firefox Support Forum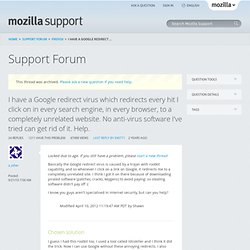 i have been having redirects for months also.
I have a Google redirect virus which redirects every hit I click on in every search engine, in every browser, to a completely unrelated website. No anti-virus software I've tried can get rid of it. Help. | Firefox Support Forum
hello, tried unsuccessfully to download and install no redirect in firefox 3.6.13, windows xp pro, sp3. after clicking on install now, nothing happens except hard drive icon on my thinkpad flashes [as it does whenever there's an install or other activity related to it].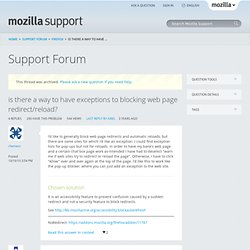 is there a way to have exceptions to blocking web page redirect/reload? | Firefox Support Forum
Warning: Only install Userscripts that you trust. Userscripts and Firefox
Installing Greasemonkey Scripts – Userscripts.org