Internet Misc Articles - Web Courses Free
Ambiguous Phrases Words Or even Images
Scattergories Words Starting with Certain Letters Q&A - WikiAnswers
Ambiguities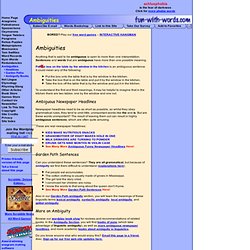 BORED? Play our free word games – INTERACTIVE HANGMAN Anything that is said to be ambiguous is open to more than one interpretation.
Ambigious Sentances Phrases or Words
Ambiguous words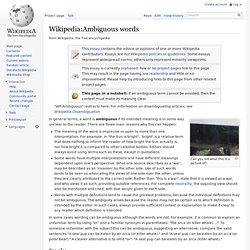 Can you tell what this is a picture of? In general terms, a word is ambiguous if its intended meaning is in some way unclear to the reader. There are three main reasons why this can happen: The meaning of the word is imprecise or open to more than one interpretation.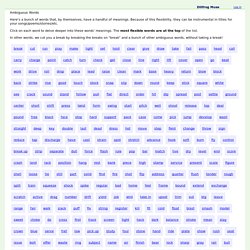 Ambiguous Words Here's a bunch of words that, by themselves, have a handful of meanings. Because of this flexibility, they can be instrumental in titles for your songs/poems/stories/etc. Click on each word to delve deeper into these words' meanings. The most flexible words are at the top of the list.
Documentation - INET - BBC - Etc
Literature & Poetry Sites