Teacher stuffs
Literature Based Crafts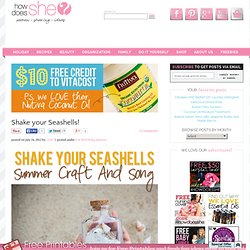 One of my favorite things to do in the summer is play on the beach. Unfortunately, our sandbox is just about as close as we have been to the beach this summer. It's so sad.
Shake your Seashells!
Most Famous Photographs of All Time
Free Exclusive HowDoesShe Printables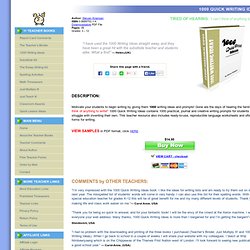 1000 Quick Writing Ideas and writing forms - sample 3
TIRED OF HEARING: "I can't think of anything to write"? "I have used the 1000 Writing Ideas straight away, and they have been a great hit with the substitute teacher and students alike. What a find!" — Helen,(UK) Share this page with a friend. Motivate your students to begin writing by giving them 1000 writing ideas and prompts! Speed Match Our Speed Match Review Game tool is the newest review game to be added to the site. Players must drag and drop answers onto the correct question to clear the board. Questions always appear in a different order. You can even download the Speed Match Flash Player file to use games that you have created offline without an Internet connection! Makes a great SmartBoard review game!
It's April, which means it's officially stashbusting month! It's time to dust off all of the supplies hiding at the back of your closets and create using what you already have on hand. Think of it like spring cleaning, only much more fun! If you're planning to plow through your excess stash this month, you'll be needing plenty of ideas and inspiration. Heather and Rhonda put their heads together and came up with this list of must-visit blogs to help steer your way through your stashbusting odyssey.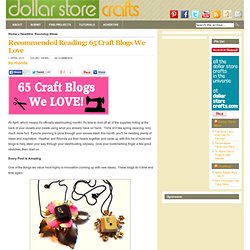 A Perfect Pet for Peyton | The 5 Love Languages®
Make, Take & Teach | instructional materials for small group intervention
Robin's Nest Activities Posted I know the calendar says "spring", but we still have 3 inches of snow up here in northern Michigan. To get into the "spring" spirit I thought I'd dig through my files and pull out all the fun bird, frog and bug activities.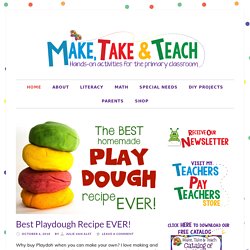 Hi everyone! I've been working on a fun unit study for next year! It's called The World's Greatest Artists Vol. 1 and I'm excited to share it here with you today!
The World's Greatest Artists Unit Study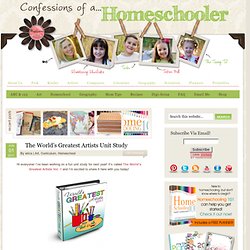 Memorial Weekend Thrifty Treasures | Southern Hospitality
It was raining here in Birmingham for most of the day on Saturday, but that didn't stop Debbie and I from venturing out and checking out a few sales. Since it was a holiday, there weren't any big neighborhood sales, but we managed to find enough and brought home a few treasures. This beautiful and large pottery pitcher was $2 and still has the original sticker on the bottom, from Banana Republic (had no idea they carried housewares, did you?)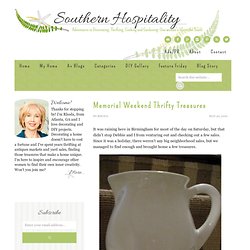 I was at a conference today standing and waiting, waiting and standing for the next session when I heard that ABC Mouse is free to public schools. I think I almost fell over when someone said the word free. I think I needed something free after paying an arm and a leg for any possible kind of dice a teacher could use.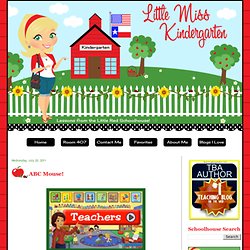 ABC Mouse!
Missing Little S!
Dr Seuss Parent Letter!
Germs Again!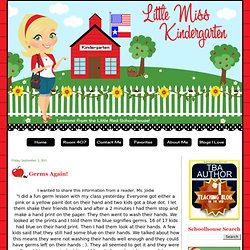 I wanted to share this information from a reader, Ms. Jodie "I did a fun germ lesson with my class yesterday. Everyone got either a pink or a yellow paint dot on their hand and two kids got a blue dot. I let them shake their friends hands and after a 2 minutes I had them stop and make a hand print on the paper.
Glitter Germs
I have had a lot of requests about the activity we did with the glitter germs. I was planning on doing this activity before I learned that I was having a Science visitor in my class and I decided to go ahead and include the person visiting in the activity. We have just begun introducing and talking about an I Am A Scientist Unit. We had only been in school for 7 days when we started this activity.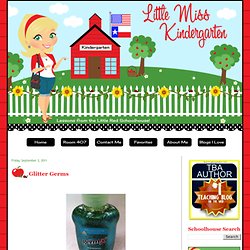 littlemisskindergarten Shop - Signup | Teachers Notebook
Whats in the Cage Baby Animals and Adjectives
Cross Curricular lesson on adjectives and baby animals. After introducing babies and their mommies, using Is Your Mama a Llama? by Debora Guarino, choose one animal to put in the cage as a class. Use the cutouts provided or draw one on a large sticky note. Have students write sentences telling how the animal looks, moves or sounds and how it compares to its mom. Und erline all the adjectives or adjective phrase.
"Hi. My name is Dr Peter Weatherall and I'm an independent children's musician and animator. I create high quality educational songs and videos for children, teachers and parents.
Peter Weatherall: Homepage
Tales of a Fifth Grade Teacher
The first day of school is upon us again. Every year around this time, I think of a student I had several years ago. Let's call him Kelvin. I was aware of Kelvin years before he got to fifth grade. He could be found yelling weird mumbling cursing-ish things to teachers who got onto him in the hallway. He could also be found trailing behind the rest of his class by a couple of yards walking in line.
A Few of Our Dr. Seuss Activities
Featured Picture Books
A to Z Teacher Stuff Printable Pages and Worksheets
Printables and Worksheets
DLTK's Printable Crafts for Kids
Printable Flash Cards
Writing Prompts
Printable Worksheets & Teaching Aids - Print ready Documents in PDF format, August 2008 - Teachers.Net Gazette
Sue Gruber: Get Set for the Best Year Yet! - Teachers.Net Gazette
Printable Worksheets & Teaching Aids - Print ready Documents in PDF format, August 2008 - Teachers.Net Gazette
Printable Worksheets & Teaching Aids - Print ready Documents in PDF format, July 2008 - Teachers.Net Gazette
Printable Worksheets & Teaching Aids - Print ready Documents in PDF format, July 2008 - Teachers.Net Gazette
Craft Favorite: Father's Day Project - Teachers.Net Gazette
Printable Worksheets & Teaching Aids - Print ready Documents in PDF format, July 2008 - Teachers.Net Gazette
Kindergarten Teachers Chatboard
Printable Worksheets & Teaching Aids - Print ready Documents in PDF format, August 2008 - Teachers.Net Gazette
Printable Worksheets & Teaching Aids - Guided Reading in Kindergarten, April 2009 - Teachers.Net Gazette
Printable Worksheets & Teaching Aids - Print ready Documents in PDF format, February 2009 - Teachers.Net Gazette
Printable Worksheets & Teaching Aids - Print ready Documents in PDF format, April 2009 - Teachers.Net Gazette
Gazette October 2002 - OCTOBER PRINTABLES - TIC-TAC-TOE HOMEWORK, LITERATURE CIRCLE ROLE SHEETS - Teachers.Net Gazette - PARENT CONFERENCE TIPS, TEACHING TIPS, ORGANIZATION IDEAS, CLASSROOM MANAGEMENT, LESSON PLANS, DISCIPLINE, AND MORE - featuring column
Gazette November 2002 - PRINTABLES - TURKEY GLYPH, ALPHABET BOOK, ALPHABET CHART - Teachers.Net Gazette - STRESS RELIEF, STUDENT MOTIVATION, ORGANIZATION IDEAS, CLASSROOM MANAGEMENT, LESSON PLANS, DISCIPLINE, AND MORE - featuring columns and articles by t
Gazette November 2002 - PRINTABLES - TURKEY GLYPH, ALPHABET BOOK, ALPHABET CHART - Teachers.Net Gazette - STRESS RELIEF, STUDENT MOTIVATION, ORGANIZATION IDEAS, CLASSROOM MANAGEMENT, LESSON PLANS, DISCIPLINE, AND MORE - featuring columns and articles by t
Gazette November 2002 - PRINTABLES - TURKEY GLYPH, ALPHABET BOOK, ALPHABET CHART - Teachers.Net Gazette - STRESS RELIEF, STUDENT MOTIVATION, ORGANIZATION IDEAS, CLASSROOM MANAGEMENT, LESSON PLANS, DISCIPLINE, AND MORE - featuring columns and articles by t
Gazette April 2003 - FREE PRINTABLES: APRIL CALENDAR, PIPPI LONGSTOCKING NOVEL STUDY, MATH FACT HOUSE, 0 - 15 NUMBERLINE, CONTRACTION STRIPS - Teachers.Net Gazette - MENTORING, STRESS RELIEF, STUDENT MOTIVATION, ORGANIZATION IDEAS, CLASSROOM MANAGEMENT, L
Gazette May 2003 - FREE PRINTABLES: LADYBUG, A FIRST GRADE WORKSHEET TO PRACTICE WRITING ADJECTIVES, AN END OF THE SCHOOL YEAR TEST FOR FIRST GRADE, A WRITING CHECKLIST FOR KIDS TO USE DURING THEIR WRITING TIME, A WORD FAMILY HOUSE, A COMMON POEM FORM - T
Gazette July 2003 - FREE PRINTABLES: JULY AND JULY CALENDARS IN MICROSOFT WORD AND ADOBE PDF, CORRECTING & PROOFREADING CHECKLIST, CALENDAR BORDERED STATIONERY, GRADUATION SONGS, TIC TAC MATH - Teachers.Net Gazette - MENTORING, STRESS RELIEF, STUDENT MOTI
Gazette August 2003 - BIRTHDAY CARDS, MOOSE MATERIALS, POPCORN WORDS, READING LOG, ABC CHANT - Teachers.Net Gazette - MENTORING, STRESS RELIEF, STUDENT MOTIVATION, ORGANIZATION IDEAS, CLASSROOM MANAGEMENT, LESSON PLANS, DISCIPLINE, AND MORE - featuring co
Printable Worksheets & Teaching Aids - Print ready Documents in PDF format, June 2008 - Teachers.Net Gazette
Gazette December 2002 - PRINTABLE 2003 CALENDARS, GINGERBREAD PERSON FAMILY PROJECT, KINDERGARTEN CHRISTMAS VOCABULARY ENRICHMENT, PREDICTABLE TEXT BOOK - Teachers.Net Gazette - STRESS RELIEF, STUDENT MOTIVATION, ORGANIZATION IDEAS, CLASSROOM MANAGEMENT,
Gazette January 2003 - CINNAMON BEAR, CATEGORIES BAG TAKE HOME ACTIVITY, GROUNDHOG POEM - Teachers.Net Gazette - STRESS RELIEF, STUDENT MOTIVATION, ORGANIZATION IDEAS, CLASSROOM MANAGEMENT, LESSON PLANS, DISCIPLINE, AND MORE - featuring columns and articl
Gazette February 2003 - SENTENCE BUILDER, READING CONTRACT, AUTOBIOGRAPHY ASSIGNMENT AND RUBRIC - Teachers.Net Gazette - MENTORING, STRESS RELIEF, STUDENT MOTIVATION, ORGANIZATION IDEAS, CLASSROOM MANAGEMENT, LESSON PLANS, DISCIPLINE, AND MORE - featuring
Gazette March 2003 - FREE PRINTABLES: CONCENTRATION WORD GAMES, SCIENCE PENGUINS, ELMER ELEPHANT, MEET THE FEET - Teachers.Net Gazette - MENTORING, STRESS RELIEF, STUDENT MOTIVATION, ORGANIZATION IDEAS, CLASSROOM MANAGEMENT, LESSON PLANS, DISCIPLINE, AND
Printable Worksheets & Teaching Aids - Print ready Documents in PDF format, August 2008 - Teachers.Net Gazette
Printable Worksheets & Teaching Aids - Print ready Documents in PDF format, September 2008 - Teachers.Net Gazette
Printable Worksheets & Teaching Aids - Print ready Documents in PDF format, September 2008 - Teachers.Net Gazette
Printable Worksheets & Teaching Aids - Print ready Documents in PDF format, January 2009 - Teachers.Net Gazette
Printable Worksheets & Teaching Aids - Print ready Documents in PDF format, January 2009 - Teachers.Net Gazette
Printable Worksheets & Teaching Aids - Print ready Documents in PDF format, January 2009 - Teachers.Net Gazette
Printable Worksheets & Teaching Aids - Print ready Documents in PDF format, February 2009 - Teachers.Net Gazette
Printable Worksheets & Teaching Aids - Student Behaviors and Rules Reporting Rubric, March 2009 - Teachers.Net Gazette
The Sneeze: How Germs are Spread