Personal data protection- facebook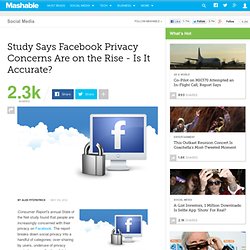 Study Says Facebook Privacy Concerns Are on the Rise - Is It Accurate? [STUDY]
Consumer Report's annual State of the Net study found that people are increasingly concerned with their privacy on Facebook . The report breaks down social privacy into a handful of categories: over-sharing by users, underuse of privacy controls, over-collection of data, over-sharing of data by apps and cyberbullying or harassment. 2,002 online households were surveyed, including 1,340 Facebook users.
13m US Facebook Users Unknowingly Sharing Info with the Public
Facebook's privacy settings can sometimes be a source of confusion for the social network's millions of users, and in the US, nearly 13 million of them are either unaware of, or simply don't use, the privacy controls the site offers. In a recent study , Consumer Reports shows exactly why that figure is nothing short of disastrous, and how over-sharing publicly can be used against Facebook users.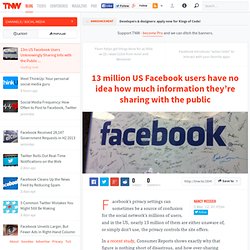 Facebook Privacy Policy Infographic | Online Marketing Trends
About Facebook is a great service. I have a profile , and so does nearly everyone I know under the age of 60.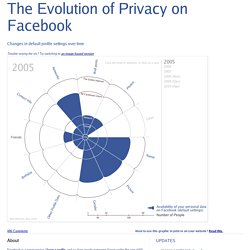 Two-thirds of parents claim to set rules on their child's use of social networking sites, although only 53% of children said that their parents set such rules. While communication with known contacts was the most popular social networking activity, 17 % of adults used their profile to communicate with people they do not know. This increases among younger adults.
Privacy and safety - Social Media Statistics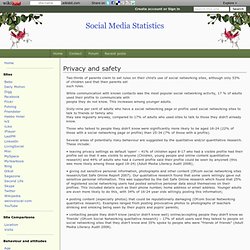 Facebook sous surveillance pendant 20 ans
L'Europe remet la pression sur Facebook. Coup de bluff ?
Les mises en cause et rappels à l'ordre par les autorités européennes ou des élus à l'encontre de Facebook se sont multipliés ces dernières années. Elles ne se sont cependant pas encore traduites par des sanctions. Peut-être la révision de la directive européenne de 1995 sur la protection des données personnelles accroitra-t-elle la pression sur le réseau social – mais aussi les autres firmes américaines. Des propositions sur cette future directive seront faites par la Commission européenne d'ici fin janvier 2012.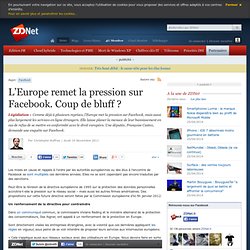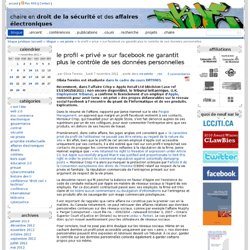 Olivia Tereins est étudiante dans le cadre du cours DRT6903 . Récemment, dans l'affaire Crisp v. Apple Retail Ltd (décision Case ref ET/1500258/2011 ; non encore disponible), le Tribunal britannique, U.K. Employment Tribunal , a confirmé le licenciement d'un employé d' Apple , remercié pour avoir tenu « en privé » des propos défavorables sur le réseau social Facebook à l'encontre du géant de l'informatique et de ses produits. Explications. Dans le résumé de l'affaire, rapporté par Jamie Hamnet sur le site People Management , on apprend que malgré un profil Facebook restreint à ses contacts, Monsieur Crisp, qui travaillait pour un Apple Store, s'est fait dénoncé auprès de ses supérieurs par un de ses collègues, pour avoir commenter l'entreprise ainsi que ses produits, en dehors de ses heures de travail.
Le profil « privé » sur Facebook ne garantit plus le contrôle de ses données personnelles
Facebook's entire business model is under fire in the EU
Perhaps you've heard the saying, "If you're not paying for the product, then you are the product." Facebook (and just about every other free Web service) has built a business on that saying and its implications, and the European Commission is taking the social network to task for it. The EU is considering a ban on Facebook's practice of selling demographic data to marketers and advertisers without specific permission from users. First, let's have a primer on how Facebook makes money: The company gets you to willingly enter all kinds of demographic and behavioral information into a massive database. Advertisers, big brands and Facebook's sales team call it "data." You call it your profile, your likes, your check-ins, your comments and everything else you do on the site.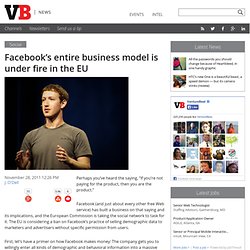 FTC chairman shares lawmakers' privacy concerns about Facebook - The Hill's Hillicon Valley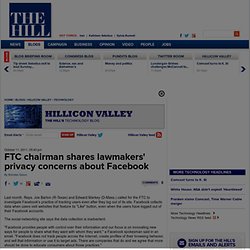 Federal Trade Commission Chairman Jon Leibowitz said Tuesday he shares the "general privacy concerns" of lawmakers who have called for his agency to investigate Facebook. In response to a question about the social networking site, he said it is the FTC's policy not to confirm any investigations unless the subject of the investigation confirms it first. "At 50,000 feet, of course we share general privacy concerns," he added, although he did not mention Facebook by name. Last month, Reps. Joe Barton (R-Texas) and Edward Markey (D-Mass.) called for the FTC to investigate Facebook's practice of tracking users even after they log out of its site. Facebook collects data when users visit websites that feature its "Like" button, even when the users have logged out of their Facebook accounts.