Street Art
Jacker Magazine #4 | Jackermag.com. Tapis dans un coin tels des gaulois, nous sommes la résistance !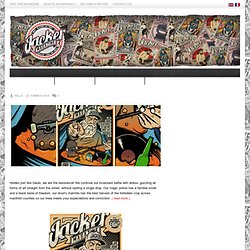 Nous continuons notre combat avec ardeur, ingurgitant toute forme d'art issue de la rue sans jamais en laisser une goutte. Notre potion a une odeur familière et un arrière goût de liberté, la serpe de notre druide a cueilli l'interdit à travers maintes contrées pour que notre breuvage respecte vos attentes et vos convictions … ( lire la suite sur la page édito du magazine ). Revok1 | KEEP THE MOVEMENT MOVIN' Banksy Art. Banksy. Street Artists | STREET ART UTOPIA. Here on Street Art Utopia have we a lot of artists and collectives representing.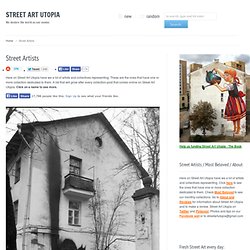 These are the ones that have one or more collection dedicated to them. A list that will grow after every collection-post that comes online on Street Art Utopia. Rue-Stick | L'exposition collective de street-art. L'arT du MaQuiS, VerSioN GrAFfitI, Street-Art, Urban art, 119 rue de clignancourt Paris 18. Ce site, pour sa partie photo, doit être vu comme un fanzine qui parait le 1er et le 15 de chaque mois, à la différence qu'il est gratuit d'accès.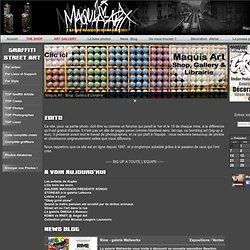 Il n'est pas un site de pages perso comme l'était/est aéro, fat-cap, ou bombing art (big-up à eux). Il présente avant tout le travail de photographes, et ce qui plaît à l'équipe : nous recevons beaucoup de photos et choisissons soigneusement celles que nous diffusons. Nous rappelons que ce site est en ligne depuis 1997, et a longtemps subsisté grâce à la passion de ceux qui l'ont crée.
---