Marketing
Marketing-professionnel.fr, le portail des pros du marketing. Marketing : 4P vs Web 2, Marketing is dead, vive le Marketing 2.
Best Brand Viral Videos of 2010 | The Next Web. 8 November '10, 05:58pm Follow Who doesn't love a good viral video on Youtube?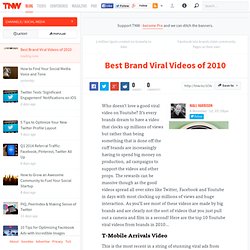 Influence. Pourquoi les marketers offline ont une longueur d'avance en digital. Fidélisation. Business Marketing with Web 2.0. If you're planning on using the web for business marketing, it's a good idea to look at Web 2.0 tools for help.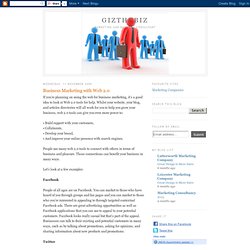 Whilst your website, your blog, and articles directories will all work for you to help you grow your business, web 2.0 tools can give you even more power to: • Build rapport with your customers, • Collaborate, • Develop your brand, • And improve your online presence with search engines. People use many web 2.0 tools to connect with others in terms of business and pleasure. Those connections can benefit your business in many ways. Let's look at a few examples: The State of Online Word of Mouth Marketing [STATS] In a session yesterday at Forrester's Marketing Forum, Forrester analysts Josh Bernoff and Augie Ray presented research findings on peer influence and word of mouth marketing.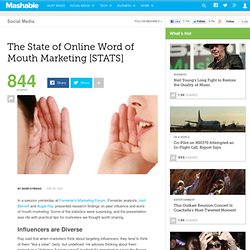 Some of the statistics were surprising, and the presentation was rife with practical tips for marketers we thought worth sharing. Influencers are Diverse Ray said that when marketers think about targeting influencers, they tend to think of them "like a stew": tasty, but undefined. He advises thinking about them instead as a "delicious 3-course meal" in which it's important to savor the flavors of each. He outlined a Peer Influence Pyramid that breaks down influencers into three types: Social Broadcasters (at the top), Mass Influencers (middle), and Potential Influencers (bottom of the pyramid).
---