Books/reading/writing
Sensei After I broke up the fight with one hand and didn't spill the cup of water in my other hand, I really felt like a true black belt. tags: martial arts middle school teacher [add] 2014-01-09 10:44:56 / Rating: 21 /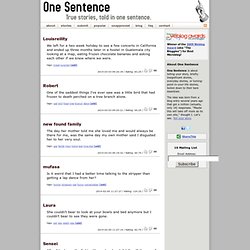 One Sentence - True stories, told in one sentence.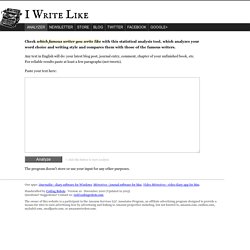 Check which famous writer you write like with this statistical analysis tool, which analyzes your word choice and writing style and compares them with those of the famous writers. Any text in English will do: your latest blog post, journal entry, comment, chapter of your unfinished book, etc. For reliable results paste at least a few paragraphs (not tweets).
I Write Like
The Book Seer | Find your next book
Animal Farm
The 100 Greatest Writers of All Time by WILL HUBBARD and ALEX CARNEVALE Other lists of this kind have been attempted, none very successfully. We would like to stress that there is a crucial difference between "an important writer" and "a great writer"; the latter is at this time our sole interest. We will account for some of the names that did not make this list in a later dispatch.
In Which These Are The 100 Greatest Writers Of All Time