Cultures
One way to write the word " Wikipedia " in Leet Leet (or " 1337 "), also known as eleet or leetspeak , is an alternative alphabet for the English language that is used primarily on the Internet . It uses various combinations of ASCII characters to replace Latinate letters. For example, leet spellings of the word leet include 1337 and l33t ; eleet may be spelled 31337 or 3l33t . The term leet is derived from the word elite . The leet alphabet is a specialized form of symbolic writing.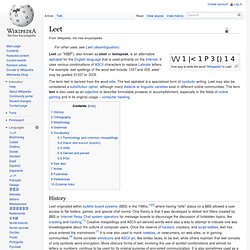 glass_molecule_dmt_lg.jpg (JPEG Image, 733x550 pixels)
What's DXM? How does it work? What does it do? « The Odyssey of Jerry Wallace
About « The Odyssey of Jerry Wallace
Joe Rogan and The Symphony of Abstract Thought on Vimeo
The First Earth Battalion
Ever wondered what the First Earth battalion really was? Recently saw the movie "The Men Who Stare At Goats" and wondered how much of that stuff was true? Well here you go...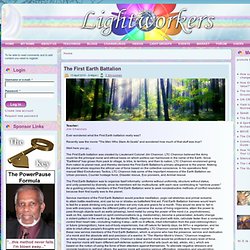 Terence Kemp McKenna (November 16, 1946 – April 3, 2000) was an American ethnobotanist , philosopher, psychonaut , researcher, teacher, lecturer, and writer. He was noted for his knowledge, and the ability to articulate his knowledge, of the use of psychedelics , metaphysics , plant-based entheogens , and subjects ranging from shamanism , language, historical and civilizational timelines, the theoretical origins of human consciousness, and his concept of novelty theory . [ 1 ] Biography Early life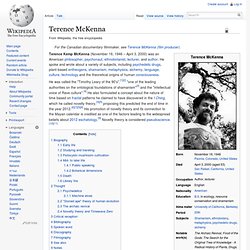 DMT.pdf (application/pdf Object)
burningman-webcast, Ustream.TV: 2010 Art Theme: Metropolis Great cities are organic, spontaneous, heterogeneous, and untidy hubs of social interaction. At
Identifying Marks - Home
A steampunk-themed photo "Maison tournante aérienne" (aerial rotating house) by Albert Robida for his book Le Vingtième Siècle , a 19th-century conception of life in the 20th century Steampunk is a sub-genre of science fiction that typically features steam-powered machinery, [ 1 ] especially in a setting inspired by industrialized Western civilization during the 19th century. Therefore, steampunk works are often set in an alternate history of the 19th century's British Victorian era or American "Wild West" , in a post-apocalyptic future during which steam power has regained mainstream use, or in a fantasy world that similarly employs steam power. Steampunk perhaps most recognizably features anachronistic technologies or retro-futuristic inventions as people in the 19th century might have envisioned them, and is likewise rooted in the era's perspective on fashion, culture, architectural style, and art. Such technology may include fictional machines like those found in the works of H.