Literature *yay*
Podcasts.
Free ebooks. Making Books Work - reading books organization. I'm hesitant to say more, because I'd love to see what comes up.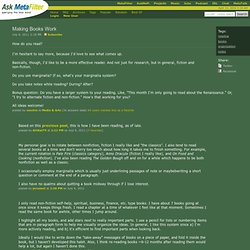 Basically, though, I'd like to be a more effective reader. And not just for research, but in general, fiction and non-fiction. Foundations of Physics, Volume 5, Number 1. We bring out the fact that the essential new quality implied by the quantum theory is nonlocality; i.e., that a system cannot be analyzed into parts whose basic properties do not depend on the state of the whole system.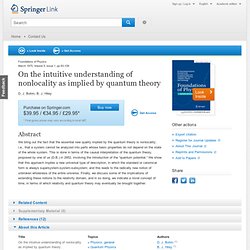 This is done in terms of the causal interpretation of the quantum theory, proposed by one of us (D.B.) in 2952, involving the introduction of the "quantum potential." We show that this approach implies a new universal type of description, in which the standard or canonical form is always supersystem-system-subsystem; and this leads to the radically new notion of unbroken wholeness of the entire universe.
Finally, we discuss some of the implications of extending these notions to the relativity domain, and in so doing, we indicate a novel concept of time, in terms of which relativity and quantum theory may eventually be brought together. Rational Mysticism: Dispatches from the Border Between Science and Spirituality - John Horgan. How do trances, visions, prayer, satori, and other mystical manifestations "work"?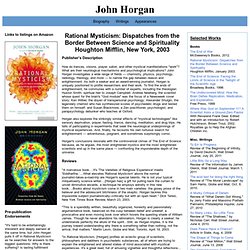 What are their neurological mechanisms and psychological implications? John Horgan investigates a wide range of fields — chemistry, physics, psychology, radiology, theology, and more — to narrow the gap between reason and enlightenment. As both a seeker and an award-winning journalist, Horgan is uniquely positioned to profile researchers and their work. SF Books Showing Humanity at its Best? | Science Fiction Fans. This topic is currently marked as "dormant"—the last message is more than 90 days old.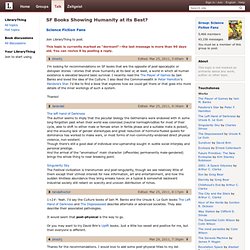 You can revive it by posting a reply. 1zinschj Edited: Mar 25, 2011, 3:00am I'm looking for recommendations on SF books that are the opposite of post-apocalyptic or distopian stories --stories that show humanity at its best or, at least, a world in which all human existence is elevated beyond basic survival. The National Academies Press. Reading Room Titles.
Litrix Reading RoomTitle Index Adventure of the Blue Carbuncle, by Arthur Conan DoyleAdventures Of Huckleberry Finn, by Mark TwainAdventures of Tom Sawyer, by Mark TwainAeneid, by VirgilAfter London, by Richard Jefferies Afterward, by Edith WhartonAge Of Innocence, by Edith WhartonAlice Adams, by Booth TarkingtonAll's Well That Ends Well, by William ShakespeareAll's Well That Ends Well, by William Shakespeare Allan Quatermain, by H.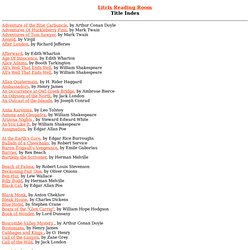 Rider HaggardAmbassadors, by Henry JamesAn Occurrence at Owl Creek Bridge, by Ambrose BierceAn Odyssey of the North, by Jack LondonAn Outcast of the Islands, by Joseph Conrad Anna Karenina, by Leo TolstoyAntony and Cleopatra, by William ShakespeareArizona Nights , by Steward Edward WhiteAs You Like It, by William ShakespeareAssignation, by Edgar Allan Poe.
To read. Self-help. Neuroscience. Early Onset of Night, Volume One (9781453867648): Michael Kindt. Puzzles. Flag this list(?)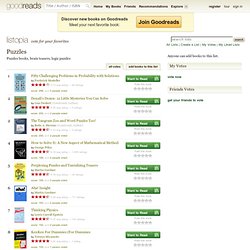 Flagging a list will send it to the Goodreads Customer Care team for review. We take abuse seriously in our book lists. Only flag lists that clearly need our attention. Best Japanese books. Flag this list(?)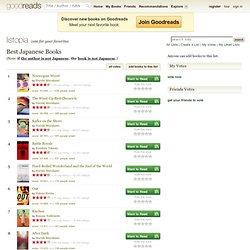 Flagging a list will send it to the Goodreads Customer Care team for review. We take abuse seriously in our book lists. Only flag lists that clearly need our attention. As a general rule we do not censor any content on the site. 40 Modern Nonfiction Books Everyone Should Read. UC Berkeley Summer Reading List. Greetings to Berkeley faculty, staff, and students, As we do at the start of each spring term, we're soliciting your suggestions for great books to pass on to incoming Cal freshmen later this year as part of the 2014 UC Berkeley Summer Reading List for Freshmen.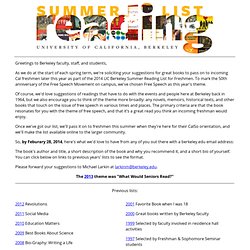 To mark the 50th anniversary of the Free Speech Movement on campus, we've chosen Free Speech as this year's theme. Of course, we'd love suggestions of readings that have to do with the events and people here at Berkeley back in 1964, but we also encourage you to think of the theme more broadly: any novels, memoirs, historical texts, and other books that touch on the issue of free speech in various times and places. The primary criteria are that the book resonates for you with the theme of free speech, and that it's a great read you think an incoming freshman would enjoy. UC Berkeley Summer Reading 2006. The World Is Flat: A Brief History of the Twenty-first CenturyThomas L.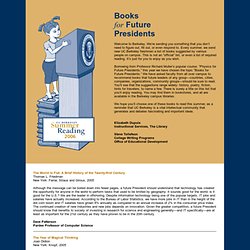 FriedmanNew York: Farrar, Straus and Giroux, 2005 Although the message can be boiled down into fewer pages, a future President should understand that technology has created the opportunity for anyone in the world to perform tasks that used to be limited by geography. Read book reviews, preview books, bestsellers, join a book club, meet people and read author book blogs and interviews. 6 million books and counting. Welcome to Open Library. Best Utopian and Dystopian Fiction. Flag this list(?)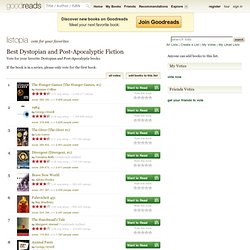 Flagging a list will send it to the Goodreads Customer Care team for review. We take abuse seriously in our book lists. Only flag lists that clearly need our attention. As a general rule we do not censor any content on the site. The only content we will consider removing is spam, slanderous attacks on other members, or extremely offensive content (eg. pornography, pro-Nazi, child abuse, etc).
Asylum. Welcome to StephenKing.com. 10 Websites for Book Lovers. 5 Rewarding Social Networks for Book Lovers | | Blogging TipsBlogging Tips. Reading is a great past-time that can be both comforting and rewarding — though to some people it can be more of a chore. One of the best ways to discover new books to read is by seeing what others are reading. Though there are many social networks out there dedicated to book lovers, here are the top 5 that I feel have the most to offer.
Feel free to share your personal favorites in the comments. Welcome to the Polyglot Project. The Book Seer | Find your next book - StumbleUpon. Better Book Titles: Archive. It's the best episode of Two-Book Minimum yet! I sit down with author/comedian Baratunde Thurston to talk about his book, How To Be Black.
Joined by the great Marcus Parks (the producer of this very podcast), I ask a few huge questions about race and Baratunde (sometimes) assures me I'm not a terrible person. We talk about all-black lunch tables, what words you shouldn't use, and…of course, Delilah. Basically, we solve every problem concerning inequality in under an hour (not really). Banned Books Online. Presents Welcome to this special exhibit of books that have been the objects of censorship or censorship attempts.
The books featured here, ranging from Ulysses to Little Red Riding Hood, have been selected from the indexes of The Online Books Page. (See that page for more than a million more online books!) LibraryThing | Catalog your books online. The World's Most Popular eBook Community - Wattpad - free books romance fantasy teen fan fiction mystery stories. Share Book Recommendations With Your Friends, Join Book Clubs, Answer Trivia.
Scribd. Authorama - Public Domain Books. Page By Page Books. Read Classic Books Online, Free. Great Poems « Greatest Books of All Time » Life-Changing Arts. A selection of great poems from centuries of brillant authors and poets. Whether you are new to the world of poetry and wish to savor it, or a well-versed poetry connoisseur, either way you will probably enjoy the classics of world poetry. The poems are sorted by vote. Book recommendations from readers like you. 4 Great Ways To Keep Track Of Your Expanding Book Collection. Keeping Track of Finished Books | So Many Books. Welcome to the Polyglot Project. BookMooch: trade your books with other people. Let the Words Flow - FictionPress.com.
The Great Geek Manual » The World's Most Beautiful Libraries.
---