070-079 News media, journalism & publishing
070 News media, journalism & publishing
ANDES | Agencia Pública de Noticias del Ecuador y Suramérica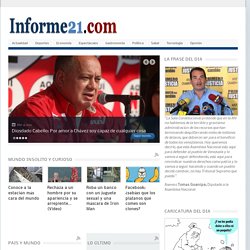 Los elevados índices de inseguridad sumados a un ambiente hostil a la inversión debido al poco respeto contra la propiedad privada impiden que Venezuela sea una potencia turística... En la Gaceta Oficial 40.334 publicada este miércoles 15 de enero de 2014, se oficializó a través del decreto 736 firmado por el presidente de la República Nicolás Maduro Moros, la... El Director de la Cámara de Comercio de Caracas, Víctor Maldonado, explica en referencia a la Memoria y Cuenta del presidente Maduro: "Yo creo que fue decepcionante porque además... Bajo la consigna "No más violencia, no más muertos", los diputados de "La Movida Parlamentaria" acudieron a la sede del Ministerio de Interior, Justicia y Paz para consignar un...
Informe21.com | Para formar parte de la información
Rettifichiamo che Sandro Viola, come erroneamente riportato, non è il direttore de La Repubblica, ma un giornalista di questa testata. Chiediamo scusa ai lettori. Approfittiamo per segnalare, sullo stesso tema, anche il documento del Circolo Bolivariano "José Carlos Mariategui" di Napoli: Repubblica o Monarchia? Giulio Santosuosso scrive una lettera al direttore de La Repubblica.
LA PATRIA GRANDE MEDIO ALTERNATIVO INDIPENDENTE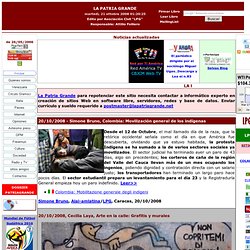 Diario digital de noticias de El Salvador
Más del día "Uribe le concedió licencias de aterrizaje a Pablo Escobar" ANNCOL – La expresentadora colombiana Virginia Vallejo, quien mantuvo un romance de cinco años con el capo del narcotráfico Pablo Escobar, aseguró que el expresidente Álvaro Uribe "le concedió docenas de licencias" al líder del cartel de Medellín para disponer de pistas de aterrizaje.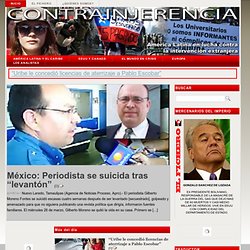 Contrainjerencia
Please Support Truthdig In a media landscape littered with sellouts, we proudly remain one of the few truly independent news sites featuring strong, uncompromising voices. But we need your help to continue our mission of finding and publishing a range of insightful opinion and analysis from a progressive point of view. Your gift to Truthdig goes directly back into the website.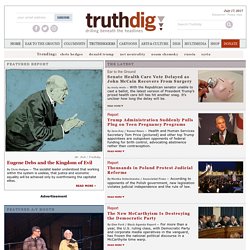 The Daily Show with Jon Stewart - Political Comedy - Fake News | Comedy Central
YVKE Mundial Radio | De la Mano con el Pueblo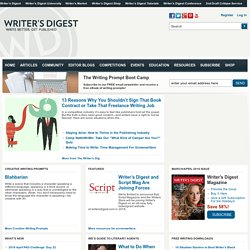 101Best Websites for WritersSubscribe to our FREE email newsletter and get the 101 Best Websites for Writers download. Weekly Writing Prompt The snow is coming down and school has been canceled. Your brother, who has an important government job, has asked you to watch his kids during the day so he can go to work. While watching his kids, they reveal something top secret about your brother's job—and it's something, for the sake of your family, that you need to stop. Read more