Interiors/furniture
How to Trick Out a Dungeon-Like Dorm Room. The thrill of starting college and moving out of your parents' home can be swiftly undermined by the sight of your new dorm room.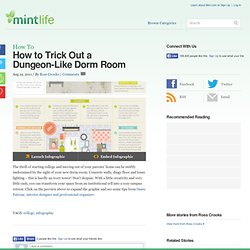 Concrete walls, dingy floor and lousy lighting – this is hardly an ivory tower! Don't despair. Colorfully Inspirational Living Rooms. Modern Living Rooms from the Far East. Inspiration from the land of dragons and emperors!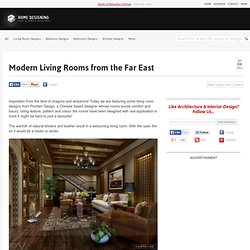 Today we are featuring some living room designs from Pinchen Design, a Chinese based designer whose rooms exude comfort and luxury. Using texture, pattern and colour the rooms have been designed with real application in mind.It might be hard to pick a favourite! The warmth of natural timbers and leather result in a welcoming living room. With the open fire on it would be a haven in winter. Classic and Retro Style Living Rooms. Period rooms or reflections of them can be a real tricky venture because if not done wisely, can look tacky and gimmicky or unconvincing.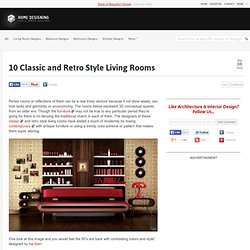 The rooms below represent 3D conceptual spaces from an older era. Though the furniture may not be true to any particular period they're going for there is no denying the traditional charm in each of them. The designers of these classic and retro style living rooms have added a touch of modernity by mixing contemporary with antique furniture or using a trendy color scheme or pattern that makes them super alluring. One look at this image and you would feel the 50′s are back with contrasting colors and style! Conversation Pits & Sunken Sitting Areas. We all like to sit and have a chin wag with friends and family, so how about creating an area that is specifically dedicated to the art of chit chat and good times?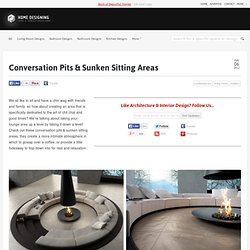 We're talking about taking your lounge area up a level by taking it down a level! Check out these conversation pits & sunken sitting areas, they create a more intimate atmosphere in which to gossip over a coffee, or provide a little hideaway to flop down into for rest and relaxation. Amazing House Built Across a River.
This rustic retreat was built right in the heart of Three Rivers, California near the entrance to Sequoia National Park where the enchantment of wildlife sightings runs wild.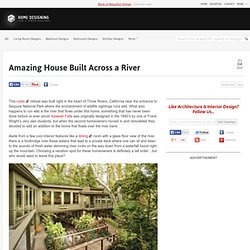 What also happens to run wild is the river that flows under this home, something that has never been done before or ever since! Kaweah Falls was originally designed in the 1940′s by one of Frank Wright's very own students, but when the second homeowners moved in and remodeled they decided to add an addition to the home that floats over the river bank.
Aside from a few cool interior features like a dining room with a glass floor view of the river, there is a footbridge over these waters that lead to a private deck where one can sit and listen to the sounds of fresh water skimming river rocks on the way down from a waterfall found right up the mountain. Choosing a vacation spot for these homeowners is definitely a tall order…but who would want to leave this place? Overhead-wall-bookshelves.jpg (JPEG Image, 468x600 pixels) 263773823_4b4896c07184.jpg (JPEG Image, 463x640 pixels) Moss carpet for your bathroom. Less is the New More: Making the Most of Small Spaces.
Good Design For Living in Small ApartmentsAs people migrate to smaller spaces, good design helps a lot.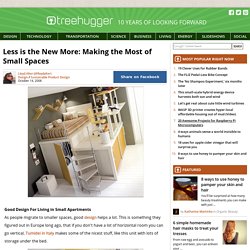 This is something they figured out in Europe long ago, that if you don't have a lot of horizontal room you can go vertical. Tumidei in Italy makes some of the nicest stuff, like this unit with lots of storage under the bed. This unit just raises the floor high enough for beds to slide under. This one looks a bit clinical, but has two single beds plus a pull-out double bed in between. 20 design landmarks everyone should see before they die. When looking for design inspiration, it's common to look at other people's websites, illustrations, or photography.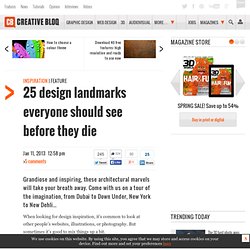 But sometimes it's good to mix things up a bit. Have you ever been hit with a bolt of creative inspiration just by walking down the street? Next time you're out in town, look up, take a big step back (watching out for traffic of course) and look at the bigger picture. We're talking architecture - design that's all around us every day, and most of the time we don't even notice it. In this article we pay tribute to 25 of the most beautiful, unique, weird and wonderful design-related landmarks around the world. Closet Office | I have begun to meet up with several of my 555 residents to document some of their downsizing solutions.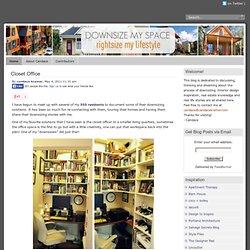 It has been so much fun re-connecting with them, touring their homes and having them share their downsizing stories with me. One of my favorite solutions that I have seen is the closet office! In a smaller living quarters, sometimes the office space is the first to go but with a little creativity, one can put that workspace back into the plan! Earthbag Construction. EarthBag Homes - you're standing on the building materials... earthbag home Long sandbags are filled on-site and arranged in layers or as compressed coils.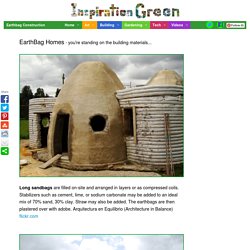 Stabilizers such as cement, lime, or sodium carbonate may be added to an ideal mix of 70% sand, 30% clay. Straw may also be added. 20 Ways to Use Color Psychology in Your Home. When you approach home design, you likely do so in a couple of different ways – choosing objects and colors that simply look attractive or using an existing pattern or decor theme to govern your decisions.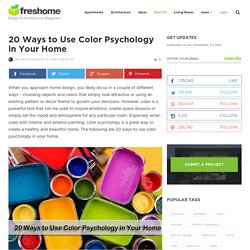 However, color is a powerful tool that can be used to inspire emotions, create space illusions or simply set the mood and atmosphere for any particular room. Especially when used with interior and exterior painting, color psychology is a great way to create a healthy and beautiful home. The following are 20 ways to use color psychology in your home. 1.) Create the illusion of space with bright colors: If you want your home to look larger than it really is – especially when it is about to go on the market – you can use bright and vibrant colors like yellows and eggshells to add space to your home exterior.
How to make a cheap, awesome, professional Curtain Rod. First off, thank you so much for being so kind about my new curtains in the dining room! I am taken aback daily by how many genuinely nice people there are in this blogging community. Thank you for loving the curtains along with me, and also thank you for just being plain ol' nice. Old Garage turned Mini Dream Home! | Hello there! It's been a busy week with a trip to Seattle for the Picasso exhibition and a drive out to the coast but I knew I had to share this amazing remodel with you before the week came to a close.
Everyone loves good makeovers and the ones involving tiny spaces, creative design and ingenious solutions are my all time favorites! Check out how Seattle artist, designer and welder, Michelle de la Vega, created this beautiful little 250 sq. ft. haven… The before… This lonely little detached garage is just begging for some love. Baldi Crystal Bathtub Carved From A Single Piece Of Rock | abetter-design.com. Roomy Remake: 40M Garage Home, Before & After [Photos] With only forty square meters of space and a single side that can access the outdoors, this little garage is an unlikely candidate for a home retrofit.
Amazingly, a plan was made and successfully executed to convert the homeliest of tiny structures into an enviable abode. The before and after photographs of the renovation by Fabre/DeMarien are nothing short of astonishing – a nondescript, white-painted, corrugated-metal garage door that formerly folded upward was replaced with a warm pair of wood panels that slide past one another.
---