Food
In my bar - Select (The Webtender) Select the ingredients you have in your bar from this rather large list of ingredients.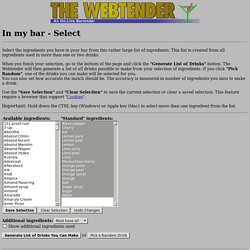 This list is created from all ingredients used in more than one or two drinks. When you finish your selection, go to the bottom of the page and click the "Generate List of Drinks" button. The Webtender will then generate a list of all drinks possible to make from your selection of ingredients. Skittles Vodka (with instructions) The Webtender: Drinking Games. Have fun with The Webtender's collection of drinking games, but be extremely careful if you play any these games, especially the ones with high buzz factors.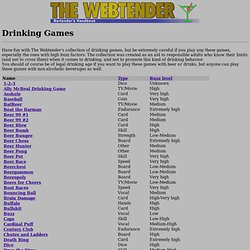 The collection was created as an aid to responsible adults who know their limits (and not to cross them) when it comes to drinking, and not to promote this kind of drinking behavior. You should of course be of legal drinking age if you want to play these games with beer or drinks, but anyone can play these games with non-alcoholic beverages as well. For more fun, visit the Web Site Index and go to one of the sites listed there. You should also take a look at 'The Complete Book of Beer Drinking Games'. Quick Guide to Every Herb and Spice in the Cupboard | Apartment Therapy The Kitchn. Ever get coriander confused with cumin?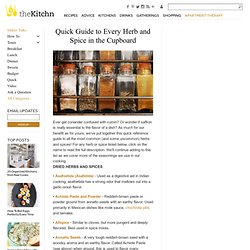 Or wonder if saffron is really essential to the flavor of a dish? As much for our benefit as for yours, we've put together this quick reference guide to all the most common (and some uncommon) herbs and spices! For any herb or spice listed below, click on the name to read the full description. We'll continue adding to this list as we cover more of the seasonings we use in our cooking. My Fridge Food - Recipes you already have in your Fridge. How to Make Marshmallow Fondant. This time I decided to make it with those mini fruit flavored marshmallows.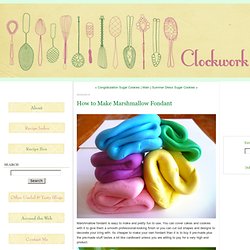 I had to sort them by colour first. I figured they would add a little bit of flavor to the fondant so I wouldn't have to add much flavoring oil. I use gel colours to dye my fondant but regular food colouring will work too.
Recipe Sites. Meals. Dessert. The Pastry Affair - Home - Vanilla Pear Milk. Pears have always been one of my favorite fruits.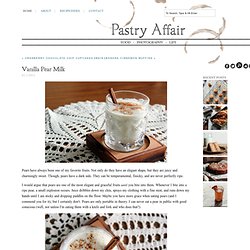 Not only do they have an elegant shape, but they are juicy and charmingly sweet. Though, pears have a dark side.
---