Thajokerwild
drik amads
PostSecret
Stuff for Smart Masses
ThinkGeek's Geek Trivia Night on February 13! New year. New Trivia Night!Join us on Thursday, February for our first Geek Trivia Night of 2014 at Jammin' Java in Vienna, VA. Compete against your fellow geeks for the title of Geek Masters of the Universe and have a grand ol' time!Tickets go on sale 12pm ET Tuesday, January 21 on Brown Paper Tickets (link coming soon!).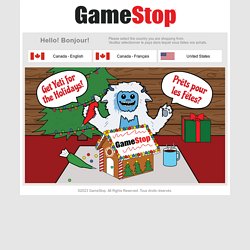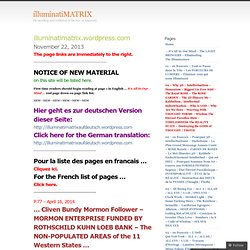 The page links are immediately to the right. on this site will be listed here. First time readers should begin reading at page 1 in English … It's All In Our Mind … 2nd page down on page link list.
illuminatiMATRIX
Sold to Army
Sold to Armyis an army themed text-based mmorpg with endless activities where you can build your stats, complete academy courses, recruit mercenary, do battlefields mission, trade, compete and socialize with players from all around the world. Become the best player by leveling up your character level, army ranks, and stats. Own your own country and experience the chaos by participating in our unique world war system. Lots of prizes to be won, thanks to our sponsors. SoldtoArmy is (and will always be) free to play.What are you waiting for??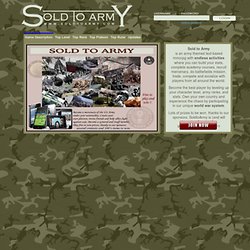 Welcome to SoulXchange, the online soul-trading community. SoulXchange is a PBBG, and can loosely be described as a stock-market for souls. Here, you will put your soul up for sale. Each time you are purchased, you will receive a bit of income to help you with your primary mission - to become the wealthiest, most valuable soul.
SoulXchange | New Server
There are currently 659 players logged in. Like KoL? On Facebook? Then why not like KoL on Facebook? January 07A few new variations on the basic class avatars are now available to everyone in the Account menu. January 06With a poof and a ho, and a ho and a ho, Crimbo Town once again vanishes into the mountain mists.
The Kingdom of Loathing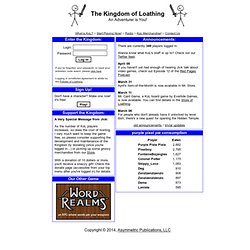 Magic: The Gathering - Cards, Decks, and Strategy
Lolli
Today In History. What Happened This Day In History – Facts Of The Day
Alex Jones
MIT Professor Exposes Climate Change Hysteria Mikael Thalen | "The opportunities for taxation, for policies, for control, for crony capitalism are just immense." Obama speech: Miller Lite commercial: less filling, tastes great Jon Rappoport | Obama just made a Miller Lite speech, to calm fears that NSA spying is a bother and a problem.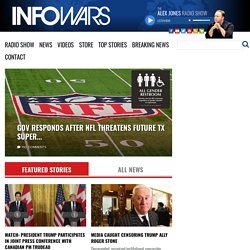 Daily MTG : Magic: The Gathering
Ron Paul 2012 | Peace . Gold . Liberty | Daily Paul
by David Corn | Mother Jones | Thu Apr. 10, 2014 Snip - Rand Paul has not yet fully jumped into this fiery fray [of declassifying CIA torture documents] (though he did praise Feinstein when he recently gave a speech in Berkeley, California).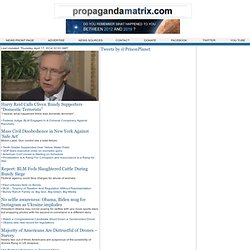 Propaganda Matrix.com: Exposing the 4th Reich of the Elite and Government Sponsored Terrorism
Last Updated: Tuesday, January 14, 2014 11:53 GMT Kelly Thomas Verdict: Cops Now Have License to Murder "This is carte blanche to police officers to do whatever they want" • Kelly Thomas Verdict: Support Your Local Police Uber Alles Only a FOOL Still Believes the NSA Why Does Anyone Still Believe the NSA?