The city
Chart of the week: the 1m-plus cities | beyondbrics | News and views on emerging markets from the Financial Times. The emerging markets hub News and comment from more than 40 emerging economies, headed by Brazil, Russia, India and China.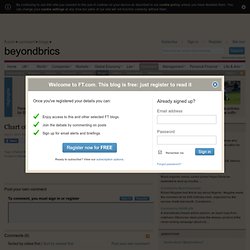 Sign up for our morning news, opinion and markets data round up from the FT and around the web. We have two emails per day - London and New York morning espresso (sent at approx 6am and 11am GMT). Pretty much everything you need to know about beyondbrics is in our About this site page. But briefly: Eprints.utm.my/1735/1/No.7,_Tetsu_Kubota.pdf. Eprints.utm.my/1727/1/No.9,_Tetsu_Kubota.pdf. Low Cost Housing Solutions. Arturo Soria and the Linear City. Arturo Soria and the Linear City "The key factor in urban living is not distance but travel time.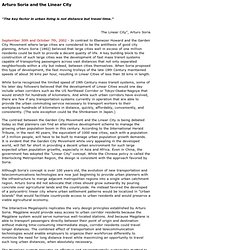 " The Linear City", Arturo Soria September 30th and October 7th, 2002 - In contrast to Ebenezer Howard and the Garden City Movement where large cities are considered to be the antithesis of good city planning, Arturo Soria (1892) believed that large cities well in excess of one million residents could be built to provide a decent quality of life. A key building block to the construction of such large cities was the development of fast mass transit systems capable of transporting passengers across vast distances that not only separated neighborhoods within a city but indeed, between cities themselves. The linear city project by Gilles Gauthier - A solution to urban development. The idea of the Linear City results from ten years of study and a close look will make you realize that it brings several solutions to the ecological and sociological problems of our times.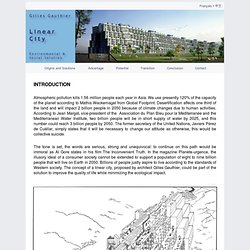 Moreover, the Linear City aims at increasing the quality of life by bringing the country-side to the city and it does so through a realistic and affordable transition. The world is currently faced with the fact that billions of people need a place to live on a limited planet governed by ecological laws. The way cities are built goes back to the beginning of civilization. Alex Steffen | Profile on TED.com. James H Kunstler dissects suburbia. Ellen Dunham-Jones: Retrofitting suburbia. Geoffrey West: The surprising math of cities and corporations.
Jaime Lerner sings of the city. Stewart Brand on squatter cities. Paul Romer: The world's first charter city?
---