Ideas for 2012
Get flash to fully experience Pearltrees
Because I'm on a lot of airplanes, I've noticed that marketing trends are a lot like air travel. Some trends are ready for takeoff while others need time for more passengers to get on board. This list features my top 10 marketing trends, with advice to help you determine if the trend is "ready for takeoff" and worthy of your time and money now, or "still boarding" and better for you to just test out.
As the end of the year approaches, now is a good time to work on your social media goals for next year, if you haven't already done so. As social media is online word of mouth marketing, it has become essentially important for businesses, so whether you're experienced at social media or just getting started, having some goals in place for 2012 means you are better prepared for the coming year. Social networks are good environments to learn because that is where the people are.
Despite those pessimistic kill-joys who say you shouldn't have to wait until a new year before you set yourself up to fail miserably with another set of New Year's resolutions, I think the start of a new year is a great chance to stop, reassess, and consider old habits and new. Sure – you can do this any time of the year, but New Year's is as good a time as any… and with all the fireworks and champagne flowing, at least it's imbued with a sense of excitement and goodwill. Seems to me that's a pretty good note to start on.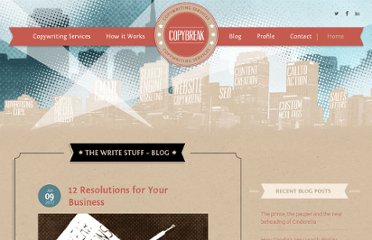 December 13, 2011 by Unmana Datta
Sometimes it's hard when you're reading a book to visualize how exactly to put it into action.
Is your business working with bloggers? Do you blog?