Research Energy (länderübergreifend)
Worldchanging: Bright Green. International Energy Agency (IEA) Socio-economic energy research - Introduction - Energy Research. Homepage | UN-Energy Knowledge Network. About the International Atomic Energy Agency (IAEA) United Nations Environment Programme (UNEP) - Home page. Ited Nations Statistics Division - Energy Statistics.
January, 2014 The Annual Questionnaire on Energy Statistics is part of the regular UNSD data collection programme.
It covers statistics on production, conversion and consumption of energy resources and products. The UNSD Annual Questionnaire on Energy Statistics is the primary source of information for the UNSD Energy Statistics Database and contributes to the Energy Statistics Yearbook and the Energy Balances and Electricity Profiles. The Energy Statistics Yearbook provides comparable data on long-term trends in the supply of energy. The Energy Balances and Electricity Profiles presents: (a) energy balances for developing countries and territories showing an overall picture of energy production, trade, conversion and consumption; and (b) electricity profiles for developed and developing countries and territories showing detailed information on production, trade and consumption of electricity, net installed capacity and thermal power plant inputs and efficiencies.
Acatech > HOME. Oslo Group - Welcome to the Oslo Group Website. The Oslo Group on Energy Statistics is a city group created by the UN Statistical Commission to address methodological issues related to energy statistics and contribute to improved international standards and improved methods for official energy statistics.
Focus in 2013 The main activity for the Oslo Group in 2013 will be the drafting and the finalisation of the ESCM. The Oslo Group is planning to have a virtual meeting before the next Oslo Group meeting where new revised chapters of the ESCM will be discussed. Eighth Oslo Group meeting in Azerbaijan , 2013 The 8th Oslo Group Meeting will take place in Baku, Azerbaijan before summer 2013. Ratings | Europe. A credit rating is Standard & Poor's opinion on the general creditworthiness of an obligor, or the creditworthiness of an obligor with respect to a particular debt security or other financial obligation.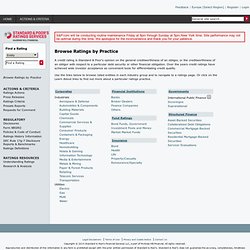 Over the years credit ratings have achieved wide investor acceptance as convenient tools for differentiating credit quality. Use the links below to browse rated entities in each industry group and to navigate to a ratings page. Or click on the Learn About links to find out more about a particular ratings practice.
---