Learning
Watch free documentaries online | Chockadoc.com
The Saylor Foundation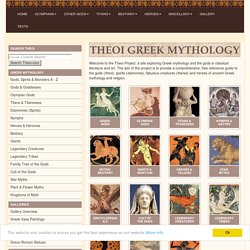 The Theoi Project profiles each deity and creature of Greek Mythology on a separate page, incorporating an encyclopedia summary, quotations from a wide selection of ancient Greek and Roman texts, and illustrations from ancient art. Analysis of the texts and interpretation of the stories of myth is currently beyond the scope of the project. For such detailed analysis, I would suggest consulting some of the good books available on the subject.
THEOI GREEK MYTHOLOGY, Exploring Mythology & the Greek Gods in Classical Literature & Art
What is MITx?
This set of FAQs accompanies MIT's Dec. 19, 2011 announcement regarding MITx. Why is MIT doing this?MIT seeks through the development of MITx to improve education both on the MIT campus and around the world.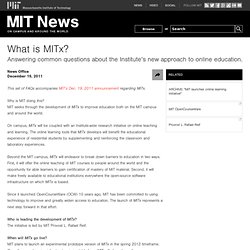 Stanford Engineering Everywhere (http://see.stanford.edu/see/courses.aspx) offers few good courses: Introduction to Computer Science: Programming Methodology CS106A Programming Abstractions CS106B Programming Paradigms CS107 Artificial Intelligence: Introduction to Robotics CS223A Natural Language Processing CS224N Machine Learning CS229 Linear Systems and Optimization: The Fourier Transform and its Applications EE261 Introduction to Linear Dynamical Systems EE263 Convex Optimization I EE364A Convex Optimization II EE364B
lets compile a list of the best online learning centers. We could all use a little education. : reddit.com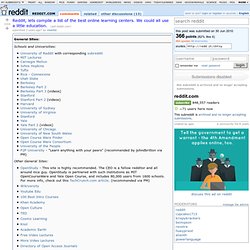 Education Portal Academy Sneak Peek: The Lowest Cost Path to Credit
Study Guides and Strategies