GLOBAL HEALTH & INDICATORS
Indices & Data | Human Development Index. Download the latest Human Development Index Data View the HDI Frequently asked questions The HDI was created to emphasize that people and their capabilities should be the ultimate criteria for assessing the development of a country, not economic growth alone.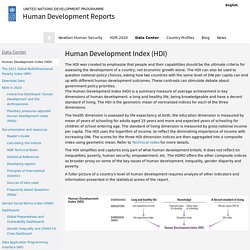 The HDI can also be used to question national policy choices, asking how two countries with the same level of GNI per capita can end up with different human development outcomes. These contrasts can stimulate debate about government policy priorities. The Human Development Index (HDI) is a summary measure of average achievement in key dimensions of human development: a long and healthy life, being knowledgeable and have a decent standard of living. World Bank Indicators. Health. World Health Organization. World Health Statistics. World Health Organization Global Health Observatory.
World Bank Indicators. Two major MDG targets achieved. It's been a good few days for Millennium Development Goals.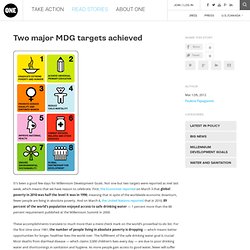 Not one but two targets were reported as met last week, which means that we have reason to celebrate. First, the Economist reported on March 3 that global poverty in 2010 was half the level it was in 1990, meaning that in spite of the worldwide economic downturn, fewer people are living in absolute poverty.
---