Tools 2
3outube - Download YouTube Video, Simply Fast. Kat MP3 Recorder. Kat MP3 Recorder is a versatile sound engine designed to turn your PC into a real mini-recording panel acting as a directly and real-time sound recorder and offering various excellent recording features with different popular format support like MP3, WMA, OGG, VOX, AU, AIFF.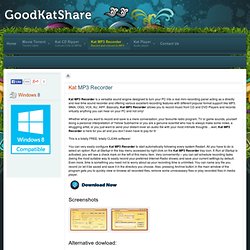 Basically, Kat MP3 Recorder allows you to record music from CD and DVD Players and records virtually anything you can hear on your PC and not only! Whether what you want to record and save is a mere conversation, your favourite radio program, TV or game sounds, yourself doing a personal interpretation of Yellow Submarine or you are a genuine scientist who has to always make some notes, a struggling artist, or you just want to send your distant lover an audio file with your most intimate thoughts …well, Kat MP3 Recorder is here for you all and you don't even have to pay for it! This is a totally FREE, totally CLEAN software! KC Softwares. Michaelv.org. Save paper & ink printing only what you want « PrintWhatYouLike. TubeMogul.com | In-Depth Tracking, Analytics for Online Video |
Métarecherche. The time-lapse photo and framing system for parents. Capture the. Create a Restore Point with single click in Windows with Quick R. Quick Restore Point Maker is a smart 1-click freeware app for creating a System Restore Point in Windows 8, Windows 7 & Windows Vista.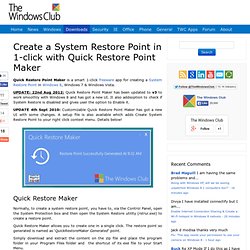 UPDATE: 22nd Aug 2012: Quick Restore Point Maker has been updated to v3 to work smoothly with Windows 8 and has got a new UI. It also addsoption to check if System Restore is disabled and gives user the option to Enable it. UPDATE 4th Sept 2010: Customizable Quick Restore Point Maker has got a new UI with some changes. A setup file is also available which adds Create System Restore Point to your right click context menu. Details below! YouTube Converter & Downloader - Free FLV Converter. MP3,AVI,MPG.
PDFmyURL.com - Convert and save pdf from any webpage for free.
---