How to
Videos - Survival-Tube. Survival Bow Making Instructions. By Jason Knight The following bow making instructions will help you construct an effective bow in a relatively short amount of time.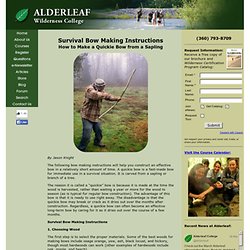 A quickie bow is a fast-made bow for immediate use in a survival situation. It is carved from a sapling or branch of a tree. HOMEMADE OUTDOOR GEAR. How to Make a Bug Out Bag. Editor's note: This is a guest post from Creek Stewart of Willow Haven Outdoor.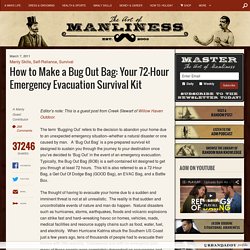 The term 'Bugging Out' refers to the decision to abandon your home due to an unexpected emergency situation–whether a natural disaster or one caused by man. A 'Bug Out Bag' is a pre-prepared survival kit designed to sustain you through the journey to your destination once you've decided to 'Bug Out' in the event of an emergency evacuation. Typically, the Bug Out Bag (BOB) is a self-contained kit designed to get you through at least 72 hours. 7 Mountaineering Knots to Use in Everyday Life.
---