Svg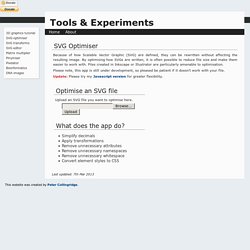 SVG Optimiser Because of how Scalable Vector Graphic (SVG) are defined, they can be rewritten without affecting the resulting image. By optimising how SVGs are written, it is often possible to reduce file size and make them easier to work with. Files created in Inkscape or Illustrator are particularly amenable to optimisation. Below are two options.
SVG-Optimiser
Leonardo is a fully featured drawing tool that can be used for both drawings, mockups, and presentations. Drawing tools standard shapes (rectangle, circle, roundrect, polygon, etc.) n-sided polygons and stars full bezier curve editor image and text full selection with grouping, alignment, and grid snapping gradient, pattern, and color fills Groups of reusable & resizable symbols
Features » Leonardo Sketch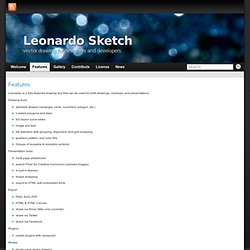 Monsieur ou Madame ?
Chez Jérémie
Photography by Rickard Sund
Nissan Leaf Electric Car: 100% electric. Zero gas. Zero tailpipe.
SVG pour les designers et les développeurs (Jérémie Patonnier) - Sud Web 2011
Bifter SVG Comic - HTML5 - CSS3 - RDFa - Screenreader friendly
Inkscape est un logiciel libre d'édition de graphismes vectoriels, doté de capacités similaires à Illustrator, Freehand, CorelDraw ou Xara X, utilisant le format de fichiers Scalable Vector Graphics (SVG) standard du W3C . Les fonctionnalités supportées du format SVG incluent les formes, les chemins, le texte, les marqueurs, les clônes, les canaux alpha, les transformations, les motifs et les groupements. Inkscape supporte également les méta-données Creative Commons , l'édition de nœuds, les couches, les opérations de chemins complexes, la vectorisation des bitmaps, le texte suivant des chemins, le texte contournant des objets, l'édition XML directe et beaucoup plus.