Svg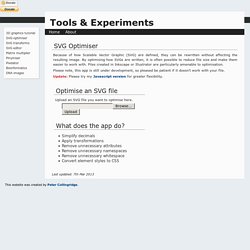 SVG Optimiser Because of how Scalable Vector Graphic (SVG) are defined, they can be rewritten without affecting the resulting image. By optimising how SVGs are written, it is often possible to reduce file size and make them easier to work with. Files created in Inkscape or Illustrator are particularly amenable to optimisation. Please note, this app is still under development, so pleased be patient if it doesn't work with your file.
SVG-Optimiser
Leonardo is a fully featured drawing tool that can be used for both drawings, mockups, and presentations. Drawing tools standard shapes (rectangle, circle, roundrect, polygon, etc.)n-sided polygons and starsfull bezier curve editorimage and textfull selection with grouping, alignment, and grid snappinggradient, pattern, and color fillsGroups of reusable & resizable symbols
Features » Leonardo Sketch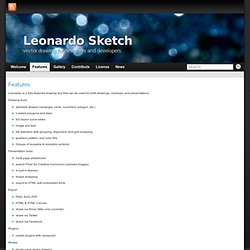 Monsieur ou Madame ?
Chez Jérémie
Nissan Leaf Electric Car: 100% electric. Zero gas. Zero tailpipe.
SVG pour les designers et les développeurs (Jérémie Patonnier) - Sud Web 2011
Bifter SVG Comic - HTML5 - CSS3 - RDFa - Screenreader friendly