Teaching Literature
A Public Literary Twitter Role-Play - Digital Writing Month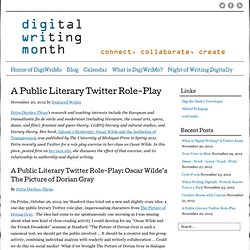 's research and teaching interests include the European and transatlantic fin de siècle and modernism (including literature, the visual arts, opera, dance, and film); feminist and queer theory; LGBTQ literary and cultural studies; and literary theory. Her book, , was published by The University of Michigan Press in Spring 2011. Petra recently used Twitter for a role play exercise in her class on Oscar Wilde. In this piece, posted first on , she discusses the effect of that exercise, and its relationship to authorship and digital writing. A Public Literary Twitter Role-Play: Oscar Wilde's The Picture of Dorian Gray
Ralph Ellison on Race and the Power of the Writer in Society: A Rare 1966 Interview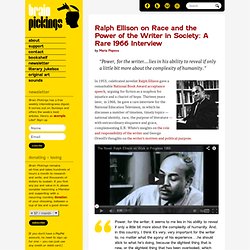 by Maria Popova "Power, for the writer….lies in his ability to reveal if only a little bit more about the complexity of humanity." In 1953, celebrated novelist Ralph Ellison gave a remarkable National Book Award acceptance speech, arguing for fiction as a soapbox for injustice and a chariot of hope. Thirteen years later, in 1966, he gave a rare interview for the National Education Television, in which he discusses a number of timeless, timely topics — national identity, race, the purpose of literature — with extraordinary eloquence and grace, complementing E.B. White's insights on the role and responsibility of the writer and George Orwell's thoughts on the writer's motives and political purpose.
June 6, 2012 By: Maryellen Weimer, PhD in Teaching Professor Blog Each year Magna Publications sponsors an award recognizing an outstanding piece of scholarly work on teaching and learning. Authors received the award and its $1,000 stipend at the 9th annual Teaching Professor Conference this past weekend in Washington, D.C. The winning article for this year's Maryellen Weimer Scholarly Work on Teaching and Learning Award is well worth reading. It addresses the issue of content coverage—specifically content coverage in introductory history survey courses.
Scholarly Work on Teaching and Learning Award Takes on "Content Coverage"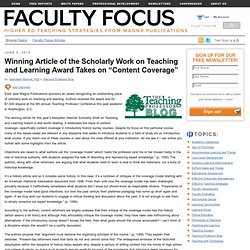 "Shakespeare Uncovered" in the Classroom "Shakespeare Uncovered" is a six-part PBS series featuring celebrated actors and directors exploring the back stories behind his most famous plays. This guide helps teachers navigate the series website and offers ideas to integrate the series into a high school classroom setting.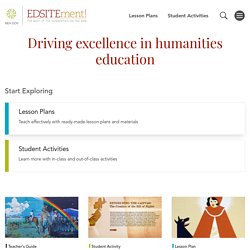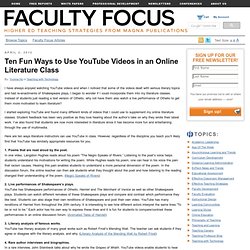 Ten Fun Ways to Use YouTube Videos in an Online Literature Class
April 2, 2012 By: Yvonne Ho in Teaching with Technology I have always enjoyed watching YouTube videos and when I noticed that some of the videos dealt with serious literary topics and had re-enactments of Shakespeare plays, I began to wonder if I could incorporate them into my literature classes. Instead of students just reading a text version of Othello, why not have them also watch a live performance of Othello to get them more motivated to learn literature?
http://www.flickr.com/photos/chowd/488098373/ CC Licensed Literature Circles have been around forever. Done well, the strategy is an effective way of engaging children in reading, while teaching them specific skills and behaviours we use when immersing ourselves in a text. With clear foci during the instructional part of the Literature Circle session, teachers can direct children to use these strategies to improve their comprehension and how they respond to text. One of my main concerns ( and the concerns of many I have worked with in implementing Literature Circles) is monitoring the independent reading and meetings as well as the work done by children in between sessions. Technology can play a big part in this and can also be used to enhance, simply and streamline the whole process.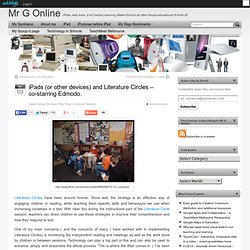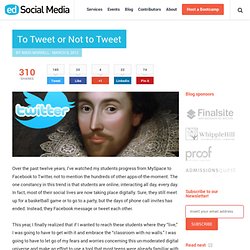 To Tweet or Not to Tweet 
Over the past twelve years, I've watched my students progress from MySpace to Facebook to Twitter, not to mention the hundreds of other apps-of-the-moment. The one constancy in this trend is that students are online, interacting all day, every day. In fact, most of their social lives are now taking place digitally. Sure, they still meet up for a basketball game or to go to a party, but the days of phone call invites has ended. Instead, they Facebook message or tweet each other. This year, I finally realized that if I wanted to reach these students where they "live," I was going to have to get with it and embrace the "classroom with no walls."
Open Shakespeare
August 29 – 31, 2014 Early Bird Registration: $349 (Register by May 15). After May 15: Registration is $375. Click here to register. Teaching Artists from some of the world's most respected Shakespeare theaters will share active and playful approaches to enliven the teaching of Shakespeare.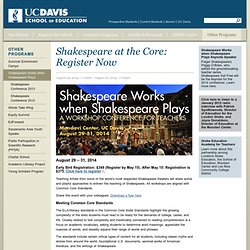 Shakespeare Works When Shakespeare Plays - UC Davis School of Education
film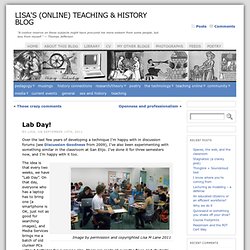 Lab Day! « Lisa's
Over the last few years of developing a technique I'm happy with in discussion forums (see Discussion Goodness from 2009), I've also been experimenting with something similar in the classroom at San Elijo. I've done it for three semesters now, and I'm happy with it too. The idea is that every two weeks, we have "Lab Day". On that day, everyone who has a laptop has to bring one (a smartphone is OK, just not as good for searching images), and Media Services brings me a batch of old clunker PCs without batteries for everyone else. There are cords all over the floor, and students arranged in small groups. The task, during our 75 minute class, is to create a collection of three primary sources related to that week's era, then develop athesis and present it to the class with the evidence.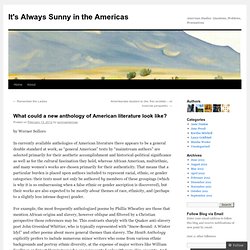 What could a new anthology of American literature look like? | It's Always Sunny in the Americas
by Werner Sollors In currently available anthologies of American literature there appears to be a general double standard at work, as "general American" texts by "mainstream authors" are selected primarily for their aesthetic accomplishment and historical-political significance as well as for the cultural fascination they hold, whereas African American, multiethnic, and many women's works are chosen primarily for their authenticity. That means that a particular burden is placed upon authors included to represent racial, ethnic, or gender categories: their texts must not only be authored by members of these groupings (which is why it is so embarrassing when a false ethnic or gender ascription is discovered), but their works are also expected to be mostly about themes of race, ethnicity, and (perhaps to a slightly less intense degree) gender.
Log In | My Passes | Sign Up Literature Bible Poetry Shakespeare Mythology Bestsellers Dr. Seuss Pre-Algebra Algebra Algebra II Geometry Biology US History Flashcards DMV Careers SAT ACT AP Exams En Español Essay Lab Videos Literary Critics Shmoop Shtuff Photos Site Map | Help | Advertisers | Jobs | Partners | Contact Us | About Shmoop
Literature Study Guides (A)
Language: English Bahasa Indonesia Bahasa Melayu Dansk Deutsch
anna smith: I spy #literacies learning
For years I've tried to figure out how to get my "Introduction to Literature" students–99 percent of them not English majors–to appreciate literature. And by "appreciate," I don't mean "like." That's probably a lost cause. I just mean I want them to be able to understand what a writer is saying, how he or she goes about saying it, and what relevance it might have to their lives. As anyone who has taught a course like that knows very well, this is an uphill battle. Or at least it was for me until a couple of years ago, when I had an epiphany.
Literary Analysis as Scientific Method - On Hiring
Regular commenter Crystal has asked for some more details about my Personal Narrative course, in which I focus less on literary analysis and more on literary appreciation. Here's some general info on how the course unfolds. Feel free to steal/adapt/query, etc. Module 1: Literary Analysis Review Text: The Glass Castle by Jeannette Walls
Literary Appreciation + Literary Analysis: A Course Plan « Classroom as Microcosm
EH 102 Textual Transformation (Summer 2012)
Today's guest blogger is Ben Bunting, a Ph.D. candidate in English literature at Washington State University where he teaches undergraduate courses in Composition and Literature. Bunting's research and writing interrogates the concept of "wilderness" in 21st century America; he's also interested in ecocriticism, game studies, and medieval literature. He plans to graduate in the spring of 2012. After years of being one of the veritable army of literature graduate students who teach freshman composition, I was ecstatic to be given my first literature course in the spring of 2010.
Lit Bits » Blog Archive » Teaching Literature: Student Contexts and Discussion Openers
Providing Background Knowledge: Effective Scaffold or Spoon-feeding? | To Make a Prairie
Lit Bits » Blog Archive » Student-directed Questioning
TuckerReader%20Response
Lit Bits » Blog Archive » What Do You Envision?
Mashups in the Literature Classroom