Contadotecnia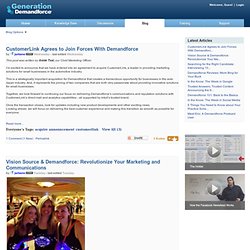 This post was written by Jenny Urbano, our Social Media Manager. Here at Demandforce, we love seeing and celebrating your ideas! And more than that, we love to hear from YOU.
Case Study: How Did Humphry Slocombe Get 300,000 Twitter Followers?
The traveling salesman, the carnival barker and the old-time businessman can hit and run. Make the sale, cut your costs, move on. Today, though, in the connection economy, two huge factors are at work: 1. Subscription.
slideshare
El abrir una página de Facebook no es solamente dar de alta la cuenta en la plataforma y empezar a subir contenido. Debes planear esta etapa de tu participación en las redes sociales, ya que esto que estás iniciando es una poderosa plataforma de vínculo con tu mercado objetivo, que debe traducirse en lealtad de clientes, mejor posicionamiento de tu marca, posiblemente mayores ventas o éxito en tu causa!!, por lo anterior debes tener en cuenta el siguiente grupo de elementos clave para arrancar con Facebook. ¿Quién y qué eres? ¿Eres un artista?
Los elementos indispensables en tu página de Facebook (Me Gusta)
¿Cómo deben conversar las empresas en las Redes Sociales?
Uno de los elementos clave para que una empresa tenga estabilidad y pueda ir hacia un camino exitoso en los medios sociales va a ser la forma en la que interactúe con su comunidad, como lleve a cabo la conversación con ellos, como genere relaciones y reacciones. Entrar a las redes sociales te lleva minutos, es solo cuestión de abrir una cuenta en Twitter, Facebook u otras redes y listo ya apareció la empresa en el mundo social media, pero llegar a emocionar a las personas, esa, es otra historia. A continuación te comparto una serie de elementos que recomiendo tenga tu conversación como empresa con tu red de seguidores, siempre lleva en mente que lo que debes buscar es llegar al tema emocional, no transaccional, la gente quiere seguir tu marca, amar tu marca, que al final, es de lo que se trata.
La experiencia vivencial ≠ a la experiencia participativa, regarding Web Analytics - engelfonseca.com
Take today's quiz to find out if you need to brush up on your inbound marketing knowledge. Answers are provided in case you get any of them wrong. Good luck!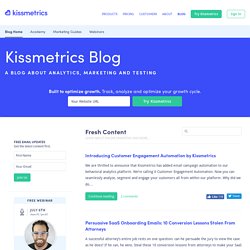 For the past 6 months I have been involved as Co-Founder for a Twitter App called Buffer. Being the non-technical part I am focused on writing blog posts and reaching out for coverage. Another vital point was to grow an engaged Twitter account to increase our distribution. Along the way I have tried many different techniques and I believe the following 5 tips were most important to make things work for us: 1. Promote Others
5 Tips To Make Your Startup's Twitter Account Stand Out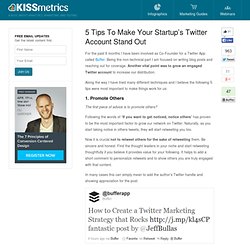 4 Ways to Increase Your Traffic With StumbleUpon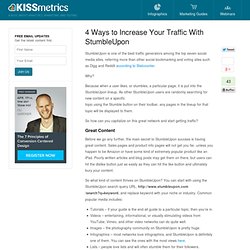 StumbleUpon is one of the best traffic generators among the top seven social media sites, referring more than other social bookmarking and voting sites such as Digg and Reddit according to Statcounter. Why? Because when a user likes, or stumbles, a particular page, it is put into the StumbleUpon lineup. As other StumbleUpon users are randomly searching for new content on a specific topic using the Stumble button on their toolbar, any pages in the lineup for that topic will be displayed to them.
Advertising with Google AdWords is one of the most powerful ways to test customer intent. "How?", you ask.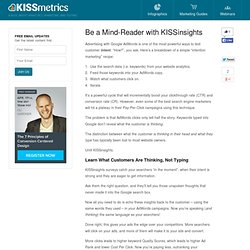 Be a Mind-Reader with KISSinsights. An awesome Google Adwords PPC tactic.
In a recent study conducted by Google, over 600 B2B marketing professionals were surveyed and were asked about their marketing strategy for 2011. This survey assessed how these marketers planned to spend their marketing budget, the challenges they faced, how they analyzed ROI and the overall effectiveness of marketing programs. What follows are some key findings from that survey.
The 2011 B2B Marketing Guide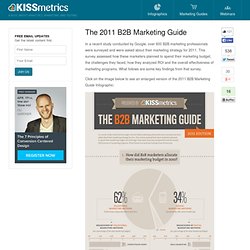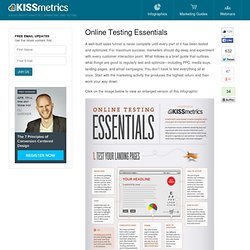 A well-built sales funnel is never complete until every part of it has been tested and optimized. For maximum success, marketers should dig deep and experiment with every customer interaction point. What follows is a brief guide that outlines what things are good to regularly test and optimize—including PPC, media buys, landing pages, and email campaigns. You don't have to test everything all at once.
Facebook: The Power of "Like" Marketing
A great feature of Facebook is that the messages you send have the potential to spread not just to fans but to friends of fans—known as the "multiplier effect." Not only does this "multiplier effect" have the ability to spread marketing impressions, it also acts as a validation from a friend. Let's take a look at a few Facebook fan pages and see how the multiplier effect might impact your marketing strategy.
10 Twitter Tools Used by Social Media Experts
With so many Twitter tools out there, it's hard to know which ones to trust with your Twitter account management. So why not take a look at what the social media and industry experts are using! Here are ten Twitter applications and tools used by some of the top Twitterers.
The Ultimate Guide to Online Branding and Building Authority Part 1 - Blogging
What is the difference between online branding and building authority? Some would consider it the same thing, but in reality it can be two completely different processes. Online branding is a way to get more exposure for your brand on all levels of online marketing, especially search and social. Building authority takes online branding to the next level by making each online presence for a brand authoritative.
If you do enough A/B testing, I promise that you will eventually have some variation of this problem: You run a test. You see a 10% increase in conversion. You run a different, unrelated test.
Why Website Test Results Don't Always Add Up & What To Do About It
http://blog.kissmetrics.com/
7 Creative Ways to Get Customer Testimonials
Storytelling: la carta ganadora en Social Media
Propuesta colaborativa: Sugerencias para Marcas que realizan publicidad a través de Perfiles Sociales Personales | TechValley Colombia
Business Social- Make Me Like You
Social Media Strategies: The Business of Social Media
Social Media Strategies: Naveen Selvadurai (Full Panel)
Social Media Strategies: David Kirkpatrick (Full Panel)